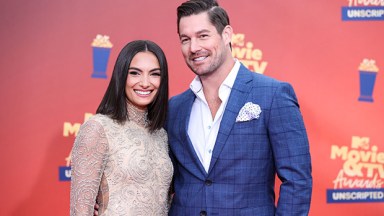 Image Credit: Image Press Agency/NurPhoto/Shutterstock
During the Southern Charm season 9 premiere, Taylor Ann Green, 28, got into a big fight with Craig Conover, 34, after she claimed that his girlfriend Paige DeSorbo, 30, was cheating on him. Craig didn't buy into what Taylor was saying then — and he still isn't now. The Bravo star addressed the cheating claims in an interview with E! News after the episode aired on Sept. 14.
"To say that about Paige—my reaction, the reason I walked away was because there was nothing I could do to help her in that moment," Craig said. "I kinda laughed because I was like, 'Me and Paige just sit on her couch and watch TV.' It would be a little hard for either of us to be out there being secretive. I don't think that comes with this territory anymore."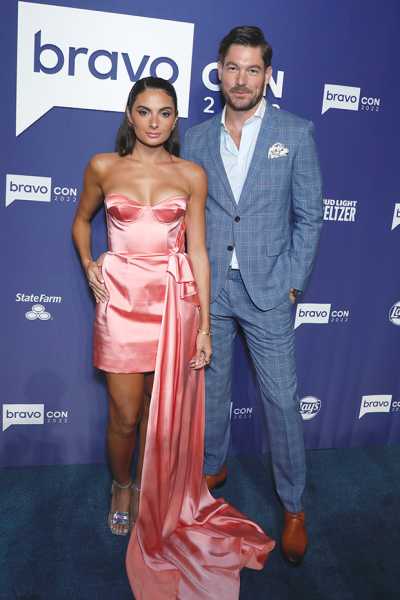 Paige DeSorbo and Craig Conover at BravoCon 2022 (Photo: Gregory Pace/Shutterstock)
Craig said he was "sad" that Taylor would say that about his relationship with Paige, and that it made him realize how "lost" his co-star is following her breakup with Shep Rose, who cheated on Taylor while they were together.
"She thought she was gonna get married to Shep and he had cheated on her multiple times," Craig explained. "I've been cheated on before. That will really turn your world upside down and everything that you think you know about the world. So, she's dealing with that."
Craig also confirmed he told Paige about the cheating allegations. He said his girlfriend had "a similar reaction" to him regarding the drama.
Craig and Paige have been dating since 2021 after connecting on the first season of Winter House. "It was done in a healthy way. We built a friendship and got to know each other first, and it all happened naturally," Craig told People when he confirmed his relationship with Paige. "We are pretty happy now. I don't think either of us has ever dated someone else in the industry. We get each other, it's nice. We really are each other's biggest fans, which is something that I've always looked for.
The couple's dynamic has played out on both Southern Charm and Paige's show Summer House. On the latest season of the latter reality series, which aired earlier in 2023, Paige admitted that the thought of getting engaged and married is "f****** scary" for her, which caused a fight between her and Craig. However, the pair talked things out and made up, and they're still going strong today!
Sourse: hollywoodlife.com