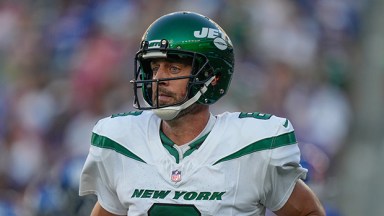 Image Credit: Dave Shopland/Shutterstock
Aaron Rodgers is starting his recovery after his injury at the very beginning of the New York Jets season. The quarterback, 39, gave fans a quick update on how he was doing after undergoing surgery on Thursday, Sep. 14. He shared a photo of himself lying in a hospital bed after surgery on his Instagram Story, and thanked his doctors for all they did.
As he lay down in a hospital gown, Aaron smiled at the camera. "Surgery went great yesterday," he wrote. "Thank you for all the love and prayers and support. And thanks to the [GOAT], Dr. Elattrache and his staff for starting me on the road to recovery."
Aaron Rodgers provides a post-surgery update.

(via aaronrodgers12/Instagram) pic.twitter.com/kKjyw1txvu

— ESPN (@espn) September 15, 2023
Aaron Rodgers was forced to leave the first game of the 2023 season after just four plays on Monday, Sep. 1.. After he was sacked, it was clear that he was injured, and he was taken to get an MRI, which reportedly showed that he tore his Achilles tendon, per CBS Sports. After the injury, Jets Head Coach Robert Saleh said that the new QB's injury was "not good."
Despite losing the star quarterback shortly into his first game, the Jets still managed to defeat the Buffalo Bills. After the game, the Jets shared a message with Aaron for him to "get well soon" on Instagram. "Not the way any of us wanted it to go, but we know the commitment you've made to this team will continue to impact us moving forward," the team wrote.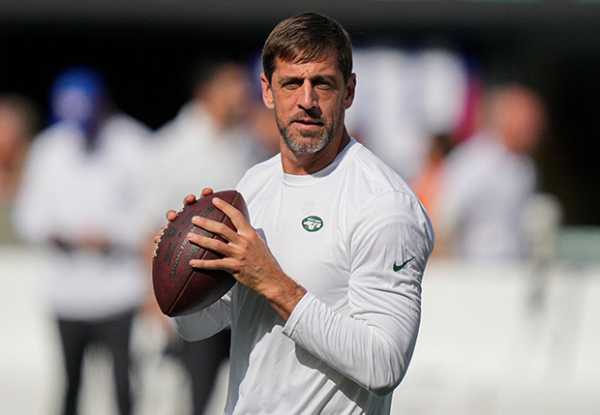 Aaron Rodgers thanked his doctor for his surgery and all his help. (Dave Shopland/Shutterstock)
After the game, Aaron also shared a post on social media thanking fans and friends for their support, and he promised to try to return soon. "I'm completely heartbroken and moving through all of the emotions, but deeply touched and humbled by the support and love," he said. "The night is darkest before the dawn. And I shall rise yet again."
Aaron concluded his message by celebrating the Jets' victory, and he said that he was "proud" of the team for their victory.
The game on Monday was Aaron's first official season game with the Jets, after he signed with the team in April. Prior to the New York team, he'd been the QB for the Green Bay Packers. He'd been with the Packers for 17 years before going to the Jets.
Sourse: hollywoodlife.com