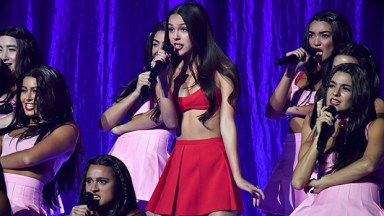 Image Credit: Andrew H. Walker/Shutterstock
Olivia Rodrigo's song "Get Him Back!" is a '90s-themed rock anthem about getting revenge. The track is one of the many songs on Olivia's second album, Guts, but it has already reached massive success after she performed it on the MTV Video Music Awards stage. Now, fans of the Disney+ alum are speculating who the song is about, and some have pointed to one of her former boyfriends — film producer Adam Faze.
Keep reading to find out everything we know about Olivia's popular song "Get Him Back!"
'Get Him Back' Lyrics Point to a Brief Romance
Olivia opens the song by detailing how her romance began with the unnamed former boyfriend.
"I met a guy in the summer, and I left him in the spring," she sings in the first verse. "He argued with me about everything / He had an ego and a temper and a wandering eye / He said he's six-foot-two, and I'm like, 'Dude, nice try.'"
Olivia and Adam were first spotted together over the summer of 2021. In June of that year, photos surfaced online of them kissing while leaning against a car. However, Olivia didn't publicly discuss their romance. At the time, she was 18 and he was 24 when they started dating.
By early 2022, though, both Adam and Olivia reportedly unfollowed each other on Instagram.
"And he would take us out to parties, and the night would never end," Olivia sings in the track. "Another song, another club, another bar, another dance / And when hе said something wrong, he'd just fly me to Francе."
Is 'Get Him Back' About Adam Faze?
Adam has made headlines for his brief connection to Olivia, but the former Forbes writer has not publicly commented on their past relationship. While there is no telling whether or not "Get Him Back!" was inspired by Adam, fans also speculated that her hit 2023 single "Vampire" pointed to their brief relationship.
Nevertheless, an insider told PEOPLE in July, "The song isn't about Adam Faze."
What Has Olivia Rodrigo Said About Her New Music?
In early September, Olivia sat down with Apple Music's Zane Lowe to discuss how she composed and wrote "Get Him Back!"
"We wrote a song that I didn't like, and I had a total breakdown," the former High School Musical: The Musical: The Series star revealed. "I was like, 'God, I can't write songs. I'm so bad at this. I don't want to,' whatever, being really negative. Then, we took a break, and we came back and we wrote 'Get Him Back,' and it's one of my favorite songs."
She then noted that the lyrics were "super fun to write."
"I really like the chorus. It feels sticky to me, and it feels like something that I would want a crowd to sing," Olivia added. She followed through with that goal by performing in front of a large audience in New York City on September 8 for TODAY and at the VMAs on September 12.
Sourse: hollywoodlife.com