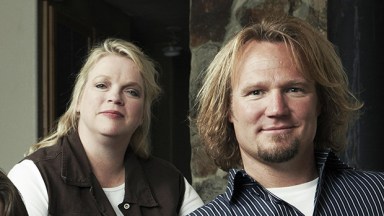 Image Credit: Puddle Monkey Prods/Figure 8/Kobal/Shutterstock
Season 18 of Sister Wives has become a major he-said-she-said situation between Kody Brown and Janelle Brown. The family patriarch, 54, claimed during the latest episode that he attempted to save his and Janelle's spiritual marriage before they split. However, Janelle, 54, countered this claim.
"I asked Janelle once, 'What is it? Why can't we reconcile? Let's try and reconcile. Why can't we?'" Kody alleged during a confessional from the November 5 episode. "[She says], 'Well, I don't know what your relationship with Robyn and Meri are, but I'm just not interested in being involved with those people.' And that's sad. Because that's the deal we made about plural marriage."
The businessman elaborated by noting it was "sad" to watch his and Janelle's marriage crumble and added that he wanted to try "again" to rekindle what they once had.
"I can't get the puzzle pieces back together," he admitted. "But I'm gonna ask her again next week if we might be able to reconcile. And it's painful every time. Maybe I should get more serious about it, but every time, it's like, 'Nope.'"
The now-ex-spouses have been at odds throughout the season. Fans watched them get into a dramatic argument during a previous episode, and since then, the pair's relationship has been distant. Despite Kody's claims that he attempted a reconciliation, Janelle alleged this never happened and that Kody only wanted her to work things out with the others for the sake of polygamy.
"He's never come to me and said, 'Hey, I love you. I miss you. I wanna get back together,'" the TLC star claimed. "It's always about, 'Don't you want to get the family back together?' so that his life can run smoothly again? And I'm done with that, I really am."
Janelle's indifference toward her former sister wives Meri Brown and Robyn Brown has become a source of conflict as season 18 unfolds. The three women haven't been on the same page for a while, and tensions only worsened after Christine Brown was the first to leave the plural family.
"It feels like [this is] something he's trying to use to excuse his behavior," Janelle alleged about Kody, referring to how he wanted her to have a good relationship with Meri, 52, and Robyn, 45. However, Janelle wasn't having it. She even claimed that Kody said to her, "'Why would I want to get back together with you? It's your fault. You'll be a bad sister wife. I have to protect Robyn.' Because he doesn't have a relationship with Meri."
Sourse: hollywoodlife.com