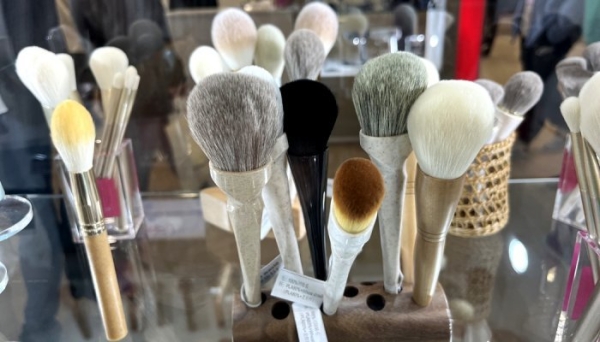 The manufacturer of make-up and beauty applicators aims to meet new consumer expectations by taking inspiration in the Chinese brush culture and by investing in more environmental-friendly technologies and materials.
For more than 20 years, the Chinese manufacturer of beauty brushes and applicators has been responsive to the main international trends to offer international brands full service solutions, integrating design, development and production.
C Beauty
Beauty Yaurient offers its customers a comprehensive range of tailor-made products. The company also stands out with design proposals directly inspired by the C Beauty culture, for which cosmetic brushes are true works of art.
The company thus offers brushes with tufts that are artfully cut to look like flowers, such as peonies and roses, or handles with exuberant shapes using a wide variety of materials (metal, wood, polymers imitating porcelain, etc.).
Alongside its brushes and applicators, Beauty Yaurient recently introduced various high-end massage instruments with jade tips, providing a cool effect when in contact with skin. Also directly inspired by the Chinese culture of beauty, these products are patented and have already aroused the interest of several customers.
Recycled fibres and sustainable materials
In line with market demand, Beauty Yaurient now focuses on using sustainable materials. For instance, fibres used for the tufts are available in post-consumer recycled plastic (PCR) in proportions up to 100%, depending on customer demand. This approach helps to reduce dependence on virgin raw materials and contributes to the reduction of waste.
The company also uses natural materials such as wood or various composites of natural origin for the production of the brushes' handles. Beauty Yaurient is also exploring different solutions to eliminate glue for assembling brushes and thus improve their durability and recyclability.
In touch with the market
SGS SA8000, ISO9001 and ISO14001 certified, the Chinese company is currently developing its CSR commitments. A Fair Trade certification is in progress for its two factories in Shenzhen and Liling (Hunan) and it has already obtained the WBE (Women Business Enterprise) certification.
Despite difficulties during the pandemic years, Beauty Yaurient strives to stay at the forefront of changing trends and the needs of international customers. Eager to maintain contact with international markets, the company has chosen to participate in most major international trade fairs in 2023 and will thus be present at MakeUp in Paris, MakeUp in New York, Luxe Pack Monaco and Cosmoprof Asia, in Hong Kong. Beauty Yaurient is also exploring the possibility of opening a new factory in South Asia.
Portfolio