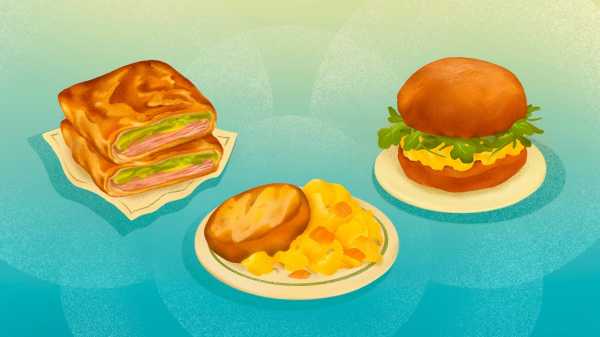 Save this storySave this storySave this storySave this storyYou're reading the Food Scene newsletter, Helen Rosner's guide to what, where, and how to eat. Sign up to receive it in your in-box.
You can eat any old sandwich for breakfast, but a breakfast sandwich is something particular, a category defined by form: there must be eggs, there must be cheese, and they must be swaddled together in the tender bosom of some form of bread, or at least something sufficiently bread-adjacent. Compositions of striking ambition and thrilling complexity can be built around this fundamental armature, but in my breakfast-sandwich journeys I've been burned more times than I can count: by too-chewy bacon, oversweet tomato confit, fussy and pointless garnishes, the inexplicable inclusion of sausage links, which rolled off the bread like logs from a timber lorry. A breakfast sandwich is a matter of balance and texture, but also urgency; it should be a snap to order, quick to prepare, a ritualized pleasure to consume. A worthy specimen is likely available at a bodega or a coffee cart near you, but if you're game to level up here are three that are, in my opinion, among the best in New York City.
The Mortadella Pancake at Win Son Bakery
The simple, honest truth is that the best breakfast meat is mortadella. Velvety and savory, a stylish gentleman's pink, the rich emulsion of pork and spices (arguably a pâté!) is unmatched as a complement to the similarly voluptuous flavors of egg and cheese. Take the Mortadella Pancake at Win Son Bakery, the more casual offshoot of East Williamsburg's wonderful Taiwanese American restaurant Win Son, in which silk-thin slices of mortadella join a crêpe-like scrambled egg, melty raclette, and slivers of pickly hot peperoncini. That could have been enough (dayenu), but then! The whole thing is wrapped up in an enormous scallion pancake, then pressed on the griddle to supreme toastiness; the flaky, pastry-like savory pancake is a perfect contrapunto to the unctuousness of its contents. If you eschew mortadella, a position I can neither endorse nor comprehend, there are variants made with bacon, pastrami beef, and shrimp patties, and a vegetarian version with jiǔcài (Chinese chives). All of them are served with a sidecar of dreamy, creamy dipping sauce that's fiery and funky thanks to doufu ru (fermented tofu) and fiery raw ginger.
The Breakfast Sandwich at Court Street Grocers
It's rare, for me, to find satisfaction in a breakfast sandwich that doesn't also contain some kind of meat—I need that extra hit of salt and fat, the deep savoriness, the textural oomph. At any of the city's four Court Street Grocers locations, you can get a breakfast sandwich with bacon or house-made chorizo, and it's great, but—to my surprise, and delight—it's not nearly as great as the version without. It's the eggs that make this sandwich such a joy to devour: they're fluffy, melty, buttery, tender without being runny, and cooked with not so much as a hint of a sear mark or a brown spot of overcooking. I'd frost a cake with them, if I could. Heaped onto a halved ciabatta roll and enrobed in a layer of melted white cheddar, they attain a multidimensional richness that genuinely changed my relationship to scrambled eggs. The pile of arugula on top is an inspired addition: the sharp greens slice through what could otherwise be too much butteriness, too much softness, readying your palate for another bite.
NEO on a Bialy at Barney Greengrass
The lox scrambled with eggs and onions—LEO, for those in the know—at this century-old Upper West Side appetizing shop is a deservedly famous dish, but allow me to swing the spotlight a few lines higher on the menu. There, you'll find the NEO, which uses Nova instead of the much saltier, much more face-punchy belly lox of the more famous variant. This preference isn't a matter of sodium aversion; it's a statement of connoisseurship. Lox is salmon that's been salt-cured; its flavor is saline and intense. This aggressiveness has a time and a place—there's a reason lox is so often cushioned by cream cheese and paired with sharp garnishes like tart tomato or raw red onion—but, in the LEO, its brashness totally overwhelms what ought to be a three-part harmony. Nova is also a salt-cured salmon, but then the fish is kissed with smoke. The flavor is sweeter, more subtle, a more elegant counterpart to sautéed onion, and its gentler texture is far more lovely against the eggs. The NEO at Barney Greengrass is one of the city's great breakfast plates—but is it a sandwich? It is the way I eat it: get a bialy on the side, split and toasted, and pile on as much of the scramble as the bread will hold. There are few more exquisite ways to start a morning. ♦
Sourse: newyorker.com