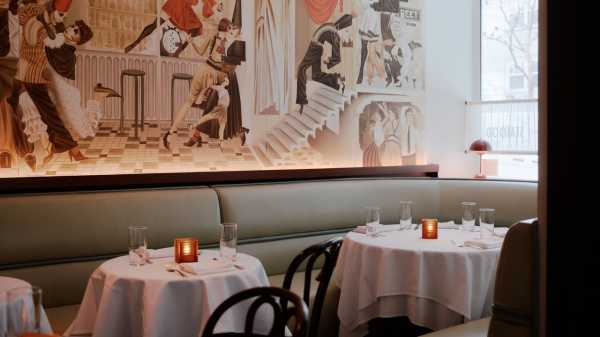 Save this storySave this storySave this storySave this storyYou're reading the Food Scene newsletter, Helen Rosner's guide to what, where, and how to eat. Sign up to receive it in your in-box.
In New York City, seemingly every day, a beloved local restaurant goes dark, the soul of the place dismantled along with its fixtures and fittings. A few months later, it is replaced by a puckish little bistro or a sleek all-day café that will perhaps—in time, if it's fortunate—become a beloved place in its own right, one that seems as if it's been there forever. The old-timers will sigh wistfully when they turn down a certain block, or spy a particular corner from the back seat of a taxi: That used to be Florent, that used to be China Chalet, that used to be Sorella, that used to be Lutèce. The city is so full of ghosts, it's a wonder a person can even walk down the street.
Cecchi's, a clubby restaurant that opened this summer in the West Village, occupies an address that's significantly haunted, even by the city's standards. The space's previous tenant, Café Loup, was a bona-fide writers' hangout, home base for a brainy, artsy Manhattan scene that, in the café's forty-odd-year history, encompassed Seymour Britchky, Susan Sontag, Christopher Hitchens, and an army of other literary-world regulars. When the restaurant closed for good, in 2019, amid a reported half-million dollars in unpaid taxes, it was eulogized as the end of a certain bohemian way of life in the city.
It's horribly unfair to weigh a restaurant against the ghost of its real-estate predecessor. If the new occupant of the Café Loup space had been a white-tiled, succulent-filled taqueria or a velvet-walled whiskey bar with a million-dollar sound system, the identity of the previous tenant would be little more than a passing fun fact. But Cecchi's—operated by Michael Cecchi-Azzolina, a career maître d' making his début as a solo restaurateur—almost seems to welcome the comparison. A first visit to Café Loup could be underwhelming, if you knew of its reputation. The restaurant was unfancy, a little bit ticky-tacky; its sophistication was a product of its clientele, not a matter of design. Cecchi-Azzolina, by contrast, has transformed the space into a Hollywood vision of an important literary haunt. The old cane-backed Café Loup chairs are still there; the hulking vintage cash register remains the centerpiece of the bar. But now there's molten-honey lighting, curvaceous banquettes ideal for table-hopping, and walls adorned with whimsical murals of bons vivants in various states of lust and play. Nothing stage-whispers "This is an important literary haunt" quite like a suite of whimsical murals—just ask Bemelmans, Monkey Bar, or the late Café des Artistes.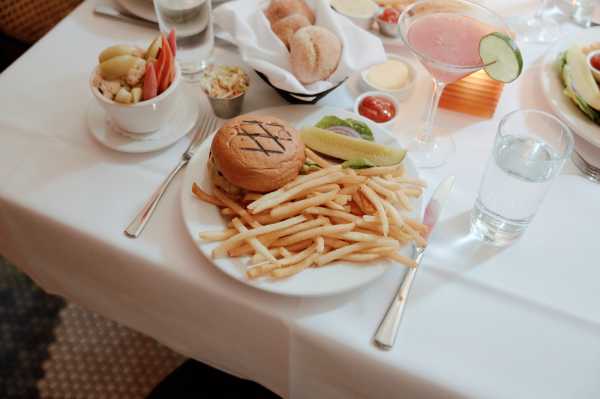 The minimalist burger is exquisitely juicy, but, as at Café Loup, the best thing on the menu is the fries: slim, golden, and crisp, glimmering with salt.
Stepping into Cecchi's is like being dropped into the middle of a party: to get to the host stand, you have to walk through the restaurant's front section, narrow wings that flank each side of the vestibule, set with round bistro tables and packed with good-looking young people and rich-looking older ones. It's a scene that shimmers with promise, though a promise is not a guarantee. Last year, Cecchi-Azzolina published "Your Table Is Ready," a dishy memoir of decades spent working in (and doing huge amounts of drugs in, and having huge amounts of sex in) some of the city's great restaurants. The book also explores the question of what a restaurant—especially a highly buzzy one—owes to its customers. If a guest isn't instantly made to feel that, "yes, we are happy you're here," Cecchi-Azzolina writes, then "the restaurant is in trouble." In a later interview, he advised customers in that scenario, "You know what? Just leave."
After a bit of an awkward wait at Cecchi's, I was led to a table positioned between a service station and a doorway leading to the restrooms. Was that my cue to pick up and go? Or was it when the gin rickey I'd ordered upon sitting down failed to materialize? I encountered Cecchi-Azzolina himself only once, after I asked my server if it would be possible to move to a different table—not something I'd normally do, but I wanted a taste of the man's famous ability to run a room. He is trim and suave, with center-parted dark hair; "more Woody Allen than Jean-Paul Belmondo" is how he describes himself in the book. He swept over, said, "Come with me," and wordlessly led an exodus from that toilet-adjacent arrangement to a slightly better one in the back room, next to a twelve-person birthday party. Café Loup, for all its clubbiness, was always warm, always welcoming, even to a person who'd never written so much as a text message. (My server at Cecchi's finally brought my drink with the entrées, and said that it would be taken off the bill.)
Maybe it was an off night. Returning a few weeks later, I found the same crowds, the same ambient warmth, the same nuclear-cocktail-party wall of chatter and clink. Cecchi's is a room that you want to be in, that you want to want you—so it is with great optimism that you smile at the hosts when you approach their stand. You hold the smile as you're sent to wait for your tardy companion's arrival at the bar, which is entirely full. You do that wiggly sideways shuffle between two seated parties and stand there for an eternal four minutes until you catch the eye of the bartender, with whom you engage in shouted crosstalk ("A wet gin Martini!" "A pigeon Martini?" "A gin Martini, wet!"), and then you sort of wobble there, in a narrow path between the backs of the barstools and the sides of the dining tables that serves as the restaurant's main service artery, trying to keep the contents of your cocktail glass from sploshing onto someone's seated head, and the sunny mood darkens, just a little. The table, this time, is decent—almost all of them are, outside the back room and that little island by the bathroom entrance—though not nearly as good as the curved booths, which anchor the room, thrones for the very V.I.P.s, or perhaps the very lucky.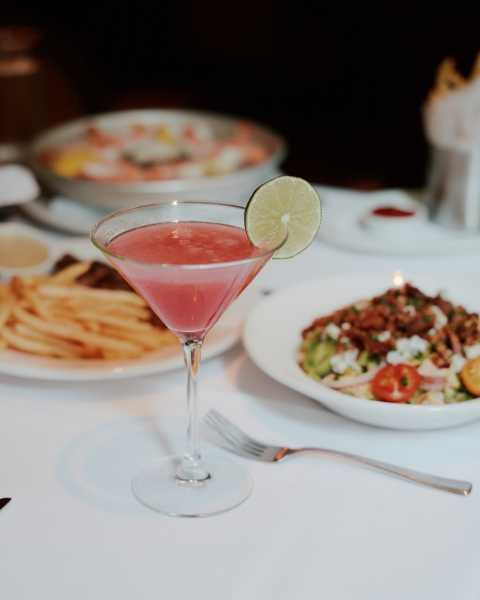 The pomegranate Cosmopolitan tastes good, but it's not clear if the restaurant is trying to revive it, make fun of it, or pretend that it never went out of style.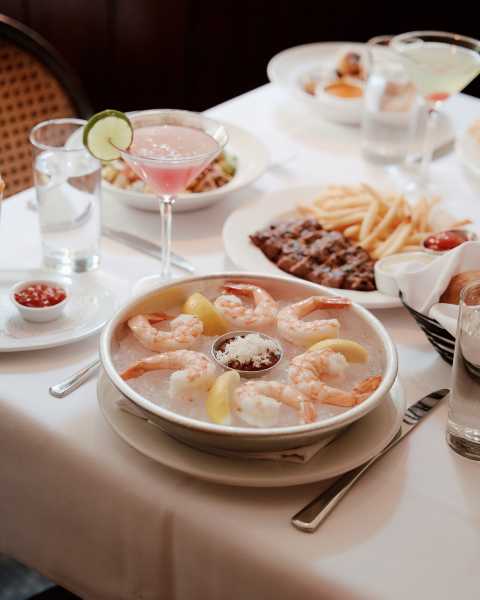 Cesar Balderas, the restaurant's chef, has stacked the bistro-style menu with throwbacks, such as enormous cocktail shrimp on a bed of shaved ice.
The food at Cecchi's is quite good, if a little unsure of the story it's trying to tell. The chef, Cesar Balderas, previously of Palm Beach, has stacked the bistro-style menu with winking nostalgia plays, exactly what the Martinis-and-TikTok crowd want: enormous cocktail shrimp on a bed of shaved ice; a minimalist, exquisitely juicy burger; a Not a Wedge salad that's chopped rather than composed. As at Café Loup, the fries at Cecchi's are the best thing on the menu. Unlike at Café Loup, this is not a veiled insult: the fries are slim, golden, and crisp, glimmering with salt, and excellent dipped in the tarragon-heavy brown-butter béarnaise that accompanies the menu's tender steaks. The kitchen also goes to some slightly weird places: San Gennaro in a Blanket, an Italian-sausage variant on pigs in a blanket served with a side of marinara, looks and tastes like it belongs on a kids' menu; an appetizer of apricot-glazed ribs, while forthrightly delicious, is conceptually more aligned with a nineteen-eighties issue of Parade magazine than with the timeless glamour that Cecchi's is trying to evoke. The brief specialty-cocktail list includes an appletini and a pomegranate Cosmopolitan, two of the biggest alcoholic punch lines of recent era, but plays them absolutely straight: they're well made and they taste good (They always have! There's a reason they became wildly trendy!), but it's not clear if the restaurant is trying to revive them, make fun of them, or pretend that they never went out of style in the first place.
Desserts are simple, and I was especially pleased by a strawberry shortcake built around a not-too-sweet biscuit. But when I ordered a cappuccino over which to linger I received a double espresso slugged with milk, under not a speck of foam. Does it even matter? "Food or service? Food or service? Food or service?" Cecchi-Azzolina muses in his memoir, adding, "Even if eating the same dish every time—the steak au poivre at Raoul's, the Black Label burger at Minetta Tavern, the rigatoni at Carbone, the ris de veau at Le Coucou, the Dover sole at La Grenouille, or some new concoction whipped up by the darling chef of the moment—it's still the service. Always the service." No one forgot to deliver the cocktails the second time around. ♦
Sourse: newyorker.com