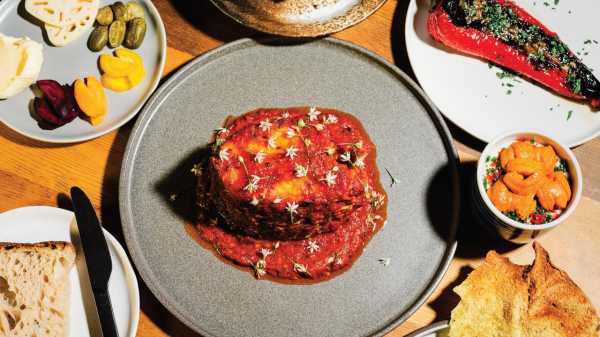 Save this storySave this storySave this storySave this storyYou're reading the Food Scene newsletter, Helen Rosner's guide to what, where, and how to eat. Sign up to receive it in your in-box.
New York is a phenomenal restaurant city, but it is rarely a thrillingly innovative one. As usual, we can blame capital: The cost of operating a food business in this viciously expensive town makes risktaking far too risky. So it's exhilarating to encounter a meal that's genuinely interesting, a style of cooking not easily summarized in a sound bite. At Foxface Natural, a chic little restaurant on an unglamorous stretch of Avenue A, in the East Village, the owners Sivan Lahat and Ori Kushnir, who are also a couple, are doing something almost rebellious in their apparent lack of regard for trends, or social media, or financial success.
Foxface Natural
189 Avenue A
Dishes $11-$69
The secret to this creative freedom is—let's be plain—more capital. Lahat and Kushnir are devoted gastronomes; they're also former tech entrepreneurs who, thanks to a software company in which Kushnir has an ownership stake, found themselves earning enough money to quit their day jobs. The pair took off to Japan for a few years, then returned to New York and opened the idiosyncratic Foxface sandwich shop—because they wanted to, and because they could—which became famous on the strength of, among other things, a spiced camel-meat pita.
The sandwich shop is now closed, but the duo remains committed to the idea of menu as menagerie. At Foxface Natural, which opened this spring, you may encounter purple clams (with cucumber, five ways), Boer goat (smoked, with a tomato-saffron sauce), pig's blood (a sausage filling), or gooseneck barnacles that resemble dragon claws. "Where do you source your kangaroo?" I asked on a recent visit, staring down a dish of marsupial tartare. The ruby meat was lean and subtle, tossed with punchy slivers of pickled rhubarb and spiced intoxicatingly with coriander, fenugreek, and turmeric. It was served with paper-thin crackers and an unnervingly coal-black sweep of charred-eggplant purée. The answer to my question, of course, was Australia. Kushnir, who has the black ponytail and off-kilter earnestness of an aging punk, explained that kangaroos are agricultural pests; the Australian government encourages hunters and farmers to cull the animals, which are then sent to facilities for, as Kushnir discreetly put it, "processing."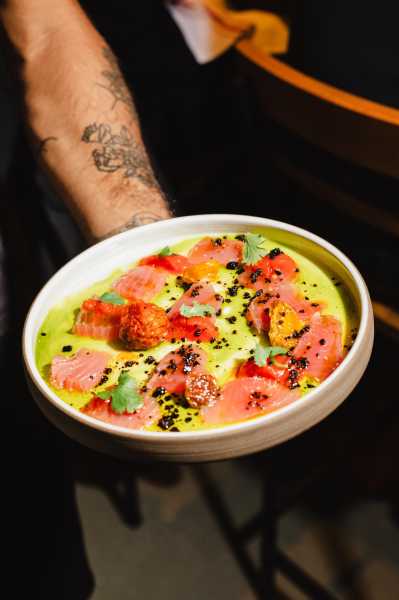 The frequently changing lineup might include anything from fish dishes like tuna crudo (above) to kangaroo tartare.Photographs by Lanna Apisukh for The New Yorker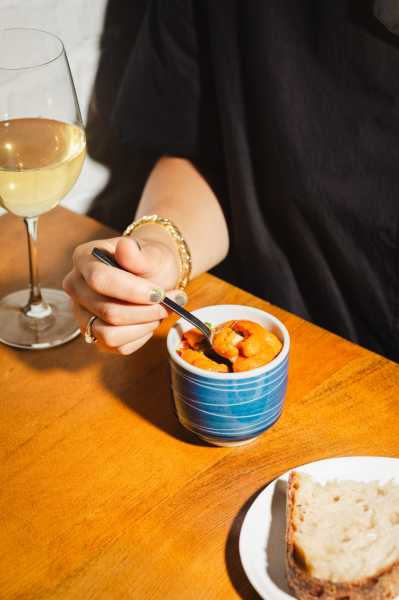 What the restaurant calls a pascaline is a riff on the Japanese egg custard chawanmushi, topped with uni and studded with jewels of scallop and shrimp.Photographs by Lanna Apisukh for The New Yorker
There are recognizable flavors at Foxface, and recognizable shapes, but—in the talented hands of the chef David Santos, a fine-dining veteran—rarely both at once. The closest the kitchen comes to convention is a hulking steak of striped bass, a near-circular cross-section of the noble fish, which is roasted on the bone in a burning oven, and served with an explosively flavorful sauce inspired by chraime, a tomato-based Sephardic stew. A frizzy schnitzel-looking creation on many tables is a fried disk of sweetbreads, marshmallow light, garnished with chanterelles and corn—a study in yellows and golds. The restaurant's approach to pasta includes a single, lengthy, snakelike pocket called a girella, presented spiralled in on itself, like a jagged flower. Its fillings and accompaniments change with the kitchen's whims; I tried it stuffed with a purée of golden tilefish, buttery and sweet. It was set atop a sunset-orange sweep of sauce Nantua, made with shrimp and cream, and bathed in a tarragon broth drizzled tableside. "I recommend that you cut the pasta one bite at a time, from the outside in, so the filling stays warm," Lahat said, in a crisp Israeli accent, after presenting the dish. She is tiny and sharp-featured; her upturned glasses resemble those worn by the fox of the restaurant's logo.
Though each individual dish at Foxface is a superb little composition, and the lineup changes regularly, a meal as a whole can feel a bit repetitive. On one visit, Middle Eastern and African spices appeared over and over again, and fish preparations dominated the brief menu. This, perhaps, is the flip side of a business that doesn't need to play to the masses: it's not going to be for everyone, and maybe that's O.K. Lahat and Kushnir could cram a few more tables into the modest dining room, but they've chosen instead to preserve an open feel. The space is animated by a purposeful sense of flow and a satisfying efficiency; order the sourdough bread, baked in-house, lusciously soft and presented alongside a dish of bright-yellow cultured butter and a tableau of tiny pickles, and you might see a server reach to pull a loaf down from a niche on the wall behind the bar, where a half-dozen boules are shelved on their sides, like books. Other shelves around the room display bottles from Foxface's unconventional wine list, compiled by the beverage director Raq Vo. Sitting at the bar one evening, I swirled a glass of a Vermentino-Moscato blend that looked like apple juice and tasted wild and metallic, like beautiful gasoline. It was strange, assured, unbothered, exquisite.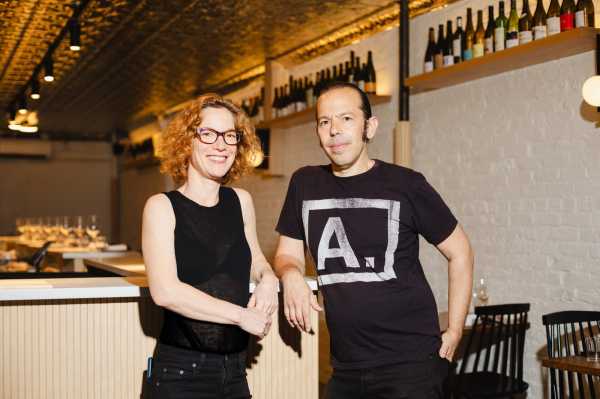 Before opening their new restaurant, Sivan Lahat and Ori Kushnir operated an idiosyncratic sandwich shop known for dishes like a spiced camel-meat pita.Photographs by Lanna Apisukh for The New Yorker
A meal at Foxface Natural is a calm affair, even as the dining room thrums with the grimy, horny bass line of Peaches' "Fuck the Pain Away." The whole endeavor has a grown-up feel—not in a stuffy, starched-collar way but in a sense of having poise, of being fully formed. What the restaurant calls a pascaline is a Frenchified riff on the Japanese egg custard chawanmushi, topped with a pile of uni. Plumbing the custard's depths I found jewels of sea scallop and wild sweet shrimp, nearly as delicate as the custard itself, silk against silk. Yes, it was yet another seafood dish, but while savoring a bite I caught myself feeling something that I've only previously felt during marvellous meals in other cities—at Rochelle Canteen, in London, or Ototo in Los Angeles, or the late Manfreds in Copenhagen—a sort of wistful joy, a longing for a slightly lovelier life: Oh, if only I lived here. And it was with a jolt that I realized, my God, I actually do.  ♦
Sourse: newyorker.com