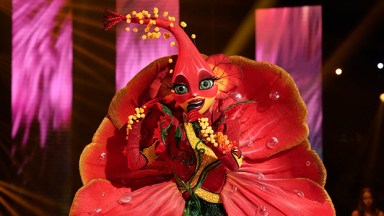 Image Credit: FOX
Four new celebrities took the stage during the November 8 episode of The Masked Singer, and the most glamorous masked singer of Group C was undoubtedly Hibiscus. The masked fashionista looked incredible in a sleek red jumpsuit with gorgeous petals fanning out behind her.
At the end of the night, Hibiscus was eliminated and unmasked. The celebrity under the Hibiscus costume was none other than Real Housewives star Luann de Lesseps. Hollywood Life spoke exclusively with the RHONY alum about making her Masked Singer debut.
"I'm a fan of the show. I think it's incredibly fun, and I love all the judges and just doing something out of my comfort zone," Luann, 58, said. "It was just an incredible experience I wanted to have, and it was a challenge for me because I didn't know what song I was going to sing at the time. I didn't know what the costume was going to be. I like to take chances. I like adventures, and I love the idea of dressing up in a costume performing, and having people guess who I am. I love the idea of game shows. I love the idea of this kind of competition show, and I do love to sing. I thought this was the perfect fit for me."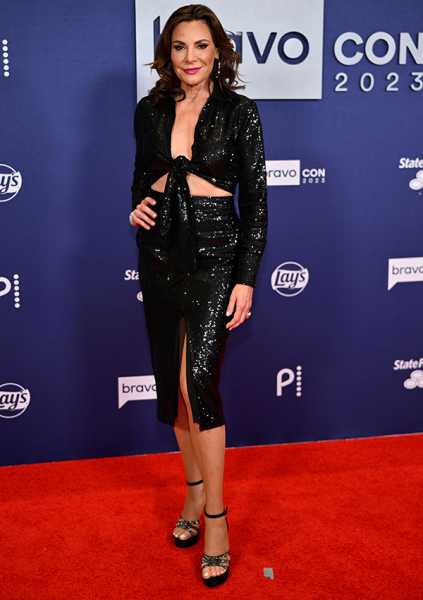 Luann de Lesseps was Hibiscus on 'The Masked Singer.' (Stephen Greathouse/Shutterstock)
Speaking of the "perfect fit," Luann dazzled in the Hibiscus costume. "They actually had people come to New York to measure every inch of my body. It was an unbelievable experience," Luann revealed.
The Welcome to Crappie Lake star admitted that performing in the Hibiscus costume was "certainly not easy." She added, "It's hard to see and then you have dancers around you so you can't have peripheral vision. That was gone. You can only really see in front of you. It looks heavier than what it really was, I have to say. I think a lot of the costumes were heavier and probably more difficult to perform in. I felt very streamlined, but it was a challenge."
Luann noted that she felt "a little claustrophobic because it was so tight. It takes getting used to having something on your head like that, carrying this backpack of fabulous pedals and actually having to perform and move around the stage. It's not as easy as it looks."
Jenny McCarthy guessed Luann's identity before the big Hibiscus. Given Luann's history with Jenny, she wasn't surprised whatsoever. "Jenny and I kind of go way back," Luann told Hollywood Life. "Our sons went to school together in New York. She knows I'm a nurse. She knows things about me that a lot of people might not know. Robin Thicke, he's not gonna know these things. I feel like Jenny kind of had a leg up. We've known each other for so long. I knew that she was going to be the first."
The Countess will be reuniting with some of her OG RHONY ladies for the upcoming season of The Real Housewives Ultimate Girls Trip: RHONY Legacy, premiering December 14. Luann revealed which member of the cast should do The Masked Singer next. "I think Sonja [Morgan] would have a good time with it," Luann said. "Sonja likes to do her shows, and she likes to perform. I feel like she would be a lot of fun."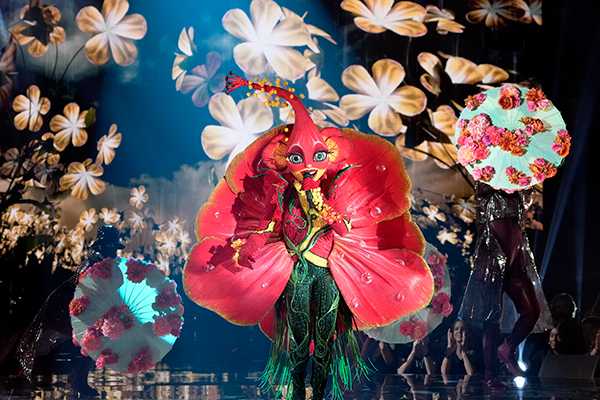 Luann de Lesseps performing on 'The Masked Singer.' (FOX)
In addition to Real Housewives Ultimate Girls Trip, Luann will be returning to the stage for a new set of Countess Cabaret dates. "I really love what I do," Luann gushed. "The cabaret is really my love affair with being a hostess and singing for my friends and telling jokes to my friends. That's really how it started. I really enjoy being on tour. I love the team that I travel with. I have my road manager and my musical director. We have a great time on the road. I'm just always amazed that I get to do this. I have so much gratitude for being able to do something I love like that."
The reality star is also launching a brand new show, Marry F Kill, which will open at The Wiltern in Los Angeles on February 16, 2024. New episodes of The Masked Singer air Wednesdays on FOX.
Sourse: hollywoodlife.com