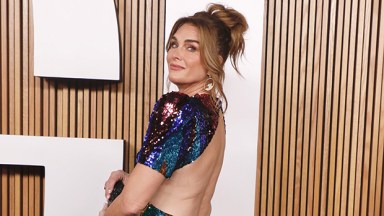 Image Credit: Gregory Pace/Shutterstock
Brooke Shields, 58, turned many heads in her sexy ensemble at the Glamour Women of The Year Awards in New York City on November 7. The Pretty Baby star sizzled in a multi-colored sequined gown by Halpern that also featured a chic backless design. Brooke's dress was notably floor length and boasted slightly puffed shoulders.
Of course, the 58-year-old made sure to accessorize the look and added several pieces of jewelry from Paige Novick's designs. Brooke's ensemble was complete with droplet earrings, several cocktail rings, and a chic diamond bracelet. Finally, the brunette beauty tied the outfit together with a Judith Leiber clutch and opted to wear her golden tresses up in an elegant updo.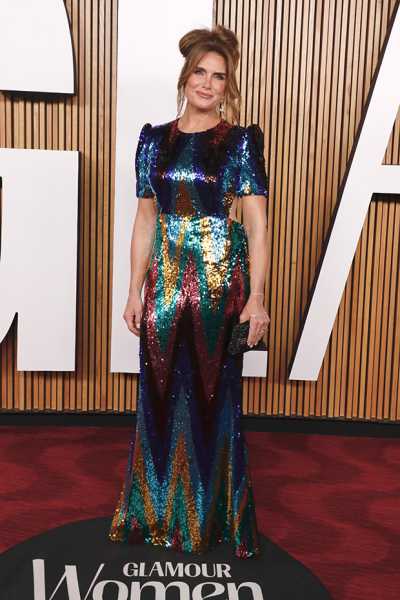 Brooke Shields rocked a sequined backless gown at the 2023 Glamour Women of the Year Awards. (Gregory Pace/Shutterstock)
The mother-of-two took to Instagram the following day to share the details of her outfit and expressed her gratitude to Glamour magazine for honoring her with the award. "What an absolute honor of an evening… thank you thank you thank you to @glamourmag, @sambarry, and all of the incredible women who have lifted me up to this point," Brooke's caption began. "Be prepared for many many MANY more posts… #GlamourWOTY."
Brooke's latest outing and red carpet moment comes just one week after her cover story for Glamour's Women of The Year issue was released. In the interview, the former child model opened up about her successful career, her recent health scare, and more. Brooke revealed that she suffered from a grand mal seizure in recent weeks. "I was drinking so much water, and I didn't know I was low in sodium," she told the outlet. "I flooded my system, and I drowned myself, and if you don't have enough sodium in your blood or urine or your body, you can have a seizure."
Brooke Shields was honored at the 2023 Glamour Women of the Year Awards in New York City. (Gregory Pace/Shutterstock)
At the time of the incident, Brooke was waiting for her Uber to pick her up when she began to feel unwell. "I was waiting for an Uber; I get down to the bottom of the steps, and I start evidently looking weird, and [the people I was with] were like, 'Are you OK?'" she recalled. "I go in, two women come up to me; I don't know them. Everything starts to go black. Then, my hands drop to my side, and I go headfirst into the wall. I start having a grand mal seizure. It means frothing at the mouth, totally blue, trying to swallow my tongue. The next thing I remember, I'm being loaded into an ambulance. I have oxygen on."
During the seizure Brooke couldn't help but remember that a certain Hollywood heartthrob helped her during her time of need. "And Bradley f****** Cooper is sitting next to me holding my hand," she went on. "I didn't have a sense of humor. I couldn't really get any words out. But I thought to myself, This is what death must be like. You wake up and Bradley Cooper's going, 'I'm going to go to the hospital with you, Brooke,' and he's holding my hand. And I'm looking at my hand, I'm looking at Bradley Cooper's hand in my hand, and I'm like, 'This is odd and surreal.'"
View Related Gallery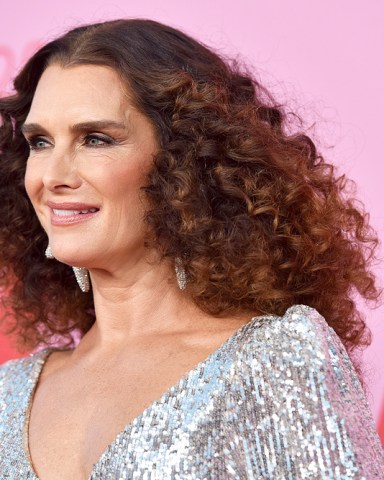 A-lister <a href="https://hollywoodlife.com/tag/brooke-shields/"><strong>Brooke Shields</strong></a> has been a Hollywood mainstay since the 1970s. Over the years, we've seen her rise to prominence as a child actor, star in major modeling campaigns, and even graduate from an Ivy League university. The daughter of a New York City actress and socialite, Brooke was destined for the spotlight, and made her modeling debut at just 11 months old. It was her star turn in 1978's <em>Pretty Baby</em>, however, that catapulted her to stardom and earned her critical acclaim. At the tender age of 14, in 1980, Brooke became the youngest person to appear on the cover of <em>Vogue</em> magazine and went on to star in a controversial campaign for Calvin Klein. Throughout the 80s, she also starred in <em>The Blue Lagoon</em> and <em>Endless Love</em>, however, she announced a hiatus from acting in 1983 to complete her bachelor's degree in Romance Languages at Princeton University. Brooke was back and bolder than ever by the mid-90s with her show <em>Suddenly Susan</em>. The NBC sitcom ran from 1996 to 2000, and earned two Golden Globe nominations for the part. After another extended hiatus, Brooke<em> had</em> a major recurring role on the 19th season of <em>Law & Order: Special Victims Unit </em>(2017-18.) Brooke's life and career was explored in the 2023 documentary, <em>Pretty Baby</em>. Scroll through our gallery above to see more pics of Brooke from over the years, and some of her career highlights!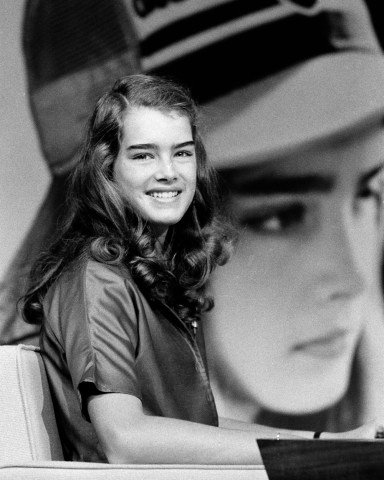 Actress/model Brooke Shields is shown on the set of NBC's "Today Show," April 2, 1979. (AP Photo/Dave Pickoff)
Sourse: hollywoodlife.com