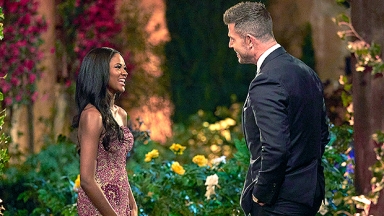 View gallery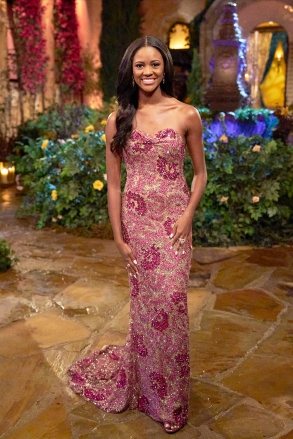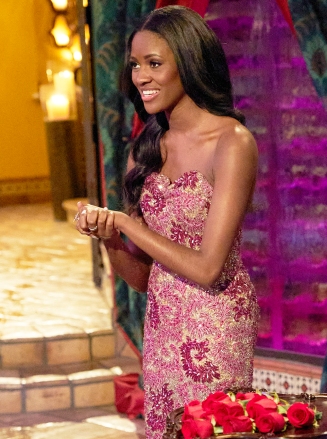 Brayden Bowers was the recipient of the first impression rose on season 20 of The Bachelorette. The 25-year-old (who was 24 at the time of filming) won Charity Lawson over when he stepped out of the limo and presented her with a shot of tequila. "I work as a nurse in San Diego and I figured we have to be responsible and make sure we're up to date on our shots," he joked.
Viewers got to know Brayden a bit better with his intro package, as well. "I'm a very emotional person," he shared. "I feel a lot. I'm of that mindset where I'm constantly evaluating things, but I also like to have fun, too. There's few experiences I'd say no to. I want to life my life with a wanderlust for the world. Like Aladdin. That's what I want, dude, I want to go on a magic carpet ride. I want to find someone that's going to experience all those things with me and I hope that's Charity."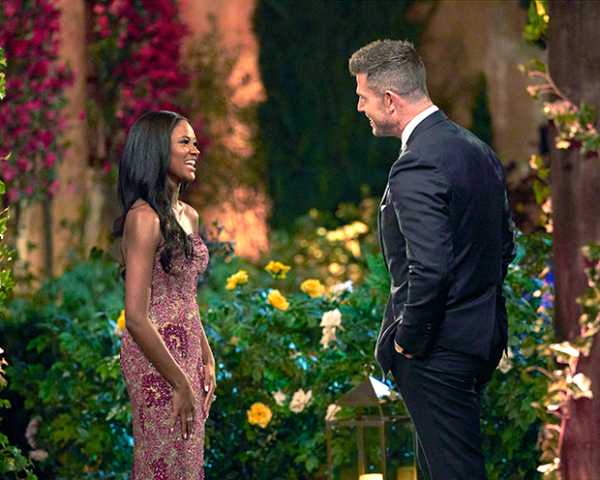 Charity greeting host Jesse Palmer on night one. (ABC)
Brayden also shared that he'd been cheated on in the past, with is something Charity also opened up about when she was on The Bachelor. "She knows what it's like to be hurt like that and it makes me a little more hopeful for this whole thing," Brayden admitted. "I want that connection with someone."
Once inside the mansion, Brayden and Charity got a chance to talk more. He told her he was "stoked" when he found out she was the Bachelorette, and opened up about how they went through similar situations in their past relationship. Charity asked him what quality she had that made him so excited about pursuing a relationship with her. "I think it was the empathy," Brayden said. "I think a lot of people are so concerned about themselves that they forget to be considerate of other people. I know for me, sometimes in a relationship, I can be over-considerate to the point where it's almost hurting myself. So I know I need to find someone who's just as considerate as that."
Brayden and Charity bonded over this similarity, as well. "I constantly over-extend myself, so it's just learning to set those boundaries of how much I need to give in a relationship and also sit back and let it happen to me," Charity admitted. Brayden was giddy amidst his time with Charity, and their conversation ended with a kiss…followed by another kiss. "With Brayden, we immediately hit it off," Charity gushed. "It was almost instantaneously. I'm already giddy. I'm laughing, that's evidence. Brayden's a good kisser, a good person, good all the way around. It's a check."
Brayden on 'The Bachelorette.' (ABC)
After they parted ways, Brayden couldn't stop talking about the kiss in front of the other guys in the house. What he didn't know, though, was that Charity's brother, Nehemiah Lawson, was in disguise and working as the bartender. He overheard everything Brayden was saying. Unfortunately, he didn't make a great impression on Nehemiah.
"Brayden has a lot of energy. He's very extroverted," Nehemiah pointed out. "He struck me as confident, but maybe trending towards arrogant. I think humility is going to be the key, especially this early in the journey, for any of the guys my sister talks to. Brayden has a huge ego. I see it in his body language, I hear it in the way he's talking. Don't get too cocky because it's night one."
Nehemiah then got some time with Charity to fill her in on what he witnessed. He told Charity that Brayden was even "so emboldened to say he might get a rose." In confessionals, many of the other men also made it clear that they were weary of Brayden. Charity was a bit skeptical after chatting with Nehemiah, and asked Brayden to clarify what happened.
"I honestly felt like we had a really good connection. I wasn't trying to be cocky, but the kiss we had was really amazing," Brayden shared. "If I was in your shoes and I had that connection, I would've given you my first impression rose. The feeling that I had…I was giddy. I thought it went great and that's kind of where I was at. I wasn't in a place of trying to brag."
Charity stepped away for a minute, and Brayden was admittedly nervous. "I never want to come off cocky," he admitted. "I was in the moment, I was excited." In the end, Charity's connection with Brayden outweighed any concerns. "The first impression rose, for me, is something that I don't take lightly," she told him. "So for you to share that with my brother about how strongly you feel about our connection, it meant a lot. You have every single right to feel that. Because you have truly been a breath of fresh air for me and I feel the exact same way."
Brayden was presented with the first impression rose, and he accepted. "I'm feeling super happy about him," Charity gushed. "My brother's intel was extremely insightful. Brayden has every right to feel confident because I want someone who's here for me, someone who's excited about me and someone who doesn't have a problem making that known."
Click to Subscribe to Get Our Free HollywoodLife Daily Newsletter to get the hottest celeb news.
View Related Gallery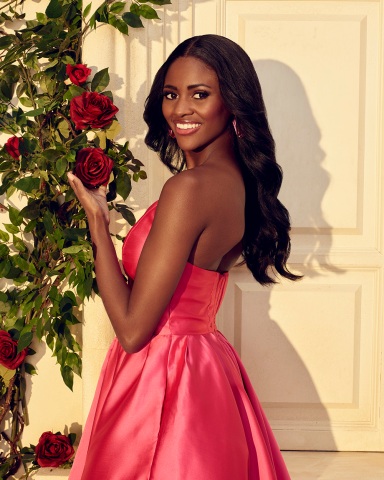 THE BACHELORETTE – ABC's "The Bachelorette" stars Charity Lawson. (ABC/Sami Drasin)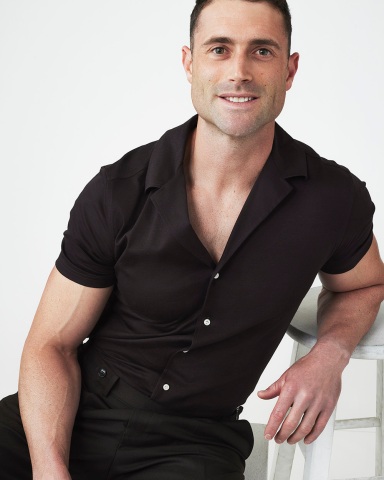 THE BACHELORETTE – ABC's "The Bachelorette" stars Aaron S. (ABC/Ricky Middlesworth)
Sourse: hollywoodlife.com