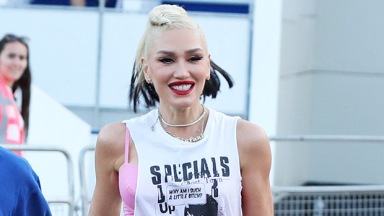 View gallery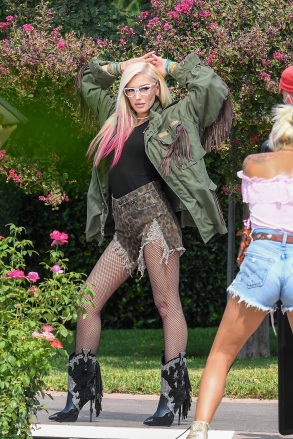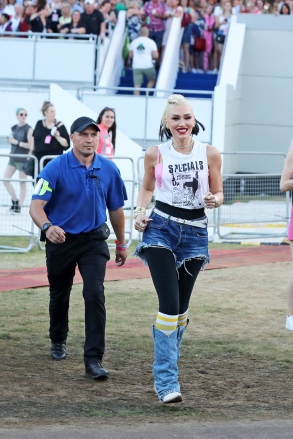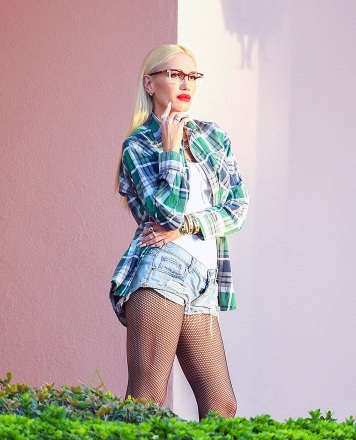 Image Credit: MEGA
Gwen Stefani is always rocking some sort of stylish outfit and that's exactly what she did at the British Summer Time Festival in Hyde Park on June 25. The 53-year-old wore a pair of daisy dukes over leggings after performing her set and running to go see Pink perform.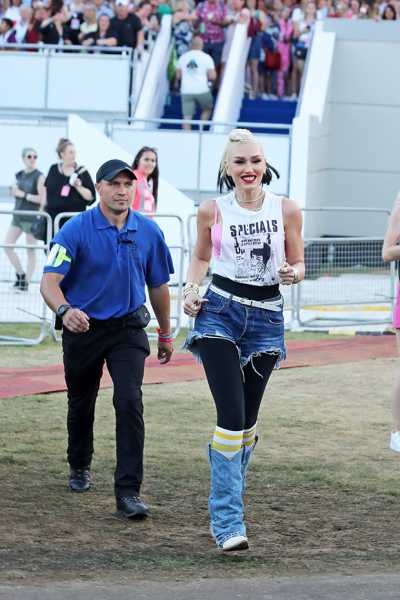 Gwen Stefani rocked a pair of daisy dukes over leggings at the British Summer Time Festival in Hyde Park on June 25. (MEGA)
For the outing, Gwen wore a pair of high-waisted black leggings with a pair of low-rise, dark blue denim distressed short shorts on top. She cinched in her tiny waist with a thin white leather belt and tucked into her pants was a sleeveless graphic black and white tank top with a baby pink bralette underneath. She accessorized her look with a pair of white and yellow striped socks and denim cowboy boots as well as layered necklaces, gold bracelets, and a slew of rings. As for her glam, Gwen had her platinum blonde hair thrown back into a ponytail with her ends dyed jet black.
View Related Gallery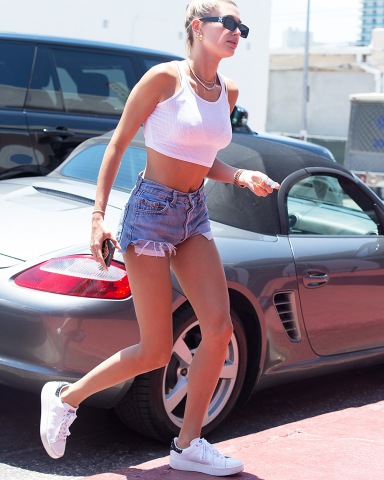 Daisy dukes are a classic staple in Americans' wardrobes. The term was coined from Catherine Bach's role as the bombshell "Daisy Duke" in "The Dukes of Hazzard," a television show that ran between 1979 and 1985. Now, hot pants are the norm, especially among Hollywood's biggest stars. Hailey Baldwin is seen here, rocking the go-to LA look: short shorts, a cropped white tank and a pair of slick shades. Daisy dukes are perfect for running errands, as Ariel Winter will show you. But they're also appropriate for entertaining the crowd, as Miley Cyrus proved on stage! Stars love to let their personalities show through in each pair of short shorts. Taylor Swift was pictured in striped shorts, which reflected her normally posh and preppy style (well, aside from that one "Reputation" phase). Meanwhile, Kendall Jenner looped a sparkly silver belt through her blue denim shorts, as expected of the queen of high fashion. There's all kinds of ways to wear short shorts, as you'll see by clicking through the gallery.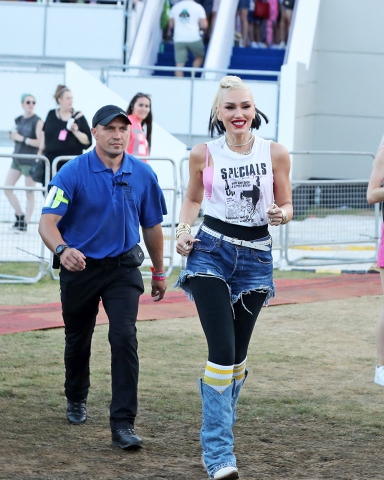 EXCLUSIVE: Gwen Stefani surprises fans as she runs across the field after her performance to watch Pink at American Express presents British Summer Time festival in Hyde Park. The 53-year-old stunner got very emotional as Pink tells the crowd what an incredible songwriter Gwen is and started to cry. 26 Jun 2023 Pictured: Gwen Stefani. Photo credit: MEGA TheMegaAgency.com +1 888 505 6342 (Mega Agency TagID: MEGA1000512_019.jpg) [Photo via Mega Agency]
Gwen has been on a roll with her outfits lately and aside from this look, she recently wore a super cropped white tank top underneath a baggy green Windowsen Destroyed Checked Oversize Shirt and styled it with a pair of high-rise Windowsen Graphic Mesh Botton Pants. Another one of our favorite recent looks was when Gwen channeled Barbie in a pair of bright pink Norma Kamali Fringed High-Waisted Trousers with a matching, low-cut V-neckline Norma Kamali Sleeveless Fringed Top.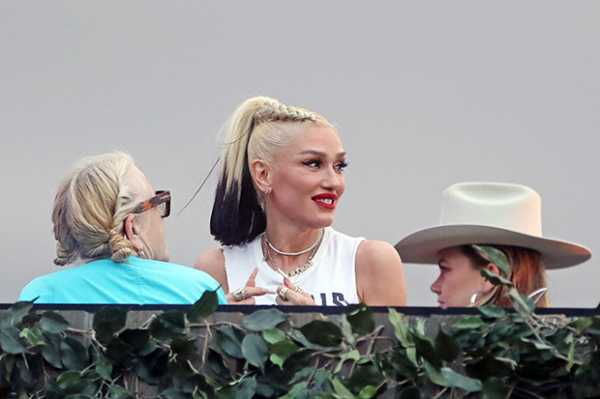 Gwen had her platinum blonde hair thrown up into a ponytail with her ends dyed jet black. (MEGA)
As if her outfits couldn't get any more stylish, she stepped out recently wearing a pair of fitted, low-rise white Dsquared2 Distressed Denim Skater Jeans with a black and white button-down shirt tucked in. On top of her shirt, she wore a black Comme des Garcons Bow Blazer and accessorized with a Dolce & Gabbana Medium Devotion Bag in Quilted Nappa Leatherand black leather Paris Texas Paloma Boots.
Click to Subscribe to Get Our Free HollywoodLife Daily Newsletter to get the hottest celeb news.
Sourse: hollywoodlife.com