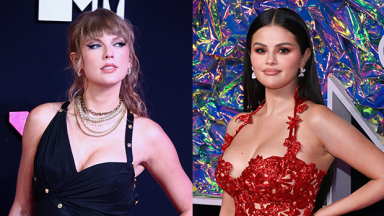 Image Credit: Anthony Harvey/Shutterstock
Selena Gomez and Taylor Swift had a great time at the MTV VMAs together on Tuesday, Sep. 12. With the two singers having a long-standing close friendship, of course, they posed for a few photos together. Selena shared a cute shot of them embracing on her Instagram Story, and while she raved about how amazing her BFF looked, she made a small joke at her own expense.
In the photo, both Selena, 31, and Taylor, 33, appeared to be laughing as they stood offstage at the award show. As they were talking, the candid shot caught Selena at an angle that she thought was funny, as she hyped up her gorgeous best friend. "She looks stunning. I look constipated," she wrote. "Typical."
📸 | Selena Gomez via Instagram story #VMAs

— "She looks stunning I look constipated. Typical." pic.twitter.com/VAN0Bz3WA9

— Taylor Swift News 🩵 (@TSwiftNZ) September 13, 2023
Despite Selena's self-deprecating joke, both ladies looked absolutely gorgeous for the VMAs. The "Single Soon" singer rocked a tattered red gown, with a sparkling floral design all over it. The completed the look with sparkling rings and matching high heels. Meanwhile, Taylor went for a black gown with a high leg slit. Even though 1989 is her next Taylor's Version to drop, the dress was definitely giving reputation vibes.
The night was huge for both Tay and Selena. The "Anti-Hero" popstar was the most nominated artist, and most decorated, taking home 9 out of the 11 VMAs she was nominated for, including the coveted Video of the Year, Song of the Year, and Artist of the Year awards. Selena was nominated for three awards with her Rema collab "Calm Down." She took home the Best Afrobeats award.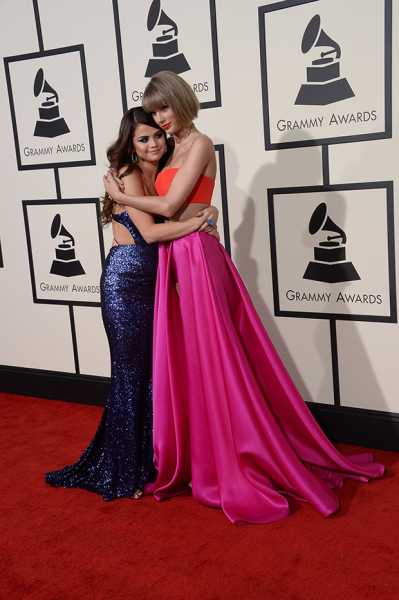 Taylor and Selena hug at the 2016 Grammy Awards. (Jim Ruymen/UPI/Shutterstock)
Both of the singers have supported each other in their musical endeavors this summer. Selena attended Taylor's epic "Eras Tour." When the Only Murders in the Building star dropped her new song "Single Soon," Taylor shouted her out on Instagram. "When ur bestie is the bestest. Will be dancing to this forever methinks," she wrote.
At the VMAs, Selena also went viral for her reactions to Olivia Rodrigo's performance and hearing that Chris Brown was nominated for an award. After the fact, she took to her Instagram Story and vowed to "never be a meme again," after the response. "I'd rather sit still than be dragged for being myself," she wrote on her Instagram Story. "Much love."
Sourse: hollywoodlife.com