Lenny Kravitz bares it all in his new music video for "TK421!" The eclectic rockstar, 59, showed off his routine for getting ready, which includes dancing in the nude, in the awesome clip. Over the course of the song, Lenny gets out of bed, brushes his teeth, showers, and throws some clothes on before heading out the door.
The song is a funky number, with a title that seems to be a reference to Star Wars, and the rocker showed off plenty of his dance moves. The video opens with Lenny laying in bed, and as he throws the covers off, he sits on the edge of the bed, showing off his chiseled abs and muscular physique. He even gives a flash of his butt shaking as he goes to open up the curtains.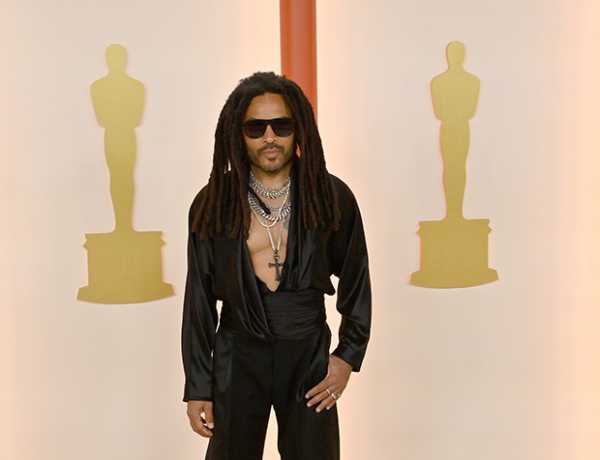 Lenny shows off his chest on the red carpet of the 2023 Oscars. (Jim Ruymen/UPI/Shutterstock)
Lenny then makes his way to the bathroom, smoking a cigarette before hopping in the shower. As he bathed, he gave fans a very close look at his sculpted chest. He then brushes his teeth and keeps dancing in a towel. He keeps on dancing in his closet as he wiggles into different clothes, before playing guitar and singing in his bedroom. The video ends with him strutting down his main staircase and heading out the door.
"TK421" is the first single from Lenny's upcoming album Blue Electric Light, which will be dropping in March 2024. The record follows 2018's Raise Vibrations. The song's title is seemingly a reference to the male designation for an Imperial Stormtrooper in the Star Wars movies.
Lenny has never been shy about showing off his body, whether it's in performances, public appearances, or social media posts. Back in January, he posted a cheeky photo of himself going for a dip in the ocean without any clothes on. When he attended the 2022 Met Gala, he rocked a black sheer top, showing off his chest, as he also kept his affinity for leather with some matching pants. He completed the outfit with a sheer cape.
Sourse: hollywoodlife.com