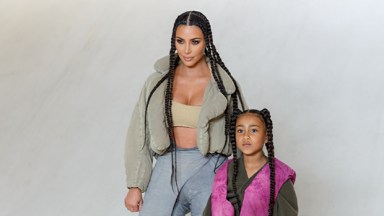 Image Credit: Marc Patrick/BFA.com/Shutterstock
North West likes the simpler life. During a conversation with Kourtney Kardashian in the November 2 episode of The Kardashians, Kim Kardashian reveals that her oldest child likes living with her dad the most.
"North will go to her dad's [Kanye West] and she's like, 'Dad's is the best. He has it all figured out. He doesn't have a nanny or a chef or security. He lives in an apartment,'" Kim, 43, explains. "And she will start crying, 'Why don't you have an apartment? I can't believe we don't have an apartment.'"
Kourtney, 44, admits that the same thing happens with her kids went they go to Scott Disick's house. Her kids will tell her that Scott has the "best house" and her "house sucks." The Lemme founder adds, "I feel like everything falls on the parent that's like more involved."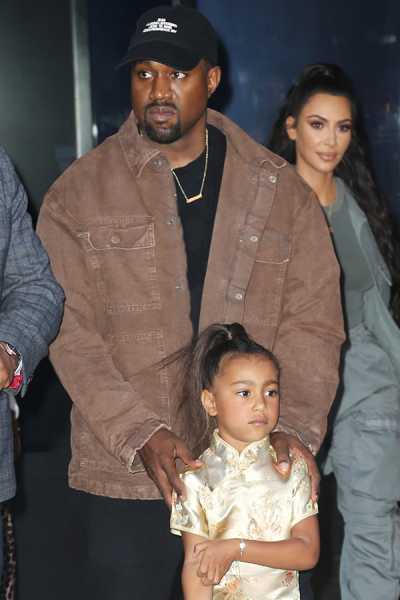 North West with Kanye West and Kim Kardashian in 2018. (Broadimage/Shutterstock)
Kim also reveals that North, 10, and her other kids make their own food at Kanye's house. Later in the episode, Kim spends quality time with North. They cook a meal together. When North is asked if her mom can cook, the 10-year-old replies, "Heck no."
The SKIMS founder says that her daughter "is really special and smart and creative and definitely beats to her own drum." She calls North's personality "really, really silly." Kim also notes that Kourtney has told her that North is her "lesson on this planet."
When she's asked what that means, Kim responds, "It means that I'm supposed to learn even more patience. She teaches me patience. She has taught me a lot about life." During their mom-daughter date in the kitchen, North casually chomps down on an onion. "This is what she does, people. She eats veggies like apples," Kim says.
Kim and Kanye, 46, were married in 2014 and divorced in 2022. Despite their issues, Kim has been dedicated to making sure that her kids — North, Saint, 7, Chicago, 5, and 4-year-old Psalm — have a solid relationship with their dad. For Halloween this year, North dressed up as the bear mascot that was featured on Kanye's 2007 album Graduation. New episodes of The Kardashians premiere Thursdays on Hulu.
View Related Gallery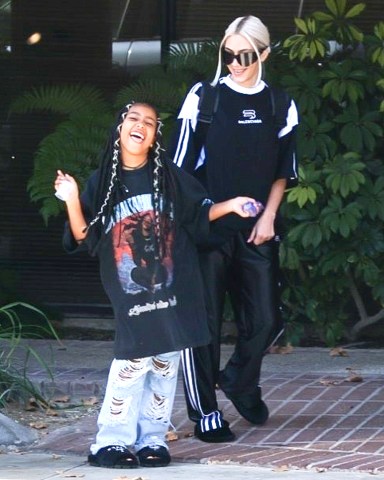 Westlake, CA – *EXCLUSIVE* – Kim Kardashian and daughter North get playful with the cameras after an art class in Westlake. Pictured: Kim Kardashian BACKGRID USA 3 AUGUST 2022 USA: +1 310 798 9111 / [email protected] UK: +44 208 344 2007 / [email protected] *UK Clients – Pictures Containing Children Please Pixelate Face Prior To Publication*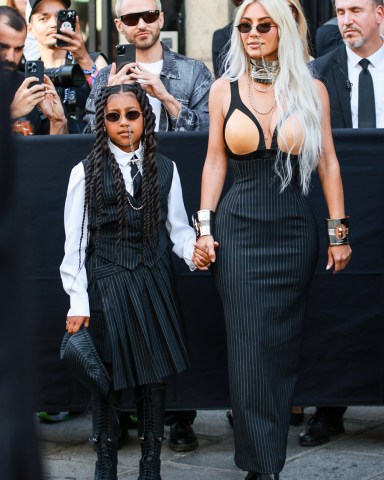 Kim Kardashian West and North West <a href="https://hollywoodlife.com/2022/07/06/kim-kardashian-north-west-nose-rings-paris-fashion-week/">arrive in style</a> for the Jean Paul Gaultier show during Paris Haute Couture Fashion Week on Jul. 6, 2022. Kim wore a version of a bust-baring pinstriped dress Madonna wore in 1992. Meanwhile North rocked a matching vest and pleated skirt. Both of the stars had on tiny oval sunglasses and wild nose chains.
Sourse: hollywoodlife.com