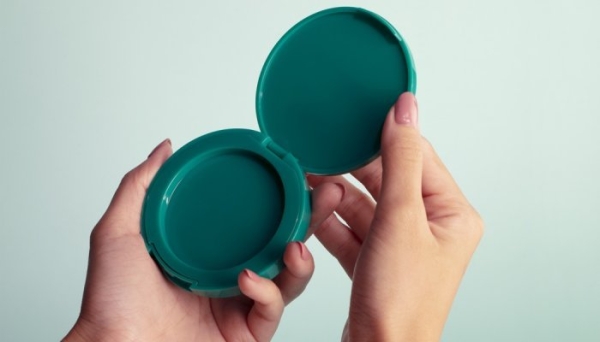 Icons ICS, a leading supplier of cosmetic packaging solutions, has partnered with specialty materials company Eastman to launch an innovative monomaterial cosmetic compact with the aim to push the boundaries of eco-friendly packaging.
The result of a co-innovation initiative between the companies, the compact was recently displayed by Eastman at Luxe Pack Monaco, it was nominated for Luxe Pack in green Awards in the eco-conceived packaging category.
Metal-free and 100% recycled refillable compact
The monomaterial compact is made entirely from Eastman Cristal One Renew, an RIC1 resin with 100% certified recycled content (allocated via ISCC-certified mass balance approach).
The elimination of traditional metal hinges and pins greatly improves the recyclability of the compact while its refillable design allows consumers to easily replenish their cosmetic products.
"We are excited to have collaborated with Icons on this innovative project," said Tara Cary, global cosmetics and personal care packaging manager at Eastman. "The integration of design and materials expertise allowed us to create a game-changing solution that addresses the growing consumer demand for recycled content and recyclability in packaging in a refillable application they can reuse again and again."
"The collaboration with Eastman aligns perfectly with our commitment to providing sustainable packaging solutions to the cosmetics industry," said Dave Thompson, Icons ICS director of technical and design. "Together, we are driving innovation by showing the world what is possible in terms of eco-friendly packaging."
Portfolio