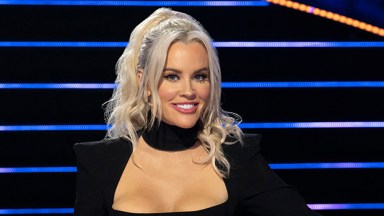 Image Credit: FOX
Talk about the magic of makeup. For The Masked Singer's first-ever Harry Potter Night, Jenny McCarthy went all-out. The panelist dressed up as Dumbledore and looked completely unrecognizable.
Jenny's head and face were almost completely covered by the long gray hair, beard, and mustache she sported for the themed episode. Jenny didn't stop there. She made sure to take her Dumbledore look to a whole new level with bushy eyebrows and a long gold robe.
Whenever there's a theme on The Masked Singer, Jenny doesn't hold back. Her fellow co-panelists also got dressed up for Harry Potter Night. Ken Jeong rocked a short black wig and black robe to become Snape, while Nicole Scherzinger dressed up as Hermione Granger.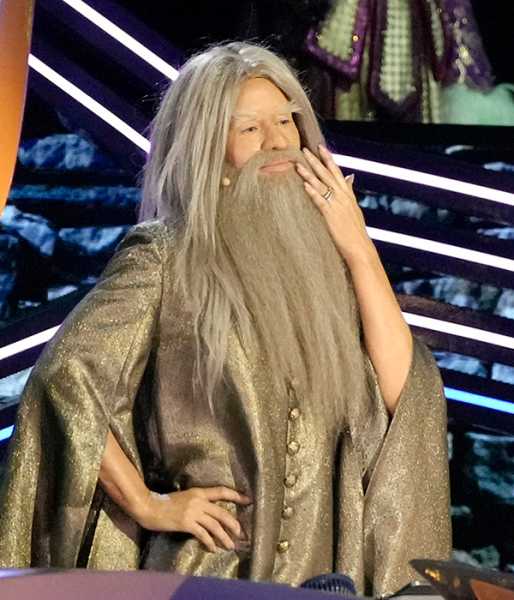 Jenny McCarthy as Dumbledore on 'The Masked Singer.' (FOX)
Jenny can't resist an opportunity to dress up on The Masked Singer. For DC Superheroes Night earlier this year, the Scary Movie 3 alum transformed into Harley Quinn.
During Harry Potter Night, the show will transport us back to Hogwarts and each singer will be assigned their House from the Sorting Hat. Hawk, Husky, and Tiki will be taking the stage to perform during the episode. Former Masked Singer contestant Adrienne Bailon-Houghton will open the show with a special performance. Adrienne was the Flamingo and came in third place back in season 2.
View this post on Instagram
Prior to the October 25 episode, Jenny teamed up with Nicole for a funny Instagram video that teased their Harry Potter looks. "Went for a more natural look this week on @maskedsingerfox. What do you think?" Jenny captioned her video.
The show has already had some epic unmasking moments in season 10. The show started off strong by unmasking Demi Lovato as Anonymouse in a special episode. The other celebrities who have been revealed so far include Anthony Anderson as Rubber Ducky, Tom Sandoval as Diver, Michael Rapaport as Pickle, and Billie Jean King as Royal Hen. Only one masked singer will end up with the Golden Mask trophy at the end of the season. The Masked Singer airs Wednesdays on FOX.
Sourse: hollywoodlife.com