The flagship 90 Day Fiancé series returns with all-new couples on October 8. In this exclusive season 10 premiere preview, Ashley reveals to the world that she's a practicing witch. Yes, you read that right — a witch!
"I am a witch. I'm a tarot reader. I am an astrologer. I specialize in shadow work," the 31-year-old says in the sneak peek. "I think people are still very much afraid of the word 'witch' because we've been conditioned to believe that a witch is somebody with like a crooked nose, looking into their crystal ball, like throwing hexes on people. That's not anything that I do."
Ashley in the season 10 premiere. (TLC)
She explains that her family was religious growing up, but she is the "crazy one, the rebellious one." Eventually, she started becoming involved in "the occult." Ashley's "spirituality guides every single part" of her life, which is what eventually led her to Ecuador.
Ashley reveals that she had a dream where she was in the jungle "working with the earth." At the time, she was studying marine biology in college. When she talked to her biology teacher about her dream, a trip to Ecuador was brought up. Ashley decided to go to Ecuador, and that's where she met Manuel, who works as a construction worker in the South American country.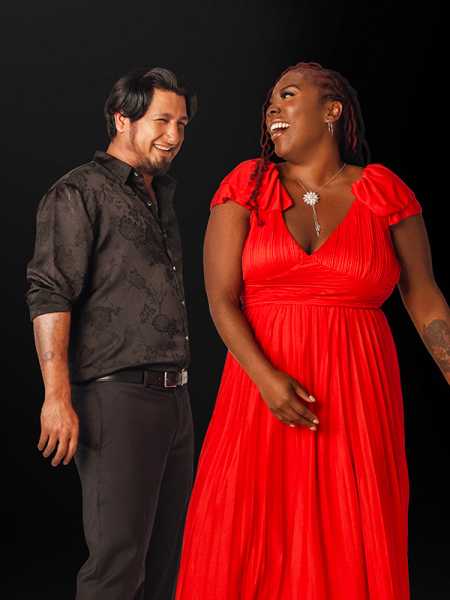 Ashley and Manuel are one of the new couples of season 10. (TLC)
Ashley and Manuel, 34, ended up getting engaged despite their language barrier. Once Ashley's schooling ended and she had to head back to the U.S., the couple broke up. It's been a full decade since they ended things. However, Ashley and Manuel are now back together and engaged again. But can they make it work this time? Will love conquer all?
Ashley and Manuel are one of 6 couples that make up 90 Day Fiancé's landmark season 10. The additional couples include Jasmine and Gino, Sophie and Robert, Justin and Nikki, Anali and Clayton, and Citra and Sam. Episodes of 90 Day Fiancé season 10 will air Sundays at 8 p.m. ET on TLC.
Sourse: hollywoodlife.com