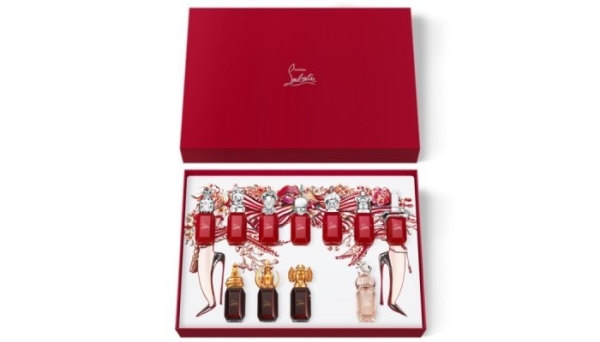 The Spanish group Puig entrusted TNT Group with the creation of the Loubimar 9ml miniature, echoing the 90ml size of the Loubimar Eau de Parfum Légère. This is the fourth miniature that TNT Group has designed for the Louboutin Beauty Loubiworld 11-miniature collection, that is now presented in a newly unveiled box.
The stylized cap recalls the marine world that inspired this eau de parfum with notes of citrus and salt water. It is adorned with a ship's anchor and mooring line posed delicately upon a sea urchin and is finished with a rose-gold e-coating. A PP (polypropylene) insert ensures its retention. Producing this new cap was a real challenge for TNT Group, due to its small size.
TNT Group had already produced the three miniatures with orange-gold e-coated caps, for the Middle East collection, whose level of precision is just as impressive for such a small format. For example, there is a great quality of detail in the representation of the scarab, the snake and the falcon. This 100% recyclable creation celebrates the association between luxury and sustainability, while retaining the essence of Maison Louboutin.