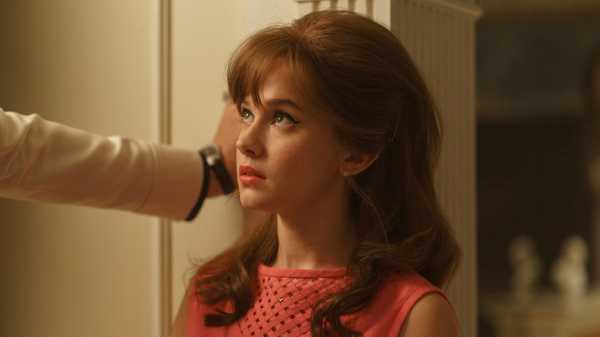 Save this storySave this storySave this storySave this story
When Britney Jean Spears was sixteen years old, she put on a pleated skirt and channelled an archetype: the schoolgirl, underage temptress. It was a persona Spears wore like a polyester Halloween costume throughout her first flush of fame—from her pigtails and kneesocks in the video for ". . . Baby One More Time" to her pushup bra and curly phone cord on the cover of Rolling Stone. With the release of her memoir last month, Spears joins a roll call of pop-culture figures with narratives to reclaim—and perhaps the schoolgirl, too, merits a moment of reconsideration.
In the long years since ". . . Baby One More Time," teen girlhood has enjoyed a kind of cultural ascendancy. Adolescent tastes and interests have come in for critical reappraisal, or at least for grudging appreciation as market forces. Taylor Swift began as a troubadour of high-school's emotional tumult—she was eighteen when she released a song about freshman year called "Fifteen"—and her billionaire status today is a testament to the power of fangirls. On TikTok, teen-age girls invent trends that the world rushes to follow; in "Barbie," a teen-age girl serves as the voice of wised-up skepticism.
But "the schoolgirl" conjures, in particular, the teen girl as the object of older male interest. (Does anyone think of herself as "a schoolgirl," or does the phrase itself leer?) As an object of desire, the schoolgirl is familiar enough—as a subject in her own right, less so. Mariel Hemingway might give a formidable performance as Tracy, the seventeen-year-old Dalton student Woody Allen's character romances in "Manhattan," but the film is not especially interested in what it might be like to be a seventeen-year-old dating a middle-aged man. The allure of female youth is so culturally ubiquitous that a filmmaker's examining it from the inside out can be a defamiliarizing exercise. What is the experience of being young and desired for being young? How does it feel to walk around in the schoolgirl's pleated skirt?
These are among the questions that Sofia Coppola takes up in "Priscilla," an adaptation of Priscilla Presley's 1985 memoir, "Elvis and Me," which follows the heroine's journey into and out of Graceland. The story begins with a man approaching fourteen-year-old Priscilla Beaulieu, seeking company for his friend Elvis Presley. By the time her divorce from Elvis was finalized in 1973, Priscilla was twenty-eight years old, and she'd been in his orbit half her life. The Priscilla we meet at the movie's beginning is sipping a Coke in a diner, her ponytail weightlessly buoyant. "Venus, if you will / Please send a little girl for me to thrill," Frankie Avalon warbles on the soundtrack. It's a gently unsettling reminder of how often the "little girls" on the periphery of pop music—from Jerry Lee Lewis's thirteen-year-old wife to the "baby groupies" of the nineteen-seventies Sunset Strip—have been actual little girls.
Priscilla's age, the movie makes clear, is in no way incidental to the romance: it is the whole thing, the necessary counterweight to Elvis's stardom. Who but a child would accept the strictures of life with Elvis? Wearing the colors he chooses, coming and going as he demands, confined to the chaperoned solitude of a pet—anyone older, with a life of her own, wouldn't put up with it. Cailee Spaeny, who plays Priscilla with guileless clarity, is in her twenties but has the soft, unformed features of an adolescent. Jacob Elordi, Coppola's Elvis, is six feet five, and he towers over her in a comically literal manifestation of their relative stature. When Elvis meets Priscilla, he is serving in the Army at a West German base where Priscilla's father is also stationed; their courtship begins with an invitation to a party at Elvis's house. There, introductory small talk concerns her age. Is she a junior in high school, he asks, or a senior? "Ninth," she replies, with disarming clumsiness—she's a ninth grader. "Why, you're just a baby," he says. ("She's much more mature than her age," he later tells her father.) Priscilla is swept up into a double life: kissing Elvis by night, walking high-school hallways by day, ablaze with the memory. Class becomes an exasperating distraction.
Going to school is, after all, not really an essential part of the schoolgirl's appeal. That appeal lies in her innocence, which isn't so far from ignorance—it has to do with all the things she doesn't know and hasn't done. "Promise me you'll stay the way you are now," Elvis tells Priscilla before he returns to the States. She promises, and she waits, writing letters, until a Pan Am ticket to Memphis arrives. Eventually, Elvis makes arrangements for her to enroll at a Catholic school near Graceland. Conspicuous and whispered-about on campus, she struggles to do schoolwork. Her real education is extracurricular.
This is the irony that the title of the 2009 movie "An Education" winks at. Set in 1961 and based on the journalist Lynn Barber's memoir, the film stars Carey Mulligan as an English sixteen-year-old named Jenny who, impatient to escape the routine of youth-orchestra rehearsals and Latin exams, peppers her speech with French phrases and holds forth on Camus. When she meets David, a suave older man played by Peter Sarsgaard, he takes her to films, jazz clubs, and Paris—a precocious teen's dream of adulthood. Even as his flaws become apparent (he is, it develops, a con man), David offers a worldliness that is irresistible. "You have no idea how boring everything was before I met you," she tells him. By the time she sees the extent of his deceptions, Jenny has learned to recognize her own naïveté: "Silly schoolgirls are always getting seduced by glamorous older men," she says, before buckling down to take her Oxford exams.
A similar reclamation takes place in "The Diary of a Teenage Girl" (2015), another movie of schoolgirl awakening based on a book—in this case, a semi-autobiographical graphic novel by the cartoonist Phoebe Gloeckner. "I had sex today. Holy shit," Minnie Goetze, a fifteen-year-old in nineteen-seventies San Francisco (played by Bel Powley), narrates as the film begins. She had sex with, specifically, her mother's boyfriend, Monroe. Played by Alexander Skarsgård, Monroe is a thirty-five-year-old man hoping vaguely that his mail-order vitamin business will take off; he's a loser, whom a fifteen-year-old might be able to see as a sleazeball dreamboat. Minnie aspires to be an artist—she idolizes Aline Kominsky—despite the distraction of her "all-consuming thoughts about sex and men." Yet those thoughts in time become fodder for her work, and Monroe provides Minnie a new way of understanding herself.
In depicting the schoolgirl's side of the story, neither "An Education" nor "Diary" idealizes what's afoot; they take seriously Jenny and Minnie's exuberant desires while acknowledging these young women's vulnerability. But both films, on some level, end up ratifying their heroines' experiences as testaments to their specialness. Jenny and Minnie do seem exceptional—unusually poised, clever, ambitious, and brave. What's striking about Coppola's Priscilla, in contrast, is her ordinariness. The black bouffant and heavy eye makeup Elvis requests are like cartoon-pinup features drawn on a blank slate. "Somebody wants me," Minnie reflects at one point, awestruck. "Somebody wants to have sex with me." A similar moment in "Priscilla," meanwhile, is played with a note of disbelief. "Really?" Priscilla wonders aloud when a second invitation to see Elvis follows the first. "He wants to see me?"
Being desired for one's youth is an ordinary experience of girlhood that Coppola takes to a kind of fantastical extreme—"Priscilla" is about the plight of the schoolgirl the way "Marie Antoinette" is about the gilded cage of privilege. Coppola's eye for adolescent melancholy allows her to locate a sense of tragedy in her heroine's circumstances. This is not a matter of tallying up power and agency within an "age-gap relationship." Rather, the film captures the feeling of instability that comes from being wanted for a quality that's fleeting, impersonal, and utterly outside your control. Coppola's Priscilla smiles vaguely into conversations taking place around her, unable to participate. Every time she opens a magazine, she finds reports of the life Elvis is living in a world beyond her reach. Her pathos is the loneliness of finding yourself places you don't belong and correctly suspecting that everyone else knows things you don't.
As their relationship endures—through a long-anticipated marriage, consummation, and, soon, the birth of a child—Priscilla learns to navigate her husband's temper and whims. Yet a certain vertiginous bewilderment persists, and seems to have persisted, in real life, even now. Priscilla Presley, an executive producer on Coppola's film, recently described watching it for the first time. "I was quite emotional," she told the New York Post. "Only being 14. You look back and you go, 'Why me? Why am I here? Why am I driving in a limo, going through the gates of Graceland with Elvis?' " The film ends with her behind the wheel, driving away, like a teen-ager's vision of freedom. In practice, she never fully left: though she pursued other relationships and show-business projects after their divorce, her largest endeavor was guiding the fortunes of her ex-husband's estate. Coppola's final music cue, plaintive and apt, is Dolly Parton's rendition of "I Will Always Love You." ♦
Sourse: newyorker.com