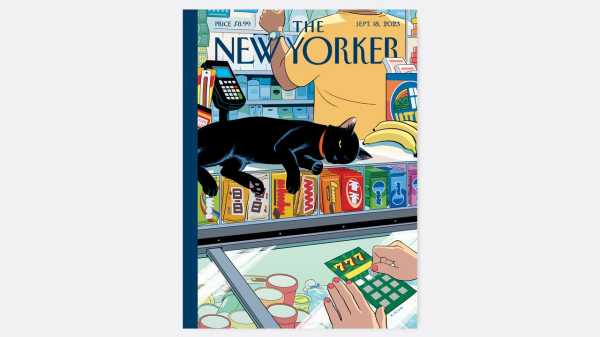 Save this storySave this storySave this storySave this story
One of the best parts of living in a city is having a wide range of shops within walking distance. New Yorkers are especially fond of their local bodegas—the small but expertly stocked convenience stores where they can pick up a cup of coffee or swing by for a sweet treat. In his cover for the September 18, 2023, issue, the longtime New Yorker R. Kikuo Johnson portrays the royal animal that watches over many of these establishments. Bodega cats warmly welcome—or sometimes simply ignore—customers at all hours, both alert and composed as they preside over their storefronts. I talked to the artist about his go-to bodega order and the idea of winning the lottery.
What inspired this image—do you have a favorite bodega?
The old bodega on the corner of my Brooklyn street was one of my first haunts after I moved to New York, in 2003. Back then, East Williamsburg was in the midst of massive changes—my apartment building had been an old sweatshop only months before, and there were new buildings going up on every corner. After a few regular visits to the bodega, the owner handed me a small notepad and a pencil, and, in half English and half Spanish, he generously asked me to write down anything that I wanted him to stock in his store. I was twenty-two years old and struggling to pay rent. I looked around a bit before grabbing my usual purchases: a bottle of Colt 45 and a Choco Taco, both of which only cost a dollar then. I handed the owner back his notepad and said, "You have everything I need."
If you won the lottery tomorrow, how would you spend the money?
I bought my first lottery tickets during the pandemic lockdown, when the jackpot was over a billion dollars and a friend asked me to buy her one. Everything seemed so uncertain back then, so I bought two tickets, including one for myself. As I handed the clerk the money, I instantly saw my future if I won: my girlfriend would drop out of grad school. I'd abandon the graphic novel I was drawing. Everything we had spent our lives working toward would suddenly seem trivial, and all of our friendships would be corrupted by jealousy. I threw out the tickets and never checked to see if the numbers were called. Now I'm married and hoping to start a family in New York City, and, every day, I dream of winning that money.
Are you more of a cat person or a dog person?
There is a hardware store and a bike-repair shop in my neighborhood that I visit as much for the cats as for their inventory. I'm still agnostic on dogs, though.
Did you grow up with pets?
I had never lived with a pet until about ten years ago, when I moved from Brooklyn to Cape Cod, and my partner adopted a cat. I wasn't excited about it, but my partner promised to handle all of the pet care. We named the cat Blua. I quickly learned to endure Blua hopping onto my desk while I was drawing, and sitting on my keyboard while I typed. After about a year, I began to enjoy having her in my lap, but I still didn't understand how any rational adult could become emotionally attached to an animal.
When our landlord decided to have some work done on the home we were renting, we asked the workers to not leave any doors open so Blua, an indoor cat, wouldn't run into the woods. I left for the day, and, when the work was done, I returned home to find multiple doors ajar. I shut the doors and poured out some cat food, but there was no sign of Blua. I looked everywhere; I emptied cabinets, turned over furniture, and became increasingly enraged that the workers had ignored our request.
For an hour, I scoured the woods surrounding the place, imagining Blua covered in ticks and surrounded by coyotes. Back inside, I slumped on the couch, searching for the words to text my partner the news. When I heard a tiny "mew" and saw Blua peek out from behind a wardrobe, I was surprised by my own tears. I was in love with a cat. Ten years later, Blua is no longer with us, but I still have a photo of her as the wallpaper on my phone.
For more covers by R. Kikuo Johnson, see below: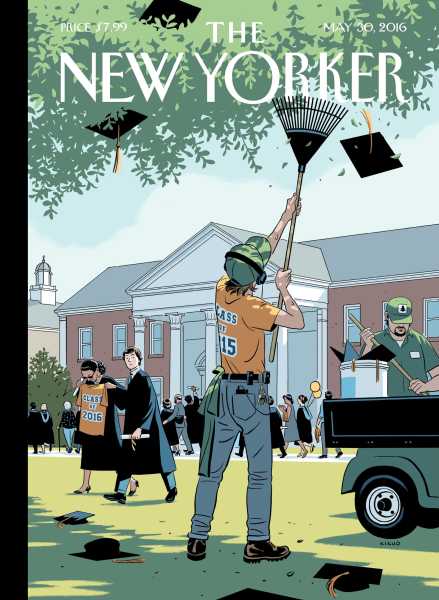 "Commencement"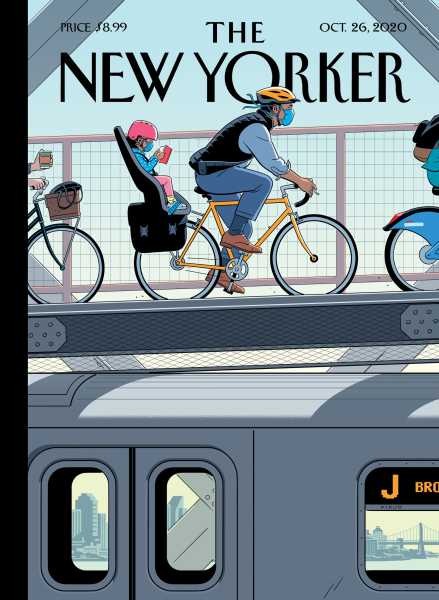 "Shifting Gears"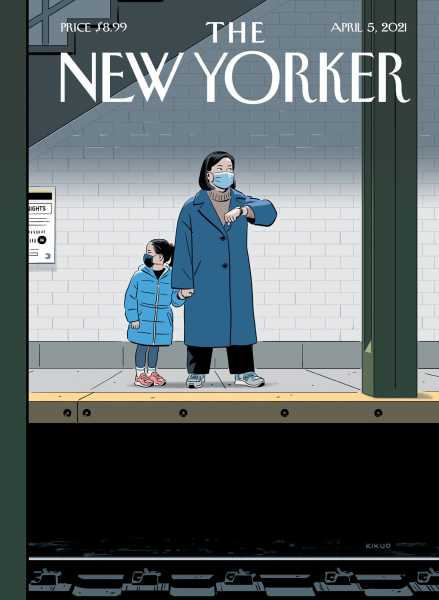 "Delay"
Find R. Kikuo Johnson's covers, cartoons, and more at the Condé Nast Store.
Sourse: newyorker.com