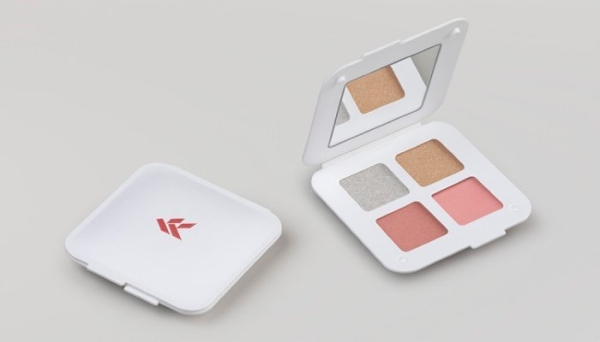 Knoll Packaging has been shortlisted for two UK Packaging Awards, Knoll Ecoform Molded Pulp Compacts in the Best New Concept Award category and Knoll Gives Back Day in the Corporate Social Responsibility Initiative of the Year. The awards will be announced at the annual gala in October and showcases Knoll's commitment towards setting the standard for sustainability in its industry.
Shortlisted for Best New Concept Award, Knoll spent two years on research and develop their 100% Knoll Ecoform molded pulp compacts. Knoll Ecoform is a plant material made from bamboo, wood and sugar cane fibers. The material is certified recyclable in the paper recycling stream, and can be molded, cut to order and color matched. This latest innovation can replace traditional plastic make-up compacts and is engineered with a magnet-free option and removable mirror. The compact utilizes two layers of molded pulp, which has a smooth luxury feel finish on the interior and exterior of the compact. The design is fully customizable to meet the aesthetic of a brand, including any configuration of pans. Additional decoration also includes embossing and stamping or adding a FSC paper mask for additional decoration. It is Knoll's goal to eliminate plastics from their supply chain, and this new molded fiber solution for compacts continues their mission to create a better world.
"The evolution of Knoll Ecoform molded pulp has been extraordinary. We first introduced the material over 5 years ago as a replacement for plastic platforms and it quickly evolved into a disruptive 100% packaging solution. We've built on years of technical expertise with the material to launch our 100% Knoll Ecoform make-up compacts, which are fully customizable and aim to continue eliminating plastic from our supply chain. Our entire design and engineering team are thrilled to be shortlisted for an original concept and are continuing to drive positive change through design innovation," said Benjamin Cohen, Chief Marketing Officer at Knoll.
Knoll Gives Back Day is shortlisted for Corporate Social Responsibility Initiative of the Year and brings our global teams out of their workplace and into their local community. Each location, including USA, UK, Europe, Hong Kong, China and Philippines, volunteered with a local non-profit organization of their choice in activities such as cleaning up beaches and local trails, tree planting, volunteering with underserved communities, and assist at a local food pantry. Knoll Gives Back Day aligns with our values and mission to protect our people and planet and continues to raise employee's awareness on social and environmental issues by having them involved in these initiatives.
"Social and environmental issues that each community experiences are unique which might not be widely known. We believe that awareness can spark action and Knoll Gives Back Day is a great opportunity for our teams globally to understand what is happening in their local community. Additionally, this is also a great opportunity for our team members to interact with each other outside the work setting further enhancing cohesion and teamwork in Knoll. This initiative is an annual activity as we seek to continuously give back to our community," added Wincy Cheng, Sustainability Director of Global Operations at Knoll.
Knoll Packaging
will exhibit its latest innovations at London Packaging Week on September 21-22.