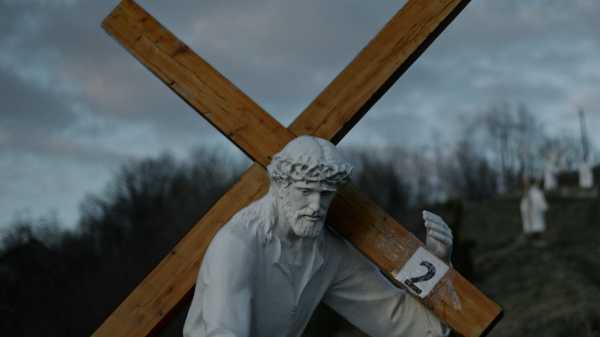 Save this storySave this storySave this storySave this story
During the Maidan uprising, which began in 2013, when Ukrainian protests led to the overthrow of the Kremlin-backed President, Viktor Yanukovych, many of the country's filmmakers banded together to form a collective known as #Babylon'13, focussed on exposing Russian aggression in their country. After Putin launched a full-scale invasion, I began to correspond with some of those filmmakers, hoping to find a local perspective on the war. In March of 2022, I met Dmytro Sukholytkyy-Sobchuk, one of the country's most exciting young auteurs, in a glitchy Zoom meeting. He was signing on from western Ukraine, where he was volunteering with #Babylon'13 to capture the events of the unfolding war. He told me about a group of religious sculptors he had met near Lviv who had been retrained to build defense barriers. We both felt that they would be fascinating subjects for a documentary. That idea became "Liturgy of Anti-Tank Obstacles," an original film from The New Yorker.
From the start, Dmytro and I both knew that we wanted to make a war film without showing violence. The hope, instead, was to highlight the new reality of everyday Ukranians. Dmytro shot the documentary over three weeks, capturing the artists near Lviv in a transformative moment, one that resonates in the experiences of others throughout the country, as their lives are reshaped by the war and the national-defense effort. The resulting film has premièred at festivals, including Sundance and the Toronto International Film Festival (Dmytro was not able to get a visa to attend), and won first prize in the documentary contest at the Huesca International Film Festival, qualifying it for the 2024 Academy Awards. We recently spoke by Zoom about the making of "Liturgy of Anti-Tank Obstacles," with Dmytro joining from his Kyiv apartment. The call came during a busy stretch for him; he's teaching filmmaking classes and touring with his début narrative feature, "Pamfir"—which centers on a man involved in criminal enterprises and is set against the backdrop of his village's annual carnival—all while the war grinds on.
The New Yorker Documentary
View the latest or submit your own film.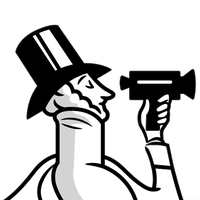 Though there is plenty of Eastern Orthodox religious imagery in the film, Dmytro himself is not a believer. (He told me there are three things in life that he considers purely personal: "Who you want to love; who you want to believe in; and what you want to eat. It's your private business.") Ukraine is a secular country, and President Zelensky is Jewish. What drew him to these artists was not their religiosity but their undertaking of a version of the same pragmatic pivot that he saw throughout the country. As the invasion began, the sculptors were making statues of the Virgin Mary or angels with beatific expressions. Just weeks later, they were building anti-tank obstacles. All over the country, Ukrainians were pivoting to the defense effort. "Whatever you were doing before the war, you start to find your capabilities," Dmytro told me. "This change impressed me."
Dmytro had undergone a similar transformation himself. When the Russian forces invaded, he was in Kyiv with his wife. They live not far from the airport, and he remembers waking up from the bombing; a house nearby was damaged. Right away, he began shooting footage in the capital. He saw his responsibilities as a director overlapping with his responsibilities as a citizen, making films so that "you can see how people defend sovereignty, democracy, territory, and their own lives," he told me.
For "Liturgy of Anti-Tank Obstacles," Dmytro took a patient, observational approach to storytelling. The film shows the artists at work, but it doesn't present their individual backstories or personalities. He doesn't mention that two of the three artists are now serving as soldiers in the war. When I asked him about the choice, he said he approached the film this way because of a pattern he had seen during the war: "Everybody in Ukraine, no matter where, they start to be like one person. Not a person. One piece. If you describe somebody's personality, they are unique, like fingerprints. But, if they unite together, they start to be a fist." His idea was to show in the film the sense of unanimity and collectivism that he saw at work all around him: "They can be a huge fist who can knock out everybody who attacks them."
Dmytro told me about a recent trip to Paris, where he'd travelled to finish his feature film, which showed how pervasive the reality of the invasion is for people in Ukraine. It was eleven o'clock one night, and he realized that he'd forgotten to buy water. He remembers thinking, Oh, damn, I forgot to buy the water, and I need to wait for the next day. His friends were confused, and reminded him that shops were open late. Oh, damn, he thought again: You don't have a curfew. That simple moment is a reminder of why it's so important for him to tell a story from his own perspective. No matter how empathetic an outsider may be, Dmytro told me, at the end of the day, "They go back to their reality. We go back to our reality." ♦
Sourse: newyorker.com