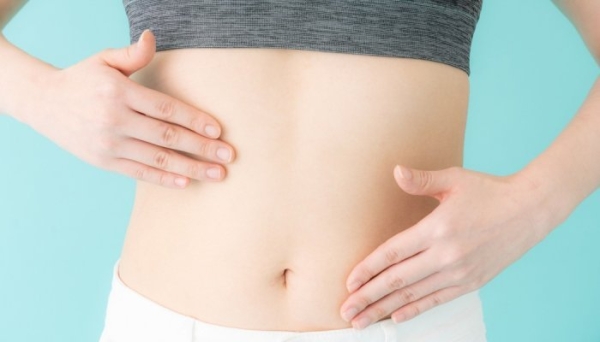 Followers of the trend can get around 30 fake belly buttons for the equivalent of EUR 0.50 on Pinduoduo, one of China's largest e-commerce platforms. An offer that seems to appeal to thousands of regular users of the Douyin and Xiaohongshu social networks, as recently reported by the South China Morning Post. Originating in China, this phenomenon is starting to spread on social platforms like TikTok, showing that ideals surrounding body image are still very much a part of women's daily lives, all over the world.
Sticking on a fake belly button
Videos posted under the hashtags dedicated to these fake belly buttons, whether on Douyin or Xiaohongshu — two of China's most popular social platforms — show young women cutting out and then sticking on what look like temporary tattoos in the shape of a navel, a few centimeters above the real orifice. The latter is concealed by pants, a skirt or shorts, while the fake navel is highlighted by a crop top. For those involved, the purpose of this ploy is to create an optical illusion.
Indeed, fans of the trick claim that a belly button raised by around 10 centimeters will allow a skirt or pair of pants to be pulled up by the same amount, subsequently lengthening legs and slimming the silhouette. Or at least giving the illusion of doing so. On Xiaohongshu, videos are accompanied by captions extolling the virtues of the trick. "It's not a fake belly button patch, it's a tool to lengthen short legs!" one user posted with their video. "Every beauty has two belly buttons! Here's the secret to lengthening your legs!" says another user. In addition to applying the temporary tattoo, some women also apply makeup around the area to ensure a more harmonious effect.
Social pressure to get the 'perfect body'
While this craze for fake belly buttons poses no risk to physical health, it does, however, raise questions about the persistence of certain body image ideals, such as equating long legs with a standard of beauty to be attained. And it's just one example among many. Fake freckles, fake breasts, fake buttocks and even fake noses are just some of the 'tools' that abound on today's social networks, when it's not a question of makeup tricks designed to refine or smooth this or that part of the face, again reflecting a desire to attain a certain beauty standard.
Ultimately, these temporary tattoos are akin to the social media filters that are the subject of much debate. As well as proving a source of stress and anxiety for young people, they can also contribute to body dysmorphic disorder, the tendency to obsess over an imaginary flaw. A phenomenon that, in turn, increases stress and anxiety, and impacts self-esteem. "I wonder how these women can still face their true body figures after removing the fake belly button stickers, breast pads, buttock pads, and other enhancements," observed one internet user, quoted by the South China Morning Post.
Numerous studies have suggested that social networks, through their filters and editing apps, can have a negative impact on the mental health of users, particularly the very young. It's a fact that worries parents the world over, to the point that some would now like to see beauty filters subject to an age limit, or even banned altogether.
Despite the emergence of numerous movements in favour of the acceptance and appreciation of all body types, the ideals linked to appearance and to the 'perfect body' — if that exists at all — die hard, demonstrating the need for action to limit associated risks and dangers.