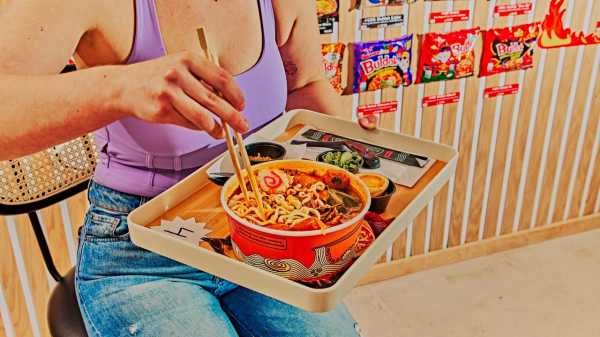 Save this storySave this storySave this storySave this storyYou're reading the Food Scene newsletter, Helen Rosner's guide to what, where, and how to eat. Sign up to receive it in your in-box.
The origin story of the instant noodle, as told by its inventor, Momofuku Ando, is a parable of resilience. On August 15, 1945, the day Japan announced its surrender to the Allied forces, ending the Second World War, the thirty-five-year-old Ando was wandering through the streets of Osaka, a city ravaged by aerial bombings, when he was struck by the sight of an ad-hoc ramen stall near a train station, with a crowd of people lined up before it. A bowl of noodle soup, he realized, was a thing of extraordinary power, able to bring people together, to give them comfort, to rouse them from devastation. He went on to perfect a technique for flash-frying noodles, making them both speedy to reheat and almost infinitely shelf-stable. "Mankind is noodlekind," he once said, according to the employee handbook of Nissin, the company he founded. Today, more than a hundred billion servings of instant noodles are eaten each year, according to the World Instant Noodles Association. Instant Noodle Factory, a newish restaurant in Long Island City, is here to help you do your part.
Instant Noodle Factory
24-11 41st Ave, Queens
Soups start at $3.25
For many Americans, instant noodles might seem like the antithesis of a restaurant food: a punch line, the cheapest of the cheap eats, the culinary provenance of the broke and the dorm-dwelling. This perspective is decidedly not universal; outside the American bubble, especially in Asian countries, instant noodles are ubiquitous, beloved, and—perhaps most important—a starting point, a wiggly foundation upon which to build a glorious meal of meats, vegetables, condiments, and seasonings. The owners of Instant Noodle Factory, Tat Lee and Cierra Beck, a couple whose relationship began over a shared love of instant noodles, drew on this more expansive vision. In particular, they were inspired by Lee's childhood in Hong Kong, where extravagantly dressed-up instant noodles are a popular street-vender breakfast, and by Korea's D.I.Y.-instant-noodle shops, where you can select your preferred packaged noodle, pick your toppings from a buffet-like array, cook the whole thing on-site, and then sit down to devour it.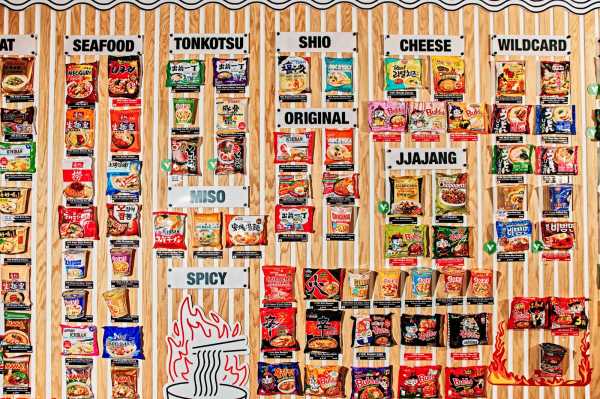 "The Wall of Ramen" is a visual menu of the hundred and fifteen varieties currently available at the shop.
What Lee and Beck have created is a hybrid of an Automat, an art gallery, and a sort of adorably dystopian future. Entering Instant Noodle Factory, in Long Island City, you are greeted by an illustrated mural of soup—combos of noodles (store-bought) and toppings (freshly made), such as birria ramen made with Kang Shi Fu-brand braised-beef noodle soup, topped with brisket, jalapeños, and corn, or a vegan soondubu of veggie-flavor Nongshim Soon dressed with silken tofu, shiitakes, hot peppers, and scallions. Turn right and you'll be faced with "The Wall of Ramen," an enormous visual menu of the hundred and fifteen varieties of instant noodle currently available. Each package is affixed to the wall and labelled, like a piece in a museum display, with its country of origin and a brief tasting note. More menus—toppings and mix-ins, desserts, drinks—lead you down the restaurant's narrow interior to a touch-screen ordering kiosk set before a large beige curtain on the back wall.
The restaurant is replete with helpful signage, largely created by Beck, a graphic designer, who incorporated the couple's pets—a dog named Suzy and a cat named Fish—as mascots. Lee and Beck told me that when the restaurant first opened, in the spring, they relied on the signs to do customer support. When an order was ready, one of them would slip out from behind the curtain, like the Wizard of Oz, and all but silently hand customers their trays before disappearing again. They quickly discovered that this left people feeling a little adrift. Now, when an employee steps out of the back room with a composed tray, that employee will also ask if you've been there before and, if not, explain how it all works.
The trays are artfully arranged, with a wide paper bowl at the center containing dry noodles and any toppings that might benefit from being heated in the boiling water to come. (Meats and other cooked toppings are prepared off-site, in a commissary kitchen—the restaurant space has no gas line or kitchen venting.) Surrounding the bowl are condiments and other elements to be added after cooking, as well as the now empty noodle package—"for the aesthetic," a diagram on the wall just outside the curtain explains. You set your tray into a pleasingly tray-size niche in the long counter across from the kiosk, and place the bowl of dry noodles beneath the nozzle of one of the restaurant's four instant-noodle cookers, a jaunty little Korean machine that's a combo electric kettle and hot plate. It dispenses near-boiling water into the bowl and holds it at a simmer while the noodles soften.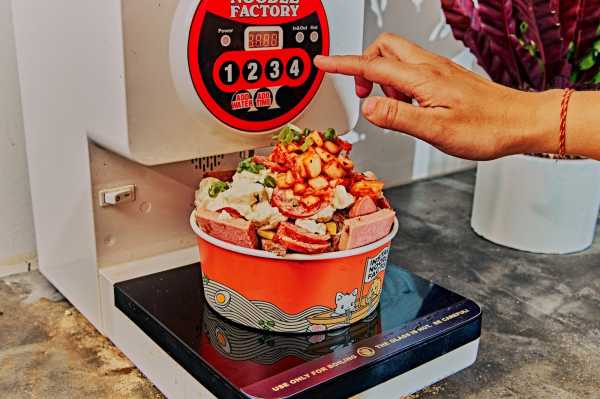 An instant-noodle cooker dispenses near-boiling water into a bowl and holds it at a simmer while the noodles soften.
If your experience of instant noodles has been heretofore limited by the uncreative American approach of "add water; eat," what emerges at the end of Instant Noodle Factory's tightly designed user experience will feel like a convenience-food revelation. There's still that familiar seasoning-packet flavor—the very air in the restaurant smells like the seaside, dosed with MSG—but the roast beef that tops a towering bowl of ramdon (one packet of spicy-seafood Neoguri and one of black-bean Chapagetti, mixed together, à la the film "Parasite") is tender and fatty. Elegant, paper-thin slices of chashu, Japanese-style braised pork belly, join a perfectly jammy soft-boiled egg, fresh corn, and slim sheets of nori atop tonkotsu made with ultra-premium Nissin Raoh noodles. Instant noodles will never quite have the same springy mouthfeel as that of freshly made ramen, but over all an Instant Noodle Factory meal comes uncannily close to the high-end real deal. (It's also refreshingly affordable—the most expensive thing on the menu, the ramdon, is thirteen dollars.) The kimchi is tart and funky; the air-fried Spam is crisp and salty; the Sichuan chili oil is fiery and numbing—a profound experience of mala. Skip dessert—a colorful array of ice cream and other frozen treats from Japan, Taiwan, and Korea—and instead buy some packaged noodles to go. Lee and Beck have put together a selection that includes some varieties nearly impossible to find in the U.S., like Hong Kong-style Nissin cups, or the Korean label Nongshim's ultra-spicy Angry Neoguri, with thicker noodles and more potent seasonings. Once you're home, you can go wild with toppings and condiments in your own kitchen, elevating instant noodles from quotidian to sublime. ♦
Sourse: newyorker.com