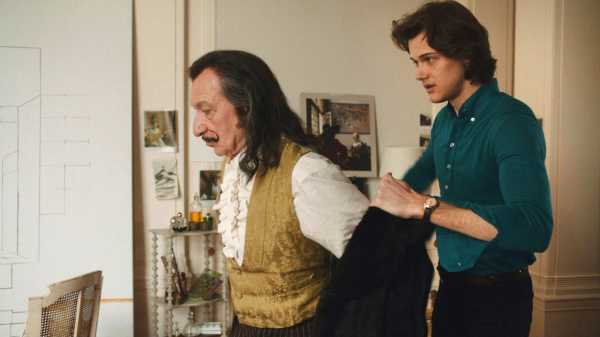 Save this storySave this storySave this storySave this story
The melting watches turned Salvador Dalí into a brand, and his curlicued mustache made him a living logo for it. The substitution of iconography and celebrity for creative range and connoisseurs' acclaim are, even more than the art itself, the essence of Dalí's modernity, and Mary Harron's amazed, poignant bio-pic of him, "Dalíland," which opens Friday, peeks at the man behind the myth—or, rather, at the man who has transformed himself into his own myth and works tirelessly to sustain it, because that, rather than his artistic creations, was how he made his living.
The movie portrays Dalí not just as an artist but as someone playing the role of an artist—playing himself and turning his own character into a star on the world stage. His performance is mighty and relentless, and the movie requires an actor of comparable stature and flair to fill it: Ben Kingsley, who endows Dalí with the grandeur, the grandiosity, and the grandiloquence, the majestic self-absorption and the twinkling delight in the calculated and self-aware effectiveness of his own manner and mannerisms. In short, Kingsley unleashes the full force of his star power to rare effect. He persuasively conveys a real-life celebrity's all-consuming aura, bursting beyond the screen to embody his character's historic dimensions.
The power of Kingsley's performance is more than a matter of his own precise and expansive artistry; it's a matter of a shrewd script, by John Walsh, and of Harron's fervent attention to its essence. The film's sense of astonishment at Dalí's idiosyncrasies—their essential convergences with his art and their inevitable distractions from it—is built into the dramatic structure. The subject of the film isn't exactly Dalí but, rather, the perception of him, the experience of his presence; the movie's protagonist is a sharp-eyed newcomer to his entourage. Most of the movie is set in New York, in 1974, where James Linton (Christopher Briney), a bright but naïve twentysomething art-school dropout from Idaho, is just a few months into his first job as an art-gallery assistant. He finds himself drawn into Dalí's orbit when the artist bursts into town three weeks ahead of the gallery's exhibition of his work. The gallery director, Christoffe (Alexander Beyer), sends James on a delicate errand: the delivery of an envelope of cash to Gala Dalí (Barbara Sukowa), the artist's wife, who was the boss of the Dalí enterprise, his enabler, his one trusted critic, and his ferocious defender.
In the suite at the St. Regis where the couple live during their New York stay, James finds a carnival—a party of flashily stylish young acolytes who feast and dance on the artist's tab and fill his and Gala's world with an air of reckless ambition, fervid desire, and louche pleasures. James soon becomes one of them. Dalí himself, who is taken with James's angelic appearance, calls him "San Sebastián" (after a painting by the nineteenth-century artist Gustave Moreau) and informs Christoffe of his plan to "borrow this boy" as his assistant until the exhibit goes up. The group includes the rocker Alice Cooper (Mark McKenna), on whom Dalí dotes; the singer Jeff Fenholt (Zachary Nachbar-Seckel), who's playing the title role in a Broadway production of "Jesus Christ Superstar" and who is Gala's protégé, profiteer, and lover; Amanda Lear (Andreja Pejić), a model and musician who, in the film, is rumored to be a trans woman; and a knowing young woman called Ginesta (Suki Waterhouse), who has an affair with James while wisely warning him, "Everyone is here for a reason."
In the midst of this calculated chaos, Dalí holds court, modestly likening himself to God, making flamboyant entrances in costume, dancing with refined abandon—doing everything but insuring that he's producing enough art to cover the walls of Christoffe's gallery. That's where James gets even more deeply involved with the artist. Gala, storming through her husband's workspace, demands that James become Dalí's minder, keeping him present and focussed on his work in the last three days before the exhibition. Sukowa is a gloriously close match to Kingsley in unleashing lofty orations in chewy accents at high speed and high volume, and in embodying a depth of experience and worldly wisdom from which real authority and power flow. She and Kingsley convey the haunting feeling of coming from a distant place, time, milieu, and historical enclosure. Though Gala and Dalí were masters of modernity, the actors anchor them deeply in the tangled depths of European artistic and social traditions from which that modernity arose, covered with its barnacles.
That blend of the artistic and the social is portrayed as the essence of Dalí's achievement, for better and for worse. On the one hand, his life is an art in itself. At a dinner party, he rejects a helping of spinach (he pronounces it "spi-NOSH") and declares, "Dalí can only eat food with well-defined shapes that the mind can clearly grasp—like oysters." He ponders a takeout coffee cup and ruminates on its slogan ("It's our pleasure to serve you") while taking note of its distinctive blue tint for a painting. At a press conference, he says the quiet part out loud, planting a Warholian flatness into deep soil: "Liking money the way I like it is nothing less than mys-ti-ci-sm; money is a glory." Yet he also perorates on art, offering a Surrealistic defense of realism ("illusion of reality") and condemning abstraction, and combining a visionary embrace of holograms ("for seeking the fourth dimension, penetrating more and more into the compressed nature of the universe") with the deployment of young friends' and models' buttocks to apply paint to canvases, in order to depict angels' wings.
James gets a classic sort of sentimental education—an artistic one from his association with the artist, a worldly one from his glimpses of the unusual sexual arrangements between Dalí and Gala that are at the core of their intimate and professional bond, and a romantic disillusionment from his relationship with Ginesta. Harron films the whirl of Dalí-centric activity with avidity and flair, crowding frames wide and deep with bodies and motion, making the very décor seem to come to life. (She also makes drama of small but elegant gestures, including a pair involving James's cigarettes.) James also learns that it costs money to foster this creative turmoil—twenty thousand dollars a month, says Captain Peter Moore (Rupert Graves), Dalí's secretary. In the course of his work with Dalí, James discerns the chicanery that the Dalís employ to pump up the business at a time when his new work isn't selling—when his prime value is in his earlier, iconic achievements.
Unfortunately, by the time of James's ultimate disillusionment with the artist's business practices, the movie has largely gone off the rails. Eventually, James joins the Dalí caravan in Spain, where the action is far sparer and where, without the avid energy of New York fauna, the Dalís are isolated in their own decades-long bubble of recrimination and frustration, power plays and mutual demands. The inevitable dissolution, moral and practical, of relationships comes as something of an anticlimax. It underlines, in dour terms, a lesson that had already become scintillatingly clear in exuberant ones. The ultimate deflation of the movie into a pointed drama of norms and ethics doesn't, however, dispel its glorious hour of theatrical spectacle and artistic mystery. ♦
Sourse: newyorker.com