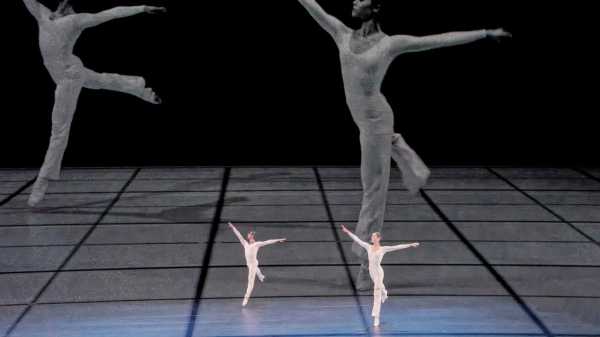 Save this storySave this storySave this storySave this story
Rachel Syme
Staff writer
You're reading the Goings On newsletter, a guide to what we're watching, listening to, and doing this week. Sign up to receive it in your in-box.
A few lazy Sundays ago, I was strolling down leafy Fifth Avenue in Brooklyn's Park Slope when I spotted a line stretching halfway down the block. I was instantly intrigued: Park Slope is not a place where people tend to wait in a queue. What was even more surprising was that the hot spot du jour was not an Instagram-touted pizza pop-up or even a new Glossier location. It was . . . a bookstore.
In August, the sisters Bea and Leah Koch opened the Ripped Bodice, near the corner of Fifth Avenue and President Street. It has been a continually packed scene ever since. The airy bookstore, whose storefront is painted the chalky pink of a rose macaron and whose shelves are devoted almost entirely to the genre of romance novels, is technically a franchise—the Koch sisters opened their first Ripped Bodice in Los Angeles in 2016, after funding the project through a Kickstarter campaign. The day I visited T.R.B. (as devotees call it), the patrons, mostly bookish, tote-bag-hauling women in their twenties and thirties, looked giddy to be inside the ornate space, which features kitschy wall sculptures made of vintage books and decorative birdcages.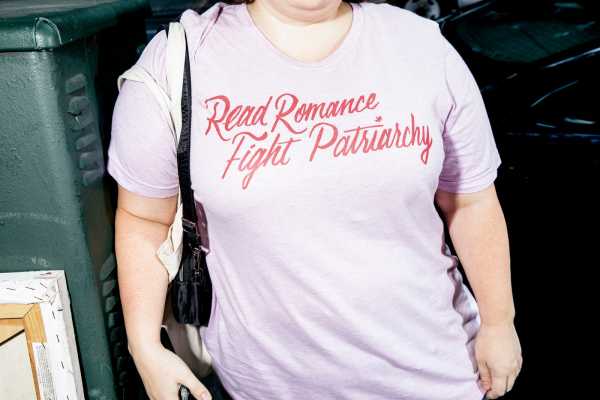 Photograph by Adrienne Grunwald / The New York Times / Redux
The Koch sisters are certifiable romance experts—Bea, thirty-three, published a cultural history of Regency-era women in 2020, whereas Leah, thirty-one, brings a deep connoisseurship of queer fiction—and they saw a gap in the retail market. As Publishers Weekly reported, last year saw a more than fifty-per-cent rise in romance-book sales. The genre is soaring—perhaps due to pandemic escapism, or to a dramatic increase in diverse love stories, or because the Internet has helped romance devotees form vibrant communities—and the Ripped Bodice is clearly meeting the moment. As I wandered through the shelves, I overheard a group of strangers becoming fast friends next to the historical-fiction books, gabbing about what to read if you are looking for naughtiness on the Scottish Highlands. Here, the "erotica" section is centrally located. It has never felt so fun—or so freeing—to collectively browse for steamy smut.
I admit that I am a late-blooming romance reader; the genre never quite gripped me (though as a lover of tawdry Hollywood memoirs and tea-heavy British mysteries, I am no stranger to the joys of a quick read). But, wanting to be a part of the enthusiasm that spilled out of T.R.B.'s pink doorway, I heeded the suggestion of a friendly store clerk and scooped up Kate Goldbeck's "You, Again." The novel, which came out in September, sets the "When Harry Met Sally" story—enemies become friends become lovers—in modern-day New York. (The main characters are a downtown chef and a Queens-based comedian.) I found it funny, warm, and quite addictive. After devouring the book in a few hours in the bathtub, I realized that I had been missing out on a whole universe of frothy delight. I'm heading back to the Ripped Bodice soon to get my fix. See you in line.
Spotlight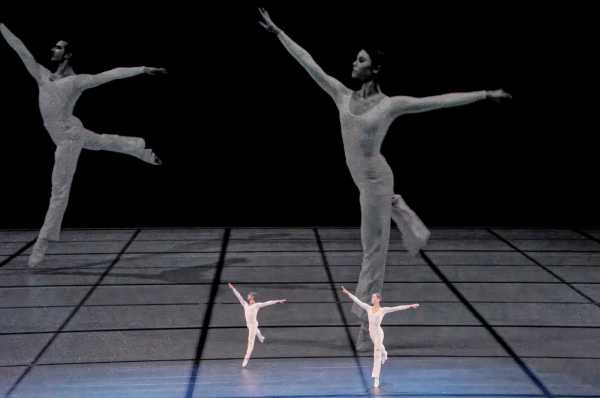 Photograph by Agathe PoupeneyDance
Most of the shiniest offerings on this year's fall dance calendar come courtesy of Dance Reflections, a sprawling new two-month festival sponsored by Van Cleef & Arpels. The tilt is French and experimental, as exemplified by the Ballet National de Marseille, directed by the upstart collective (La)Horde. Their "Room with a View," at N.Y.U. Skirball (Oct. 20-21), made with the composer Rone, is a club dance of despair that pushes through to hope. But, first, Lyon Opera Ballet kicks off the festival, at New York City Center (Oct. 19-21), with a gem of American postmodernism: Lucinda Childs's "Dance." That 1979 work is, like its Philip Glass score, both minimal and maximal, tracing insistent patterns. A re-creation of Sol LeWitt's original film, magnified on a scrim, mounts the current performance in a vintage setting.—Brian Seibert
About Town
The Theatre
The director Maria Friedman's ravishingly sweet revival of "Merrily We Roll Along," Stephen Sondheim and the book writer George Furth's famously flopped 1981 musical (which moves to Broadway from New York Theatre Workshop), gives the bitter text the spoonful of sugar it desperately needed. In "Merrily," time reverses, so we see three doomed friends progress from a final, irreparable fracture to their first, innocent pledge on a rooftop, swearing to be dear to one another forever. The world's most lovable trio—Daniel Radcliffe (funny when furious, funnier in love), Jonathan Groff (seraphic, incandescent), and Lindsay Mendez (her voice flashing like a sabre)—play Charley, Frank, and Mary, but also, somehow, the tenderness we feel for our younger selves. Surely here is "Merrily" 's definitive version; at the least, it's how we'll measure the musical's promises, past and future.—Helen Shaw (Hudson Theatre; through March 24.)
Opera
In 2014 and 2015, R. B. Schlather staged a Handel series for a Lower East Side gallery space, far from the classical-music locus of Lincoln Center. Now he's inaugurating a series of the composer's work even farther afield, in upstate New York. A director known for his spare style and intentional process (the public was invited to attend rehearsals of those gallery performances), Schlather stages Handel's beautifully crafted "Rodelinda" in a nineteenth-century building, with sets by the same construction company that restored it. Ruckus, a Baroque ensemble that plays without a conductor, accompanies a cast led by Keely Futterer, Sun-Ly Pierce, and Karim Sulayman.—Oussama Zahr (Hudson Hall, Hudson, New York; select dates Oct. 20-29.)
Folk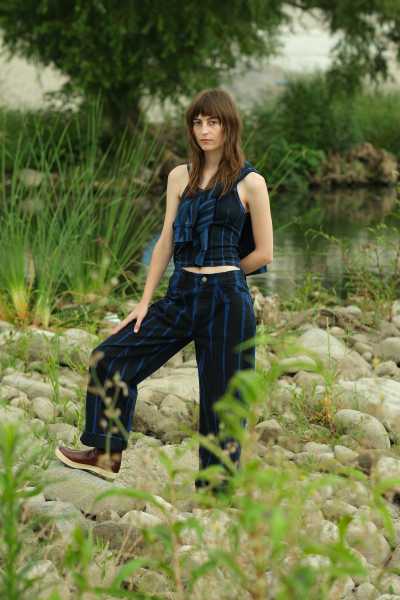 Photograph by Michelle Mercado
Faye Webster established an eye-rolling ethos for her music on the 2019 song "Jonny": "This wasn't 'posed to be a love song / But I guess it is now," she mutters, the words barely creeping out of her mouth. Since 2013, the Atlanta-born artist has written about love as if embarrassed by its monotony and predictability, threading quiet, quirky narratives that have spun off into their own awkward, droll romantic microverse. She performs as if she's sulking, with lyrics that reflect an insulated overthinker swept up in her own imagination. A folk sound with muted R. & B. flourishes lends Webster's "sad songs"—a distinction given by her mother, on "Hurts Me Too"—a bittersweet tinge, as she tries to appease the longings of an achy, breaky heart.—Sheldon Pearce (Brooklyn Steel; Oct. 23-25.)
Movies
With "The Pigeon Tunnel," a feature-length interview of the octogenarian David Cornwell, a.k.a. John le Carré (who died in 2020), the philosophical documentarian Errol Morris happily descends with the supreme novelist of espionage into rabbit holes of duplicity and fabulation. The film is centered on two key aspects of Cornwell's life: his childhood and youth under the reckless influence of his father, Ronald, a gambler and a con man, and his adult activities as an agent in the British Secret Service. In both these spheres, Cornwell was initiated in deceptions and betrayals high and low, and he adorns his suspenseful and colorful stories with acute analyses of the psychology of liars and traitors. Morris's signature dramatic reënactments, though skillfully rendered, are more superfluous than ever: Cornwell conjures alluring images with the literary power of his voice alone.—Richard Brody (Streaming on Apple TV+ starting Oct. 20.)
Art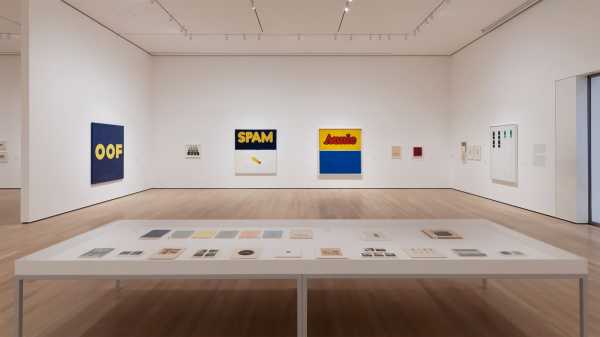 Photograph by Jonathan Dorado
The XXL MOMA retrospective "Ed Ruscha / Now Then," comprising some two hundred works produced between the Eisenhower years and the present, includes countless burning things, as lowbrow as a diner and as la-di-da as the Los Angeles County Museum of Art. The strangest aspect of these fires, other than their quantity, is their calm. Ruscha's work—preoccupied with mass media and using a tool kit of bright colors, logos recognizable even when fragmented, and language that could mean any number of things but is also a thing itself—is universal yet cozily regional. Language and, indeed, the entire national order seem perpetually on the verge of collapse, yet never actually collapse. We might as well enjoy them, glitches and all.—Jackson Arn (Reviewed in our issue of 10/9/23.) (MOMA; through Jan. 13.)
Ballet
For American Ballet Theatre's fall season, the company rolls out several one-act works, paired in interesting ways. A single program might include a sparkling display of virtuosity and grandeur, such as Balanchine's 1941 "Ballet Imperial" alongside Frederick Ashton's 1964 "The Dream," a mischievous and touching précis of Shakespeare's "A Midsummer Night's Dream." Or it may put the newly relevant "On the Dnipro" (2009), by Alexei Ratmansky—about a Ukrainian soldier who returns home after the First World War—together with the meditative, fluid "Single Eye" (2022), by Alonzo King, set to a score by the jazz pianist Jason Moran.—Marina Harss (David H. Koch Theatre; Oct. 18-29.)

Pick Three
The staff writer Helen Rosner picks three perfect breakfast sandwiches.
1. The Breakfast Sandwich at Court Street Grocers: To my surprise, and delight, the best of several breakfast sandwiches here (at any of four locations) is the version without meat. It's the eggs that make it such a joy: they're fluffy, melty, buttery, tender without being runny. I'd frost a cake with them, if I could. Heaped onto a ciabatta roll and enrobed in melted white Cheddar, they attain a multidimensional richness that genuinely changed my relationship to scrambled eggs.
2. NEO on a Bialy at Barney Greengrass: At this century-old Upper West Side appetizing shop, you'll find the NEO, which mixes eggs and onion with Nova salmon, instead of the much saltier, much more face-punchy belly lox used in the perhaps more famous LEO. Nova is sweeter, more subtle, an elegant counterpart to sautéed onion, and its gentler texture is far more lovely against the eggs. Get a toasted bialy on the side, and pile on as much of the scramble as the bread will hold.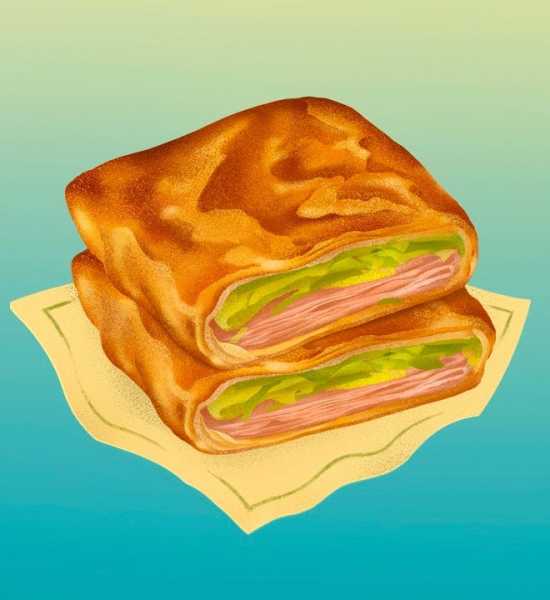 Illustration by Sisi Yu
3. The Mortadella Pancake at Win Son Bakery: The honest truth is that the best breakfast meat is mortadella. Velvety and savory, a stylish gentleman's pink, this emulsion of pork and spices is unmatched as a complement to the similarly voluptuous flavors of egg and cheese. At this Taiwanese American spot in East Williamsburg, silk-thin slices of mortadella join a crêpe-like scrambled egg, melty raclette, and pickly hot peperoncini. It's all wrapped in an enormous flaky scallion pancake, a perfect contrapunto to the unctuousness of its contents.
P.S. Good stuff on the Internet:
A new world record in the marathon
The annual pumpkin weigh-off in Half Moon Bay, California
How to make pickle soup
Sourse: newyorker.com