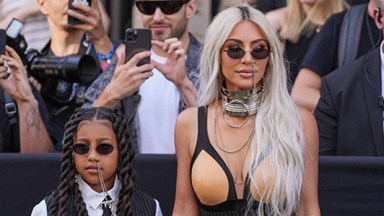 Image Credit: Laurent VU/SIPA/Shutterstock
North West, 10, is certain of her future! Kim Kardashian and Kanye West's eldest daughter is featured in i-D's Fall/Winter 2023 issue and was candid about her views on business goals, fashion, and having the paparazzi snap her photo. When asked the age-old question of what she would like to be when she grows up, the 10-year-old made it clear she would be following in both of her parents footsteps.
(function() { var zergnet = document.createElement('script'); zergnet.type = 'text/javascript'; zergnet.async = true; zergnet.src = (document.location.protocol == "https:" ? "https:" : "http:") + '//www.zergnet.com/zerg.js?id=92014'; var znscr = document.getElementsByTagName('script')[0]; znscr.parentNode.insertBefore(zergnet, znscr); })(); View this post on Instagram
Initially, Northie wanted to be a basketball player, however, now she has her mind set on a more artistic and entrepreneurial future. "A basketball player, a rapper, um… Well, when I was seven, I wanted to be a boxer. But now I don't want to be a boxer," she explained. "So a rapper, a basketball player, and I'm going to make artwork that I sell. Also, one day I want to own Yeezy and SKIMS, and I want to be a business owner."
Ahead of her adult career, however, the pre-teen noted that soon she plans to have a dog walking business to earn money for her art. "I'm going to do art on the side. When I'm, like, thirteen, I want to walk dogs, to make money to buy art supplies, because everything around here is so expensive," the SKIMS co-founder's daughter said. Aside from her career plans, North also dished on her artwork as a hobby and revealed that she surprised Kim with a painting for her birthday.
When asked if she's made new artwork, Ye's daughter confirmed yes. "Yeah, literally today in art class. But it's a secret for my mom's birthday," North shared. "Last week I finished a landscape and a sunset and I made a little circle thing." Later, when asked if she likes having her photo taken, she explained there are excerptions for when she doesn't. "Yes. Only when I want to, because ehhh, I don't want to sometimes," she quipped. "But not by the paparazzi."
North also has arguably the best closets in her family to shop and she even admitted what the best fashion show was that she has been to. "My little sister's fashion show in her closet," she said of her sibling, Chicago, 5. Of course, she also revealed what the "best" item in her personal closet is. "My Michael Jackson jacket that my mom got me for Christmas!" she said. Earlier in the interview, North was candid about what it's like to live her life and explained that it is "Blessed, awesome, cool." Finally, Kris Jenner's granddaughter made sure to describe herself in three words: "The Best Ever."
Sourse: hollywoodlife.com