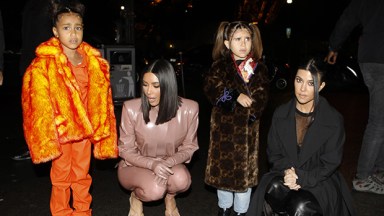 Image Credit: Philippe Blet/Shutterstock
North West and Penelope Disick went from being cousins to "Cheetah Sisters" on Halloween. Kris Jenner's granddaughters and two of their friends dressed up as The Cheetah Girls for the holiday on Tuesday, October 31 and showed off their Cheetah-licious costumes on North and her mom Kim Kardashian's joint TikTok. North, 10, went as Raven-Symoné's Bubbles and wore her signature all-pink outfit. Penelope, 11, transformed into Sabrina Bryan's Do and was decked out in yellow. The two friends played Kiely Williams' Aqua and Adrienne Bailon's Chuchie. As fans may recall, Adrienne used to date North and Penelope's uncle, Rob Kardashian.
@kimandnorth

♬ amigas cheetahs by the cheetah girls – .•°¤*★thalia★.•°¤*
The foursome danced up a storm while dressed up as The Cheetah Girl in the TikToks. They did a cute dance routine to "Amigas Cheetahs" from the soundtrack to the second movie. After the line "friends for life" in the song, North and Penelope each sweetly hugged their friends. Then, another friend ran out and pretended to be a paparazzi by snapping pictures of the girls.
North was the clear star of the bunch, just like Raven was before she quit the group ahead of the third film. Kim and Kanye West's daughter stood at the center of the group in all of the videos. North has been a fan of The Cheetah Girls for what feels like forever — so this was a dream come true for her!
@kimandnorth

♬ amigas cheetahs by the cheetah girls – .•°¤*★thalia★.•°¤*
Back in 2018, Kim revealed then-5-year-old North's love for the Disney girl group on Instagram. She shared clips of Adrienne from one of the three movies and wrote, "North's new obsession! #CheetahGirls. Should I break the news to North that this could have been her auntie?!?!?!" Adrienne, who dated Rob from 2007 to 2009, responded to Kim's post and laughed about going down memory lane. While Adrienne has been open about the fact that Rob cheated on her which led to their split, she's stayed friendly with the Arthur George founder's sisters, especially Kourtney Kardashian.
After years of loving The Cheetah Girls, North got to finally be apart of the group for Halloween. And it wasn't her only costume this year! North dressed up as the bear from Kanye's 2007 album Graduation and as Stacey Dash's Dionne from Clueless. She did the latter costume with Kim, who dressed up as Alicia Silverstone's Cher with her daughter.
View Related Gallery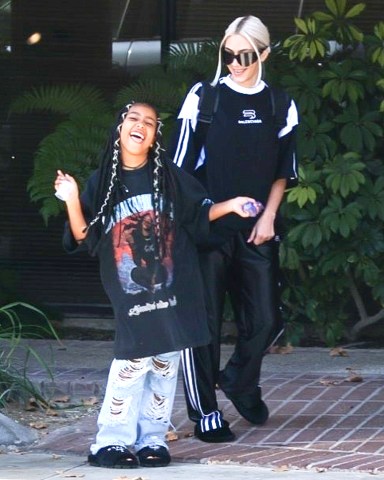 Westlake, CA – *EXCLUSIVE* – Kim Kardashian and daughter North get playful with the cameras after an art class in Westlake. Pictured: Kim Kardashian BACKGRID USA 3 AUGUST 2022 USA: +1 310 798 9111 / [email protected] UK: +44 208 344 2007 / [email protected] *UK Clients – Pictures Containing Children Please Pixelate Face Prior To Publication*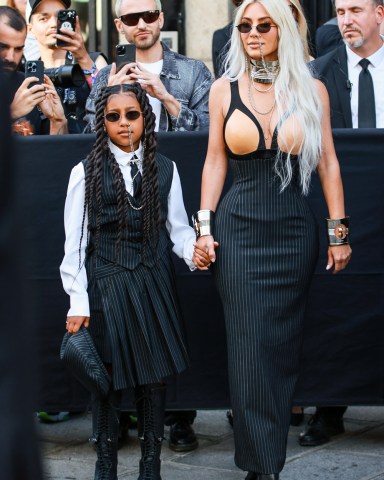 Kim Kardashian West and North West <a href="https://hollywoodlife.com/2022/07/06/kim-kardashian-north-west-nose-rings-paris-fashion-week/">arrive in style</a> for the Jean Paul Gaultier show during Paris Haute Couture Fashion Week on Jul. 6, 2022. Kim wore a version of a bust-baring pinstriped dress Madonna wore in 1992. Meanwhile North rocked a matching vest and pleated skirt. Both of the stars had on tiny oval sunglasses and wild nose chains.
Sourse: hollywoodlife.com