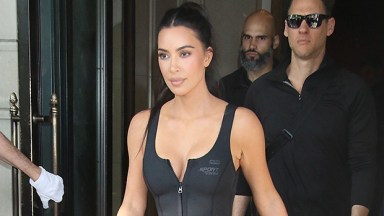 Image Credit: MediaPunch/Shutterstock
When it comes to Kim Kardashian, one thing is for sure – she always manages to look sexy – and that's exactly what she did in her latest Instagram post. The 42-year-old posted a slideshow of photos from vacation when she wore a tiny brown string bikini that put her toned abs on full display.
Kim posted a slideshow of photos from her tropical trip and in the second photo, she cropped her face out, letting her toned figure speak for itself. Kim's dark brown bikini featured a tiny triangle top that showed off ample cleavage while a giant bead was fastened in the center string. She styled the top with matching high-rise bottoms that had high thin straps on the sides while the front of the bottoms was low-cut. Kim looked extremely tanned and bronzed while her tiny waist and rock-hard abs were front and center in the photo.
View this post on Instagram
Kim has been posting a lot of bikini photos lately and aside from this sexy photo, she recently showed off her incredible figure in a glowing white bikini while lounging on a staircase at night. Kim posted the photo with the caption, "self reflection," as she rocked the tiny white triangle string bikini that was glowing in the dark. She topped her look off with a pair of retro sunglasses and had her hair down and parted in the middle in waves.
Aside from this look, she recently posted another bikini photo while taking a dip in the pool. In the photo, Kim wore a metallic gold Dolce & Gabbana Triangle Bikini with Dg Logo that put her toned figure on full display. Kim's triangle bikini top showed off major cleavage and she styled the top with matching high-rise, skinny strap bottoms.
Sourse: hollywoodlife.com