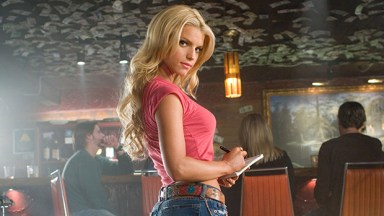 Image Credit: Warner Bros/Kobal/Shutterstock
Jessica Simpson, 43, is not retiring her famous Daisy Dukes just yet! The actress and singer opened up about continuing to wear the timeless mini shorts during a September 27 interview with PEOPLE. "Even if my knees start to sag over my kneecaps, I will still be wearin' Daisy Dukes with pride," the mother-of-three said to the mag while also promoting her clothing line.
View this post on Instagram
The "Irresistible" hitmaker even touched upon being a "Cali-Cowgal" and channeling the "Coastal Cowgirl" trend decades ahead of it going viral. "I am a born and raised Texan who chased her dreams into the hills of Hollywood, so I think that qualifies for the term Cali-Cowgal," Jessica said. She has become arguably synonymous with the Daisy Dukes shorts trend since she rose to fame in the early aughts.
The 43-year-old even admitted to still wearing one of her pieces from The Dukes of Hazzard in her latest campaign. "We named the fringe suede shorts this season 'the Callie' and I styled them with a vintage Willie Nelson tee that I got while shooting Dukes of Hazzard many moons ago," Jessica shared with the mag. "The combo creates a southern retro festival-ready look." Of course, Jessica couldn't help but share one of her style tips with the readers. "Denim on denim on denim on denim is always a powerful choice for an effortless impression," she advised.
Earlier this year, the Texas native spoke to PEOPLE once more about her iconic denim shorts look. Jessica even admitted to still owning the shorts from The Dukes of Hazzard during the April 14 interview. "I'm always on my way to get somewhere in my denim shorts and platforms!" she gushed. The "With You" songstress revealed that she wore "many pairs of the same shorts" while working on the 2005 film.
Aside from fashion, Jessica most recently took to Instagram on September 19 to celebrate her husband, Eric Johnson's birthday. "Eric turned 44 on Sept 15 and his family gave him all the love cells we have to celebrate his life. My heart is so taken with this Man, I could hardly call it my own…. We love youuuu [sic] (he ain't an Instagram guy, but I always think the more good wishes the better)," she captioned the adorable carousel of family photos with Eric.
Sourse: hollywoodlife.com