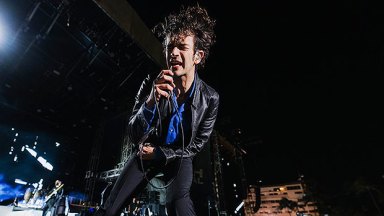 Image Credit: Angelo Joseph/Shutterstock
Matty Healy is the lead singer and guitarist of the British band The 1975.
Matty said he is in a great place after getting clean from a heroin addiction a few years ago.
Matty announced that after their current tour The 1975 will take an indefinite hiatus.
Matty Healy (born Matthew Timothy Healy) is an English musician who was born on April 8, 1989, in London, England. He is best known as the singer and guitarist of The 1975, a pop rock band formed in 2002 that pulls inspiration from the sounds of the '80s. The band last released an album in 2022, titled Being Funny In a Foreign Language. It is the group's fifth studio album and followed 2020's Notes On A Conditional Form.
Matty, 34, is super proud of his band, which was formed in a garage with three of his school friends: Adam Hann, Ross MacDonald, and George Daniel. He's so proud, that The 1975's 2022/2023 world Tour is called The 1975 at Their Very Best. "Not from us being cocky, it's genuine," he told The Guardian in Sept. 2022.
While The 1975's current tour has been a smashing success, it seems like they may take a break soon. As the band kicked off their North American tour in Sacramento, Matty said the band would take some time off. "After this tour we will be going on an indefinite hiatus of shows so it's wonderful to have you guys with us tonight," he said on stage on Tuesday, September 26, per Pitchfork. Read on to learn five things about Matty Healy.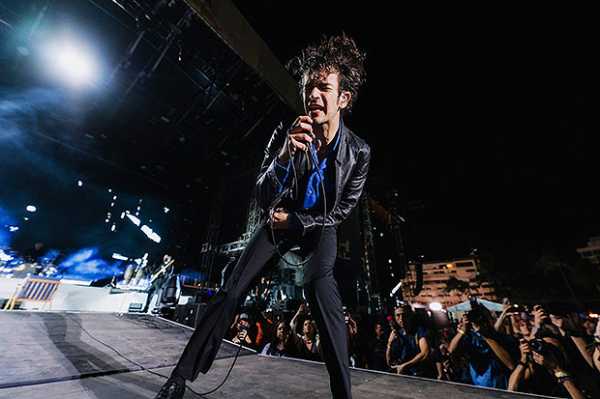 Matty Healy helped found The 1975 in 2002 with his school mates (Photo: Angelo Joseph/Shutterstock)
Matty Healy Is Doing Better Than Ever
Both The 1975 and Matty are currently enjoying the best versions of themselves. "I've been clean for ages, I'm at the gym all the time, everyone feels good," he told The Guardian. "Even though I started this interview saying I don't know what I'm doing."
Matty previously struggled with a heroin addiction, for which he ended up entering rehab for seven weeks beginning in Nov. 2017. He said he realized he needed help after he went on a pompous rant and called himself the "main deal" when discussing future music with his bandmates. "People had started to lose respect for me, but not an irredeemable amount," he recalled in a 2018 interview with PEOPLE.
Matty Healy Had To Apologize to Ice Spice for Derogatory Comments
During a Feb. 2023 appearance on The Adam Freidland Show, Matty, Adam Freidland, and Adam's co-host Nick Mullen made derogatory comments about rapper Ice Spice's body and even mocked her with Chinese and Hawaiian accents. They called her things like "Inuit Spice Girl," and a "chubby Chinese lady," per Rolling Stone. Nick and Adam cracked up as they mocked her, saying, "Yeah, I rap and [make] music.' Do they talk like that? Do Inuits talk like that?" Matty egged them on. Sadly, the comments came after they discussed the "Munch" rapper saying she was "obsessed" with The 1975 during a January interview with Elle.
After receiving major backlash, he apologized publicly to Ice Spice while on stage at a show in Aukland, New Zealand. "I just feel a bit bad, and I'm kind of a bit sorry if I've offended you," Matty said. "Ice Spice, I'm sorry. It's not because I'm annoyed that me joking got misconstrued. It's because I don't want Ice Spice to think I'm a d***. I love you, Ice Spice. I'm so sorry."
Matty Healy's Mental Health Was Affected by Past Sexual Experiences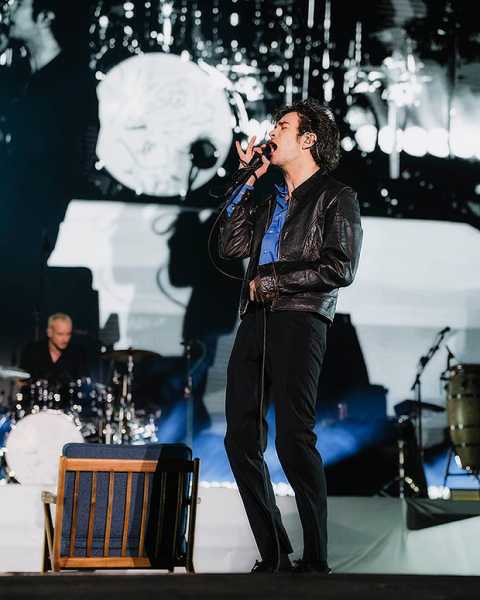 Matty Healy performs with The 1975 (Photo: Angelo Joseph/Shutterstock)
The "Somebody Else" singer got super candid during his 2022 chat with The Guardian and admitted that his early romantic experiences affected his mental health greatly before he started therapy. "I'll be totally honest with you. I'm not going to be specific, but I had some early sexual experiences that, as I got older, were really, really difficult to deal with," he confessed. "It wasn't to do with anything that happened in my family or at home, it was these … different things that happened. So my mental health had come through the negotiation of sex as a teenager and a young man, and romantic relationships."
He went on to say that as The 1975 became more famous, the sexualization of the band only muddied his self worth and perception of love. "I was sexualized to a certain extent; it was sexy, in the way that leather jackets and smoking and all that kind of shit was sexy," he recalled. "And I think [I had] an inner dialogue where I just hadn't dealt with things, I probably hadn't done the right amount of therapy. It's hard to have romantic relationships with people when you're on tour, so the one part of my life that I found difficult got really hard, and I would focus on it, so I would never be in the moment."
"I'd be on the side of the stage in Madison Square Garden, thinking about this one thing that I'd done in a relationship or something like that," he further recalled.
Matty Healy Deleted His Social Media for a Short Time
Matty briefly deactivated his Instagram page in April 2023 to get his ego in check. He made the announcement during a concert in Adelaide, Australia, per The Sun. "It's (coming off social media) because everything happens in eras. The 1975 is a very eras band. The era of me being a f****** a******* is coming to an end. I've had enough," he declared. "I perform all the time and it's my job and I love doing this but I can't perform off the stage any more as I just want to be a bloke." Matty has made headlines for years for ego-driven on-stage rants and peculiar moves, such as kissing fans during shows and miming sexual acts.
He appears to have made his return to Instagram but under the alias "Truman Black." He currently has 1.6 million followers, and he occasionally posts selfies on the social platform.
Matty Healy Once Said Dating Taylor Swift Would Be 'Emasculating'
The "About You" hitmaker was once rumored to be seeing Taylor Swift, but he shut that down quickly. "If I had gone out with Taylor Swift I would've been, 'F****** hell! I am not being Taylor Swift's boyfriend,'" he bluntly stated during an interview with Q magazine (via Entertainment Tonight). "You know, 'F*** THAT.' That's also a man thing, a de-masculinating, emasculating thing." Taylor had previously been spotted at two The 1975 shows in 2014.
Matt has also, however, referred to his friend Taylor as a "queen" in January 2023. The comment took place after Taylor made a surprise appearance at his The 1975 show to perform her song "Anti-Hero" as well as cover the band's "The City." Referencing his habit of kissing fans, he said, "Have some respect. In front of the Queen, it's not happening."
MATTY HEALY at #NashvilleTSTheErasTour #TSTheErasTour pic.twitter.com/2IkVnkikVK

— The Eras Tour (@TSTheErasTour) May 6, 2023
Matt also attended Taylor's Eras Tour show in Nashville, TN on Friday, May 5. He was seen keeping a low profile in the audience as he wore a blue button down plaid shirt, intensely listening to the music.
Vibing to bad blood while standing next to Gigi hadid who is literally in the music video he's living his best life right now pic.twitter.com/ScxcHqkuod

— esra (@1989healy) May 7, 2023
He once again attended her second Nashville show on May 6, this time with some of Taylor's closest friends including Gigi Hadid, 28, Lily Aldridge, 37, her BFF Abigail Anderson, and brother Austin, 31. He opted for a white button down shirt, black pants and a black belt for the show, which he seemed to be totally engaged with through the three hours. At one point, he held his hand over his heart during her 2019 hit "Lover" and also bopped along with Gigi to "Bad Blood."
Earlier in the day, he was seen making a Starbucks run in the same outfit. He was reportedly leaving Taylor's Nashville apartment, escorted by who is believed to be one of her body guards, prior to grabbing a hot, tall sized beverage.
He Is Banned From Performing in Malaysia
Matty has a history of kissing fans — male and female — during his shows, with a recent lip lock with a male security guard as well as a smooch from his bassist. As a result, the 1975 are banned from future performances in the country due to Malaysia's anti-LGBTQ+ laws: homosexuality can lead to imprisonment, while trans people are not recognized.
"I made a mistake when we were booking shows, I wasn't looking into it. I don't see the f—ing point, right? I do not see the point of inviting The 1975 to a country and telling us who we can have sex with," Matty told a crowd on July 22 in Kuala Lumpur at the Good Vibes Festival.
The 1975 has been banned from Kuala Lumpur, Malaysia after Matty Healy and bandmate Ross MacDonald kissed on-stage during their set at Good Vibes Festival.

Before the kiss, Healy gave a speech on his disappointment in the country's discrimination against the LGBTQIA+ community. pic.twitter.com/XcHuPHiYr5

— Pop Crave (@PopCrave) July 21, 2023
"And I'm sorry if that offends you and you're religious, but your government … I don't care anymore. If you push I'm gonna push back. I'm not in the f—ing mood. I'm not in the f—ing mood anymore," he also said. "Unfortunately you don't get a set of loads of uplifting songs because I'm f—ing furious. And that's not fair on you, because you're not representative of your government. Because you're young people, and I'm sure a lot of you are gay and progressive and cool," he also said.
Sourse: hollywoodlife.com