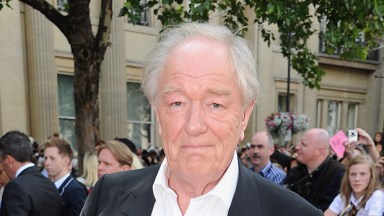 el Gambon, Richard Harris, & More Stars Who Have Played the Famous Wizard />
Image Credit: Richard Young/Shutterstock
Albus Dumbledore is the beloved headmaster of Hogwarts in the 'Harry Potter' series.
In the first two 'Harry Potter' films, the role was played by Richard Harris, but after his passing, it was taken up by Michael Gambon for the remaining movies.
The part has also been played by Jude Law in the 'Fantastic Beasts' films and various actors in the 'Harry Potter and the Cursed Child' stage show.
Michael Gambon died at 82 on Thursday, September 28, 2023.
To a whole generation of children, one of the most beloved teachers ever put to page, screen, or stage has been Albus Dumbledore from the Harry Potter series. The character is often remembered for his words of wisdom to Harry and many other characters throughout the series, offering guidance and acting as a mentor for the young wizard. As the Harry Potter books were brought to life in many different iterations, the role was played by quite a few different actors.
Sir Michael Gambon was the actor who played Dumbledore the most, appearing in six movies as him. The Irish actor died at 82 on Thursday, September 28. "We are devastated to announce the loss of Sir Michael Gambon," his family said in a statement. "Beloved husband and father, Michael died peacefully in hospital with his wife Anne and son Fergus at his bedside, following a bout of pneumonia."
Following the sad news of Michael's death, look back on the many actors to play Dumbledore through the years.
Richard Harris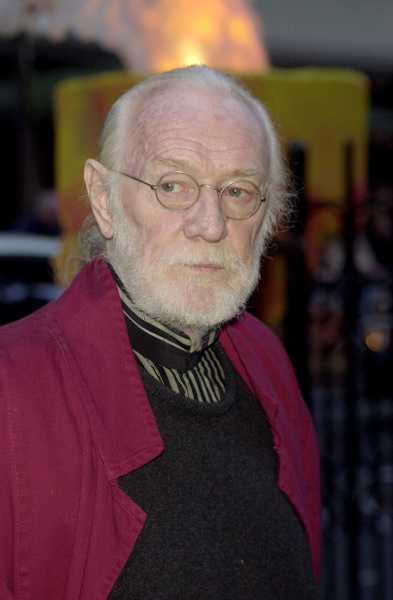 Richard Harris at 'The Philosopher's Stone' premiere. (Charles Sykes/Shutterstock)
While Michael's portrayal of Dumbledore may have appeared in most films, he didn't originate the role. Fellow Irish actor Richard Harris was the first person to play the headmaster in Harry Potter and the Philosopher's Stone and Chamber of Secrets. Outside of Harry Potter, Richard appeared in many more critically acclaimed movies, such as Gladiator, The Field, and This Sporting Life, the latter two of which earned him Best Actor nominations at the Oscars.
As the original Harry Potter films were being developed, Richard claimed he was offered the role of Dumbledore multiple times but turned it down, explaining that he was worried about appearing in sequels. His then-11-year-old granddaughter ended up being the one who swayed him to take the role. "She said, 'Papa, I hear you're not going to be in the Harry Potter movie', and she said, 'If you don't play Dumbledore then I will never speak to you again," he said in a 2001 interview, per The Guardian.
Richard's performance in the first two films is incredibly memorable, as he introduced fans to the Wizarding World on the big screen for the first time. He offered many memorable quotes as fans got to see Harry's earliest adventures play out, such as "It takes a great deal of bravery to stand up to your enemies, but a great deal more to stand up to your friends" in Philosopher's Stone.
After the release of Chamber of Secrets in 2002, Richard was diagnosed with Hodgkin's disease. He died at 72 on October 25, 2002. Following Richard's death, Harry Potter director Chris Columbus recalled approaching his friend Peter O'Toole to take on the role. "I remember an interesting thing because [Prisoner of Azkaban director] Alfonso [Cuaron] and I met with Peter O'Toole about playing Dumbledore, and he was close except Richard was his best friend and he felt it was intrusive from an acting point of view so he decided not to do it," he told The Wrap in 2021.
Michael Gambon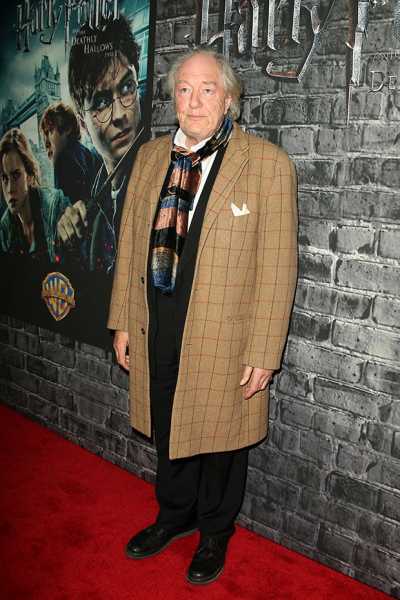 Michael Gambon is seen at the 'Deathly Hallows' premiere. (Amanda Schwab/Starpix/Shutterstock)
After Richard's death, Michael Gambon was cast in the role. He played Dumbledore from Prisoner of Azkaban until the final film in the series Deathly Hallows: Part 2. Before becoming the powerful wizard, Michael was a renowned actor, known for his performances in Shakespeare plays. He'd also appeared in many more hit movies such as Gosford Park, The King's Speech, and Fantastic Mr. Fox.
Michael clearly enjoyed playing Dumbledore, noting how different it was from everything else he'd ever worked on in a 2009 interview with Today. "I hadn't realized before just how powerful these things are. I just do the job and go home and you forget it," he said. "This will stick out as being a happy memory, being with a thing for so long and the worldwide love of it. You never forget that."
After completing his tenure as Dumbledore in 2011, Michael continued to appear in a variety of films, such as 2012's Quartet and 2019's Judy. His final acting appearance was in 2019's Cordelia. He died following a battle with pneumonia on September 28, 2023. He was 82.
Jude Law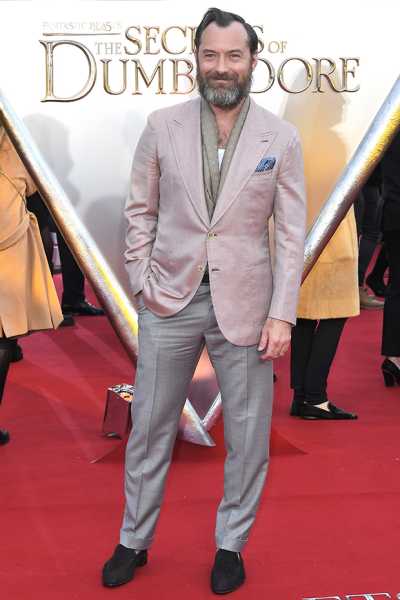 Jude Law smiles at 'The Secrets of Dumbledore' premiere. (Anthony Harvey/Shutterstock)
While the original adaptations of the Harry Potter films came to an end in 2011, the film series received new life in 2016 with the spin-off Fantastic Beasts and Where to Find Them. While the story doesn't include many of the beloved characters from the original books, a few familiar faces did return, including Albus Dumbledore. The classic character made his return in the 2018 sequel The Crimes of Grindelwald, but this time he was played by Jude Law.
The film focuses on a younger Dumbledore, when he was the Defense Against the Dark Arts professor at Hogwarts, and well-known in the Wizarding World, as he helps the protagonist Newt Scamander face off against Gellert Grindelwald. Jude also appeared in the third film in the saga The Secrets of Dumbledore.
Like his predecessors, Jude was already very well-established before taking on the role of Dumbledore. He was a celebrated actor for roles in movies like The Talented Mr. Ripley and Cold Mountain. He's also appeared in hits like A.I. Artificial Intelligence and the 2009 Sherlock Holmes film and its sequel.
Barry McCarthy
Besides Fantastic Beasts, the Wizarding World also entered a completely different realm in 2016: theater. The play Harry Potter and the Cursed Child premiered in London's West End that year, and it featured new actors playing a wide range of familiar characters. The play takes place 19 years after the events of the final Harry Potter book. Dumbledore makes a small cameo in a role shared with the actor who plays Amos Diggory.
In the original West End production, the role was played by Barry McCarthy, who has appeared in a variety of different stage shows over the years, such as The Absence of War, Little Revolution, and King Lear, per Broadway World. He's also appeared in movies like London Road and Kinky Boots, and TV shows like House of Cards and Hollyoaks.
Edward James Hyland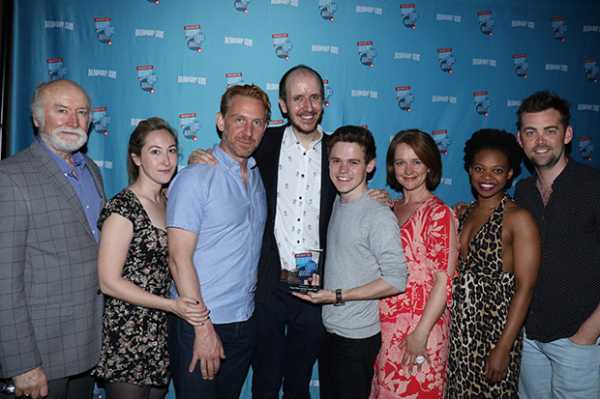 Edward (far left) is seen with the cast of 'The Cursed Child.' (Gregory Pace/Shutterstock)
After much success in London, Harry Potter and the Cursed Child moved across the pond to Broadway. It premiered on the Great White Way in 2018, but a different actor originated the Dumbledore role. The role was played by Edward James Hyland, who had previously appeared in productions of Arcadia and Machinal. He was also an understudy for many other productions, via Playbill. He also has film credits for Bridge of Spies, The Happening, Cafe Society, and much more, per IMDb.
Sourse: hollywoodlife.com