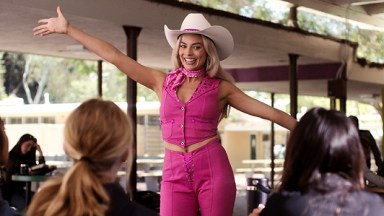 Image Credit: Warner Bros.
If you purchase an independently reviewed product or service through a link on our website, we may receive an affiliate commission. Learn more about our policies and reviews.
Barbie was the movie of the season — so it won't be surprising if you see plenty of Barbies walking around on Halloween night. Halloween is coming around the corner and figuring out your costume can be a stressful endeavor, but lucky for you — we did all the work. We found a cost-effective, flirty, and fun costume that will definitely turn some heads at the bar. There are so many different Barbie looks to choose from, but our favorite is directly from the movie. In some of the most iconic scenes, Margot Robbie was wearing her cowboy-inspired Barbie outfit.
We found all the right accessories to mirror the exact outfit Margot wore in the film and since they are all on Amazon, you can get all of the items within days! No more stressing about last-minute costume ideas, since you have one right here. You can even have a matching cowboy-inspired Ken with you since Ryan Gosling wore his own get-up in the movie as well!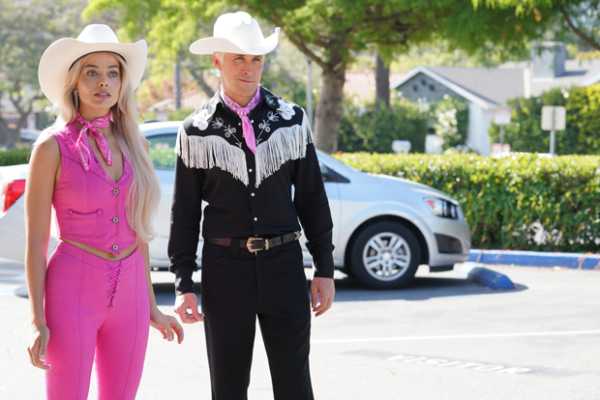 Margot Robbie is pictured as Barbie and Ryan Gosling is pictured as Ken in the movie, 'Barbie.' (Warner Bros.) 1. Hot Pink Cowgirl Outfit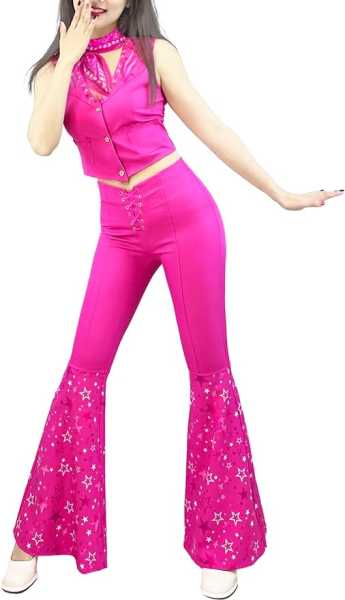 Let's start with the base of the costume — and lucky for us, we found a 3-for-1 deal! With the Naywig Cowgirl Outfit 70s 80s Hippie Disco Costume Pink, you can purchase three of the items for your costume for only $33, since it's on sale for 53% off. You'll be saving $36! This costume comes with a matching hot pink buttoned vest and flare pants that have some fun elements added. On the pants, there are multi-colored mini stars on the bottom and two larger stars on the back. It has a 70s disco flair to the outfit as well, which means you can re-wear it next year as a whole new costume! This costume also comes with a hot pink bandana, which Margot also wears throughout the movie.
2. Cowgirl Hat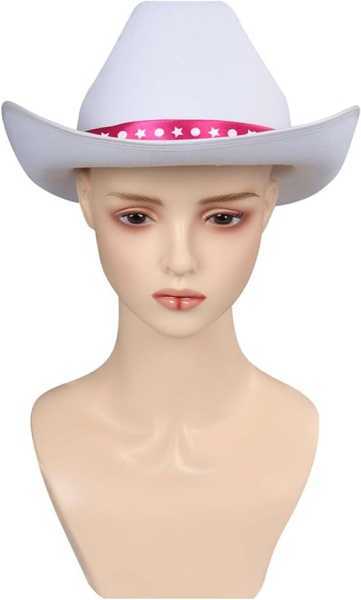 Cowgirl Barbie obviously needs a cowgirl hat! In the movie, Margot wore an almost duplicate hat to the Wolyzz Margot Costume Doll Cowboy Hat — white with a pink ribbon around the hat with stars. It matches the outfit perfectly and you can look just like Margot in the process! For only $28.99, it's all yours!
3. Cowgirl Boots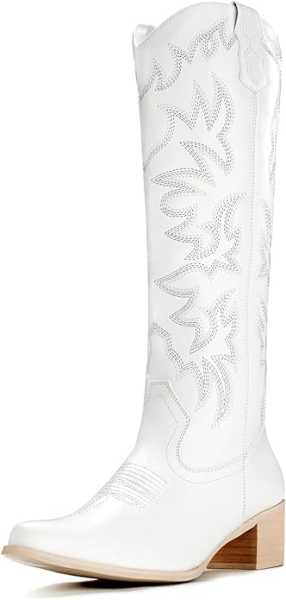 If you're looking to take your costume to the next level, it's time to bring out the cowgirl boots! The IUV Cowboy Boots For Women will not only elevate your costume but will become a long-term investment shoe. Cowgirl boots are in — whether it's with a sundress or with jeans and a sweater, these boots will come in handy time and time again. Also on these boots, there's a classic Western embroidery design that adds an element of style — you'll look absolutely fabulous! Purchase them now for $36.99 on Amazon.
4. Blonde Wig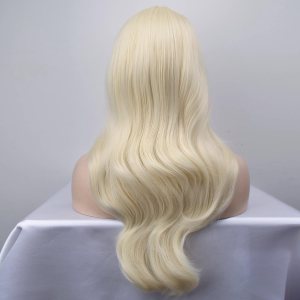 If you're not as blessed as Margot Robbie with long blonde locks, look no further — we found the finishing touch to ensure you look like Barbie in no time. Out of all the blonde wigs out there, this one has over 1,000 positive reviews on Amazon. "I love this wig! It's very soft and smooth. Unlike other synthetic wigs I've tried at this price point, the hair is very flexible and has great movement," one customer shared.
Sourse: hollywoodlife.com