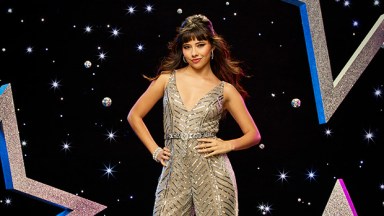 Image Credit: ABC
Xóchitl Gómez isn't letting a fall affect her upcoming Dancing With the Stars performance. The 17-year-old actress shared a TikTok video of a rehearsal-gone-awry, which led to a sprained ankle.
"This shiiiiii is BANANAS!" Xóchitl captioned her clip on November 6. "I'm good tho! A lil sprain, but WE WORKIN' [sic]!" The Doctor Strange and the Multiverse of Madness star followed up by commenting under the video, "I'm good! I will be there tomorrow, and we ballin'!
The video begins with a snapshot of Xóchitl's bandaged leg. The clip then cuts to the moment when she cartwheeled in front of her dance partner, Val Chmerkovskiy, but her legs gave up mid-air, and she rolled her right ankle on the floor. Val, 37, quickly helped her as Xóchitl stayed on the ground, appearing to wince in pain.
@_xochitl.gomez

This shiiii is BANANAS! 🙈😭🤪 im good tho! A lil sprain but WE WORKIN! #teamxv #dwts #teamyoungnstyle

♬ original sound – zong_qi – zqsthetics
Several TikTok users expressed their concern after watching the video. One fan wrote, "Watching that made my bones cringe." However, others added some humor to the moment, as another person commented, "Bro took break a leg too seriously (KIDDING)."
Xóchitl updated her followers in the comments section of the post by insisting that she is still scheduled to hit the dance floor with Val on November 7 for "Music Video Night." The Babysitter's Club alum promised her fans in a separate comment, "Just got an X-ray. No chips, no breaks, just a lil sprain."
Xóchitl faced another injury just one week prior during the show's Halloween episode, "Monster Night." Fans watched her and Val perform a beautiful contemporary dance, but the Marvel Cinematic Universe star scraped her leg during the performance. Once the duo finished the number, the cameras cut away for a brief moment as viewers heard someone say, "Uh oh." Val then carried Xóchitl to the judges' table to hear their feedback, and he carried her off the ballroom floor.
Shortly after the incident, Xóchitl shared a video to her Instagram Stories, showing off the bandages she had on her knee. "I'm OK, y'all. We good," she said in the clip.
Despite the bad luck she's faced, Xóchitl has been powering through the current season of DWTS. She scored a 37 out of 40 for Halloween night, and she and Val were in the top four. They even won the dance marathon that evening, which was a fast-paced and difficult challenge for all of the competitors.
Sourse: hollywoodlife.com