Image Credit: FOX
The Queen of Hearts returns! The Masked Singer season 6 winner Jewel hits the stage during the October 11 episode to perform her hit song "Standing Still." The 49-year-old is helping The Masked Singer celebrate its first 2000s Night.
Jewel sounds incredible singing her 2001 song as she plays her blue guitar. She throws it back with a blue metallic jacket, a jean skirt, and knee-high boots. Nicole Scherzinger and Ken Jeong sing along with Jewel from behind the panelists' table.
The singer famously won season 6 of the hit FOX series. She beat out Todrick Hall's Bull to take home the coveted Golden Mask trophy. Jewel has grown into a musical icon since her debut in the 1990s. She released her thirteenth studio album, Freewheelin' Woman, in April 2022.
After her big win, Jewel opened up about how The Masked Singer gave her the ability to "push" herself as an artist. "I have never written songs that show my technical ability as a vocalist, which is weird. I don't know why. I'm just more of a storyteller and never felt the need to really show off technically," she told PEOPLE. "But this show is all about technical ability and heart. And so, for me, that was really fun to push myself, to sing songs I've admired since I was a little girl, songs that made me want to be a singer."
During the October 11 episode, the masked singers will be singing 2000s classics in hopes of making it to the next round of the competition. Pickle, S'More, Gazelle, and Cow will be performing in the episode. The celebrity panelists are getting all dolled up for 2000s Night. Jenny McCarthy channels her inner Britney Spears in an all-denim outfit. Lance Bass and Kate Flannery will be making a special appearance.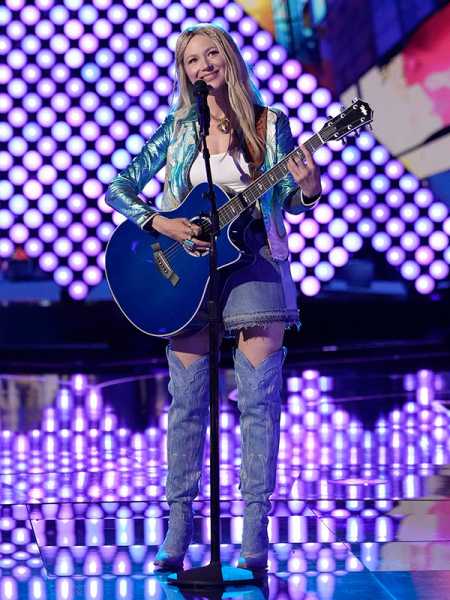 Jewel during her 'Masked Singer' return. (FOX)
Season 10 features a format change. The celebrity singers will be split into three groups and special Battle Royale semi-final episodes. There are 16 masked singers this season, including Donut, Hibiscus, Anteater, and more.
The Masked Singer has already had three epic unmaskings so far this season. Demi Lovato was revealed as Anonymouse in a special kickoff episode. Anthony Anderson and Tom Sandoval have been unmasked as Rubber Ducky and Diver. The Masked Singer airs Wednesdays at 8 p.m. on FOX.
Sourse: hollywoodlife.com