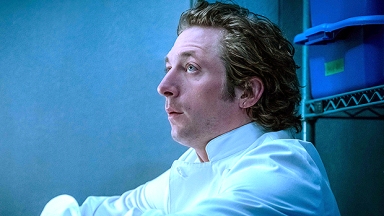 View gallery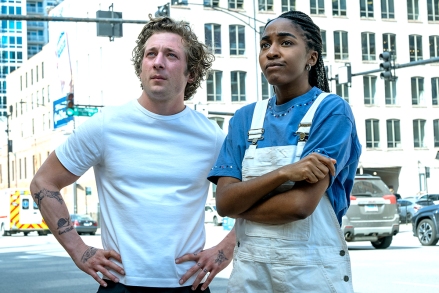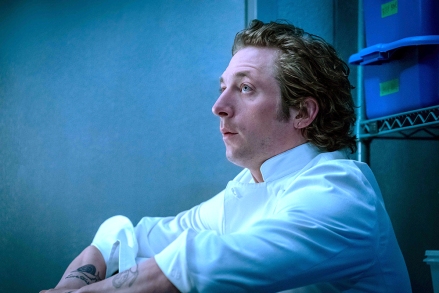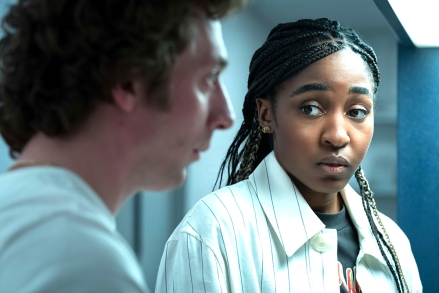 Image Credit: FX
Friends and family night at The Bear gets off to a good start when the season 2 finale begins. The restaurant fills up quickly, and Sugar is preoccupied with whether or not Donna is going to show up. Richie is in his element at the front.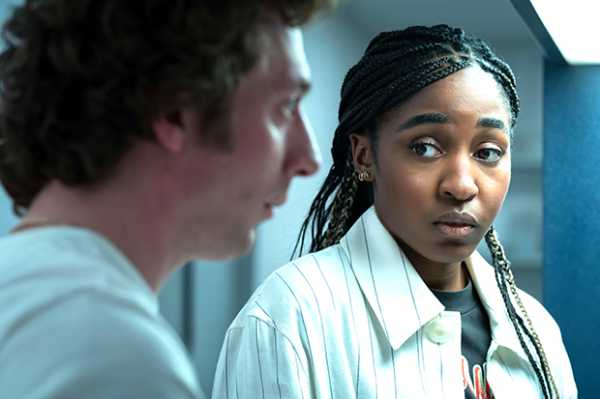 Ayo Edebiri and Jeremy Allen White as Sydney and Carmy. (FX)
However, things begin to move slower than they should. Tensions start to run high in the kitchen. Carmy freaks out after he thinks he spots his former abusive boss in the restaurant, but Sydney's able to calm him down. Carmy's luck goes from bad to worse when he gets locked in the walk-in fridge after the handle breaks on the outside.
With Carmy locked in with no way out at the moment, Sydney's got to come up with a game plan. Richie says he can step into Syd's position. They have 5 minutes to make everything work, or they're screwed. Everyone flies into action, working together to pull off a miracle. Richie shines and truly becomes a leader.
Pete spots Donna — Jamie Lee Curtis returns! — smoking a cigarette outside the restaurant. He tries to convince her to come inside. "I don't want you to tell them I was out here," Donna pleads. "I just don't think I can take it." Pete urges her to reconsider her decision. "I love them so much. And I don't know how to show it. I don't know how to say I'm sorry," she says before adding, "I don't deserve to see how good this is."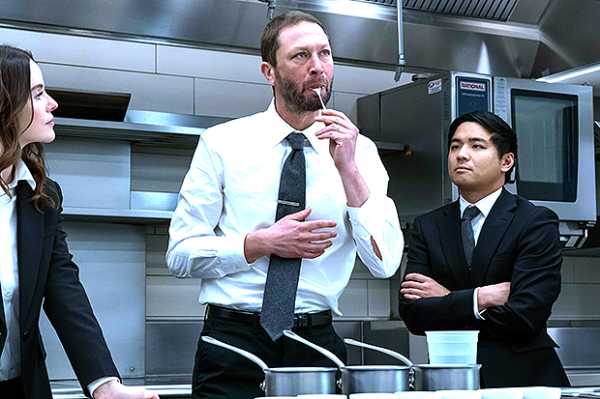 Ebon Moss-Bachrach as Richie. (FX)
Pete mentions that he and Sugar have to get in these dinners before the baby comes, and that's when Donna realizes Sugar never told her she was pregnant. Donna is steadfast in her decision to not go inside and walks away. When Sugar comes back to tears, Pete is in tears. He's heartbroken for Sugar but doesn't tell her that he saw Donna. He also says that she shouldn't hold a grudge against Donna. He's such a gem.
In the midst of the chaos, Marcus discovers Josh smoking crack outside. Marcus tells Sydney about it. They manage to put their lingering awkwardness over Marcus asking Sydney to the side for the moment. Sydney gives Marcus the go-ahead to fire Josh.
Carmy is still stuck in the walk-in fridge. Tina tries to comfort him. "I think I did this to myself," Carmy says. "I failed you guys." He promises that it won't happen again. Tina thinks he's being silly. Meanwhile, Claire learns that Carmy is trapped in the walk-in and heads back to check on him.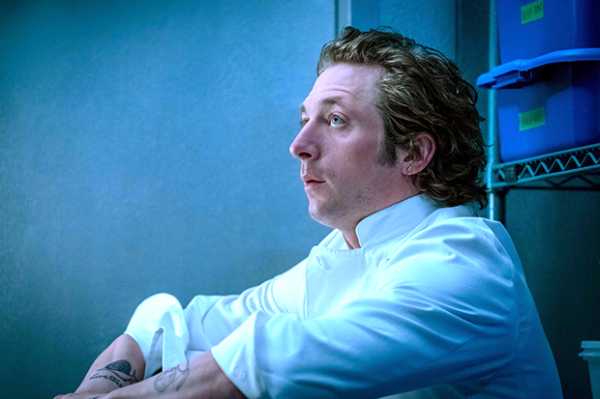 Jeremy Allen White as Carmy. (FX)
Carmy believes that Claire has been a distraction and doesn't think he can be in a relationship. He doesn't think he can have the restaurant and a relationship. "I don't need to provide amusement or enjoyment. I don't need to receive any amusement or enjoyment. I'm completely fine with that. Because no amount of good is worth how terrible this feels. It's just a complete waste of f***ing time," he says.
Turns out, Claire has heard Carmy's entire confession from the other side of the fridge. She walks away and doesn't respond to Carmy when he calls for him. Carmy's crippling self-doubt strikes again. His heart is trapped in that fridge, and it still needs time to thaw out.
Claire bids farewell to Richie before leaving. "Thank you for everything. This was so beautiful," she says. Richie immediately goes to confront Carmy over what happened with Claire. This descends into a brutal screaming match between Carmy and Richie. They both say some terrible things to each other.
Carmy then listens to the voice message Claire left for him earlier. She admits she's always had a "massive crush" on him. "I'm so proud of you," Claire says. She also tells Carmy that she loves him, which causes him to break down in tears.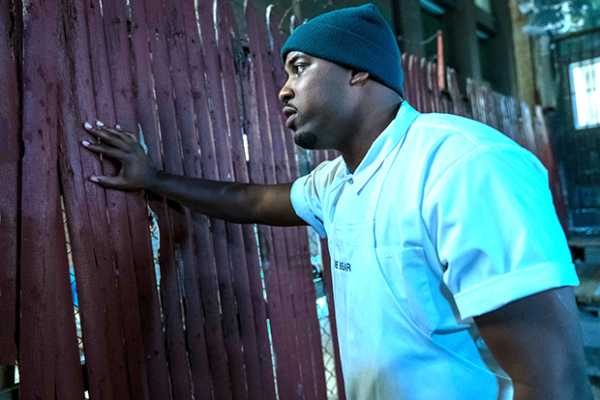 Lionel Boyce as Marcus. (FX)
The Bear Season 2 Ending
Once the tasting is over, Sydney walks outside and vomits. Her dad ends up finding her and tells her the food was "absolutely incredible." He finally realizes this is her dream. "Baby, it's the thing," he says. This validation is everything Syd's wanted.
Marcus opens up his gift from Luca. It's a sign that reads: "Every second counts." Meanwhile, he's got a series of mixed calls from his mother's nurse. Given his mother's condition, it doesn't sound like the nurse has good news. The best night of his life could end up being one of the worst.
Carmy is finally let out of the walk-in fridge, but he's a totally different person than when he got locked inside. Everything has changed. The last shot of The Bear season 2 is of Sydney. The roller coaster of emotions that have been churning inside of her all night can be seen all over her face. It's a mixture of relief, fear, and happiness.
Click to Subscribe to Get Our Free HollywoodLife Daily Newsletter to get the hottest celeb news.
View Related Gallery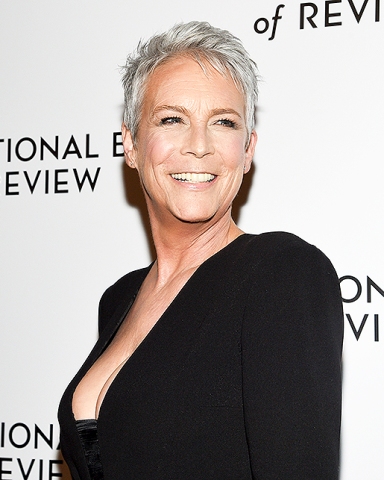 Jamie Lee Curtis attends the National Board of Review Awards gala at Cipriani 42nd Street on Wednesday, Jan. 8, 2020, in New York. (Photo by Evan Agostini/Invision/AP)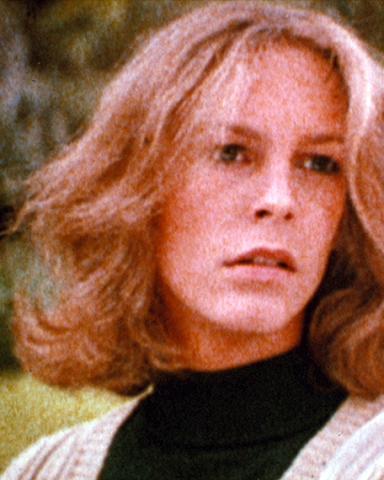 Jamie Lee Curtis's breakout role was playing Laurie Strode in the 1978 horror classic 'Halloween.' Jamie faced off against Michael Myers and became a horror icon.
Sourse: hollywoodlife.com