There's a very fine line between love and hate. Sydney Sweeney and Glen Powell turn up the heat in the sizzling new trailer for their rom-com Anyone But You. Their characters, Bea and Ben, hooked up years ago when Bea was on a break with her boyfriend. And now? They hate each other.
Bea and Ben cross paths again as they fly to Australia for a wedding. When Bea's ex shows up, she knows that her parents are going to try and get them back together. Meanwhile, Ben is still pining over Margaret, who broke his heart.
To get Bea's parents off her back and make Margaret jealous, Bea and Ben decide to pretend that they are in a relationship. They may not like each other much now, but Bea and Ben have some insane chemistry. Bea brings up their steamy shower hookup years ago. "No matter how it ended, it was still pretty amazing," she purrs.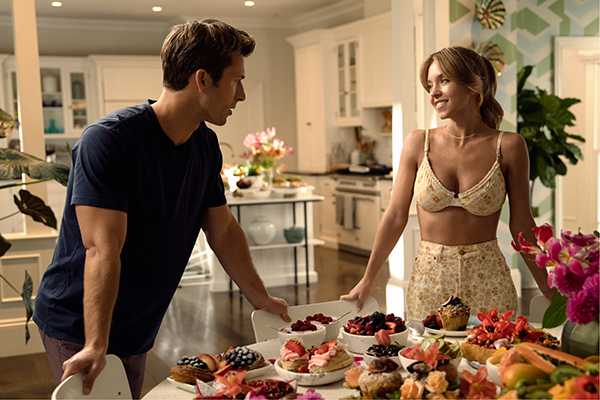 Sydney Sweeney and Glen Powell in 'Anyone But You.' (Sony Pictures)
Bea and Ben face their fair share of challenges trying to convince everyone that they're a couple. At one point, they get handsy with each other, but no one is around to see it. When Bea reaches into Ben's shorts, she discovers a spider. Ben immediately strips naked as he screams.
After they have their romantic Titanic moment on a boat, Bea falls into the water. Ben plays the hero and jumps in after her. The more time they spend together, the stronger their feelings get. (We know where this is going.)
Anyone But You also stars Darren Barnet, Alexandra Shipp, Dermot Mulroney, and Rachel Griffiths. The film is set to be released on December 22.
While Glen and Sydney were promoting the movie, rumors swirled that the co-stars were more than just friends. In a new interview, the Top Gun: Maverick star addressed the rumors. "When all that stuff happened, you know, publicly, it felt disorienting and unfair," he told Men's Health. "But what I'm realizing is that's just a part of this gig now."
Sourse: hollywoodlife.com