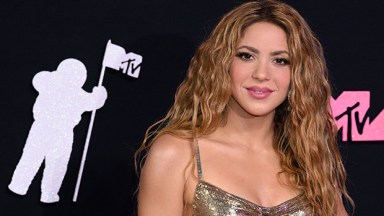 Image Credit: Anthony Harvey/Shutterstock
Glowing! Shakira, 46, rocked a sparkly beige dress under a light pink coat while accepting the Video Vanguard Award at the MTV Video Music Awards on Sept. 12. The "Hips Don't Lie" hitmaker accessorized her ensemble with sparkling tights and wore flattering, natural-looking makeup, and she walked out on stage to a cheering crowd.
While accepting the iconic award, Shakira delivered a moving speech, in both English and Spanish, about her career in music and expressed her gratitude to her fans. "This is amazing … Thank you, MTV. Thank you for being such a big part of my career since I was only 18 years old," she said, in a video that can be seen HERE. She also thanked her parents and kids. "Thank you for making me feel that mama can do it all," she said before mentioning her fans. "Thank you so much for being my army and helping me fight all my battles," she added.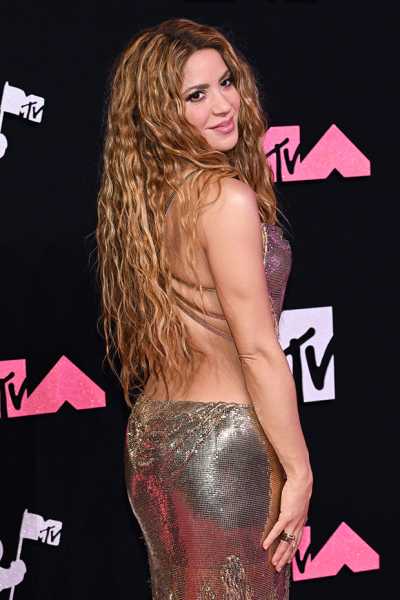 Shakira at the 2023 VMAs. (Anthony Harvey/Shutterstock)
The 2023 show was also Shakira's first performance on the VMA stage in 17 years, as reported by NBC News. For her comeback performance, she selected a handful of her hits including, "Whenever, Wherever" as she shook her hips in a beige dress with a fringy bottom. She had her long curly hair down and wore matching heeled boots.
The 46-year-old has officially joined other A-listers as a Video Vanguard Award recipient including Beyoncé, Nicki Minaj, Madonna, Janet Jackson, Jennifer Lopez, Rihanna, and others. At the 2022 VMAs, Nicki took home the prestigious award in addition to being nominated for Song of the Summer for her hit track "Super Freaky Girl."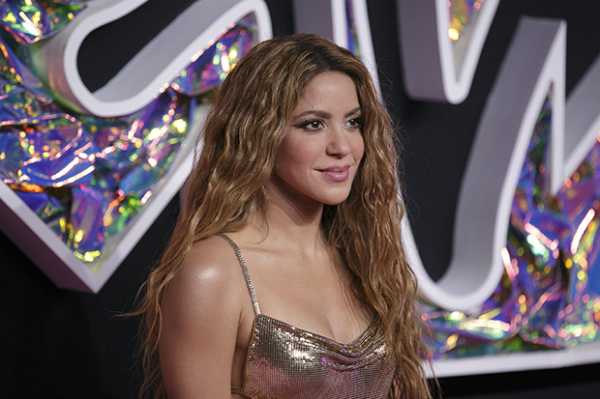 Shakira looking amazing at the VMAs. (SARAH YENESEL/EPA-EFE/Shutterstock)
Leading up to the show on Sept. 12, Shakira took to social media on Sept. 11 to share her excitement for the ceremony with her fans. "So excited about my Video Vanguard performance at the @vmas sponsored by @toyotausa – watch this Tuesday, 9/12 on MTV!" she captioned the clip of her announcing her performance.
Many of her 88.7 million followers took to the comments to congratulate her and react to the news. "Yess [sic] queen! Can't wait to watch," one admirer gushed, while another added, "The Queen… Well deserved!!!" Four days prior to the show, the mother-of-two also took to Instagram to share a behind-the-scenes clip on her prep for her performance. In the video, Shakira covered her forehead and appeared overwhelmed at the preparation for the show. "POV when you're trying to cram an entire career into one #VMAs Vanguard performance," she joked in the caption.
Not only does the blonde beauty now added a Video Vanguard Award to her list of accolades, but she has also taken home a total of four VMAs throughout her decades-long career. "Shakira is a true global force who continues to inspire & influence the masses with her unique, musical prowess. She's a trailblazer for women around the world & one of the first artists to lead the globalization of Latin music," Bruce Gillmer, chief content officer of music at Paramount+ and president of music, music talent, programming and events at Paramount, said to NBC News. "Her massive impact across the musical landscape will be long lasting as she continues to create and entertain at the highest level."
Sourse: hollywoodlife.com