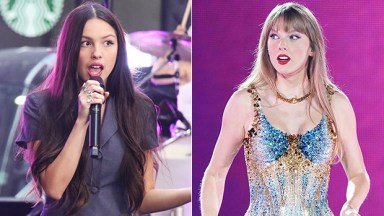 Image Credit: Shutterstock (2)
Olivia Rodrigo opened up about the new direction she has taken with music in her sophomore album, Guts. However, the Grammy Award winner also rehashed the production of her first album, Sour, for which she gave songwriting credit to singers such as Taylor Swift. Fans speculated that drama brewed between Olivia and Taylor as a result of the album's royalties, but the "Good 4 U" artist set the record straight in her new interview with Rolling Stone.
Keep reading to find out everything Olivia said about Taylor!
Are Olivia Rodrigo and Taylor Swift Feuding?
In the Rolling Stone interview that was published on September 12, the "All-American Bitch" songstress insisted that she does not have "beef with anyone."
"I'm very chill. I keep to myself," Olivia emphasized. "I have my four friends and my mom, and that's really the only people I talk to, ever. There's nothing to say. There's so many Twitter conspiracy theories. I only look at alien conspiracy theories."
When Olivia was asked how she felt about giving up royalties for Sour, though, the Disney+ actress admitted she was "a little caught off guard" about it. "At the time, it was very confusing, and I was green and bright-eyed and bushy-tailed. Is that the phrase?" she added. Nevertheless, Olivia insisted she wasn't "super involved in" the decision to split the royalties.
For the track "Deja Vu," Olivia credited Taylor and cowriters Jack Antonoff and St. Vincent due to the similarities with Taylor's song "Cruel Summer." Additionally, Taylor was credited on Olivia's "1 Step Forward, 3 Steps Back" track because the song uses an interpretation of Taylor's "New Year's Day."
Additionally, for Olivia's smash hit "Good 4 U," she credited Paramore's Hayley Williams and former bandmate Josh Farro because the single shares similar traits with the rock band's song "Misery Business."
Are Olivia Rodrigo and Taylor Swift Friends?
As a longtime Swiftie, Olivia made multiple public comments about her admiration for Taylor over the years. In March 2021, the "You Need to Calm Down" artist even sent the High School Musical: The Musical: The Series star a gift and a handwritten letter. Two months later, the duo met at the Brit Awards and posed for pictures together.
Despite rumors of bad blood between the two, Olivia seemingly shut down the speculation in September 2023. While speaking with Interview Magazine, the "Traitor" songstress called Taylor's Eras Tour "the tour of all tours."
Sourse: hollywoodlife.com