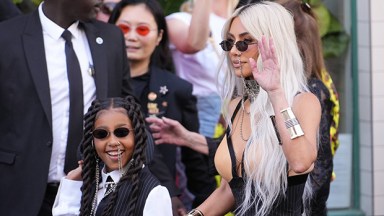 Image Credit: Laurent VU/SIPA/Shutterstock
Kim Kardashian's eldest daughter, North West, shocked fans during the latest episode of The Kardashians when she took a bite out of a raw, unpeeled onion. While the mother-daughter duo made lunch together, Kim, 43, noticed the 10-year-old eat the vegetable without flinching.
"You're just gonna eat an onion like an apple?" the reality TV personality asked her daughter. "This is what she does, people. She eats veggies like apples." North even asked her mom if she wanted some, which Kim declined.
Onions typically cause people to tear up, especially when they cut or peel them while cooking. When Kim went to kiss her daughter on the cheeks, the SKKN mogul had to pull away because of the strong onion scent.
"Oh, my gosh, this onion breath is going to make me cry! "No, it's so strong," Kim exclaimed. "Oh, my gosh, my eyes are literally tearing. How do you not tear?"
Social media users are divided about North's latest snack moment. Many took to X (previously known as Twitter) to laugh about North's vegetable choice while others thought it was odd.
"North West eats onions like apples. If that doesn't explained everything about her as a kid, lol, a little icon [sic]," one person tweeted on November 2. "North West eating a raw onion like an apple is wild lol I know she healthy af though [sic]," another person chimed in, while a third claimed, "North West eating a raw onion like an apple makes her the scariest person alive."
This isn't the first viral vegetable-related moment from the Kardashian-Jenner family. Last year, the whole internet blew up after watching Kendall Jenner fail to slice a cucumber properly — which North seemingly paid homage to in the new episode while cooking with her mother!
Elsewhere in the November 2 episode of The Kardashians, Kim opened up about North feeling excluded from her European trip with her son Saint West. While talking to sister Kourtney Kardashian in a separate scene, Kim revealed that North "was throwing a fit" about it.
"I took Saint on his trip, he was so excited, but then North was furious," the Skims entrepreneur said. "She wouldn't speak to me because she didn't get an 'alone' trip. I'm like, 'You always get alone trips.'"
In addition to North and Saint, Kim shares daughter Chicago and son Psalm with ex-husband Kanye "Ye" West.
Apart from her brother's London and Paris trips, North also struck a nerve with her mom after claiming that her dad "is the best" and "has it all figured out."
"He doesn't have a nanny, he doesn't have a chef, he doesn't have security, he lives in an apartment, and she'll start crying," Kim told Kourtney, 44, before noting that North added, "Why don't you have an apartment? I can't believe we don't have an apartment!"
Sourse: hollywoodlife.com