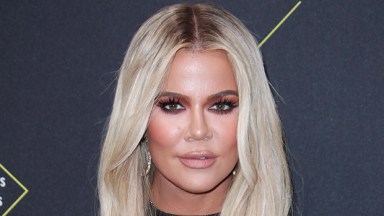 Image Credit: Matt Baron/Shutterstock
Khloé Kardashian isn't swaying her family to welcome Tristan Thompson back into their lives, including niece Penelope Disick. During a confessional from the new Kardashians episode, the Hulu star, 39, insisted that she wants Kourtney Kardashian's daughter, 11, to have her own opinions about him.
"Where I am at with Tristan has nothing to do with what I expect my family members to do," Khloé explained after fans watched Tristan, 32, visit Kourtney's house. "If Penelope has her feelings about Tristan — rightfully so. And good for you, girl."
The Good American mogul continued, "I want Penelope to have these feelings, and I don't want to talk her out of them because I don't want this behavior to be something that I'm validating or I'm justifying. I want her to know that how she's feeling is the right way to feel. We should not accept someone treating us like this."
Khloé was referring to Tristan's past infidelity during their on-and-off relationship. The Keeping Up With the Kardashians alum forgave her ex for stepping out on her earlier in their romance, but her attitude changed in 2021 when it was revealed that Tristan fathered a child with Maralee Nichols. The revelation surfaced shortly after he and Khloé's surrogate became pregnant with their second child, Tatum. The exes also share daughter True together.
Nevertheless, Khloé and Tristan rebuilt their co-parenting relationship and have remained amicable since Tatum, 16 months, was born in July 2022. The reality TV star even allowed Tristan and his brother Amari to temporarily live in her house because their home got flooded.
Most of the Kardashian-Jenner clan has warmed up to Tristan, but Kourtney, 44, made it clear that she still gets "triggered" around him. During the latest episode, the Lemme founder admitted that her daughter was influenced by her feelings about the NBA player.
"I feel like [Penelope] gets it from me," Kourtney explained. "I told her the first day of school, I was so triggered by him. … I know why, but I feel like we all brush it off and are fine, and then I was just so triggered and I was like, 'I just can't do it anymore.'"
She elaborated during her confessional, "Tristan has made horrible decisions and choices with my sister. There's times when I'm so triggered by him, I can't be around him and then, theres times when I just let it go because we just want harmony and, you know, he's the father of my niece and nephew."
Fans of the Hulu series are waiting to watch an upcoming moment between Kourtney and Tristan, during which she tells the Los Angeles Lakers player that he doesn't "deserve Khloé."
Sourse: hollywoodlife.com