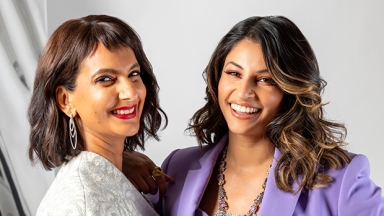 View gallery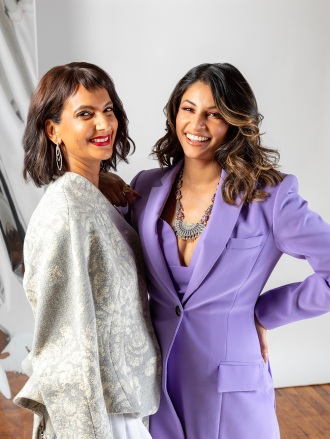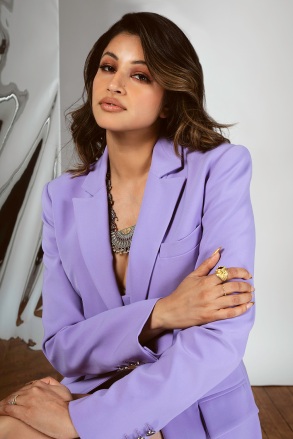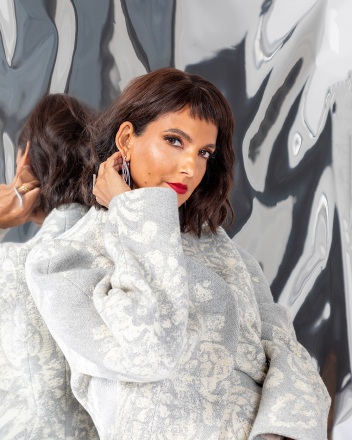 Image Credit: Elissa Anderson
After 4 incredible, hilarious, and touching seasons, Netflix's Never Have I Ever has bid farewell. In a rare feat, Never Have I Ever's run ended on a perfect note with a satisfying yet hopeful conclusion. At the heart of Never Have I Ever has always been family, with Devi's mom and cousin, Nalini and Kalama, supporting Devi through the ups and downs of high school and grief over her father's death.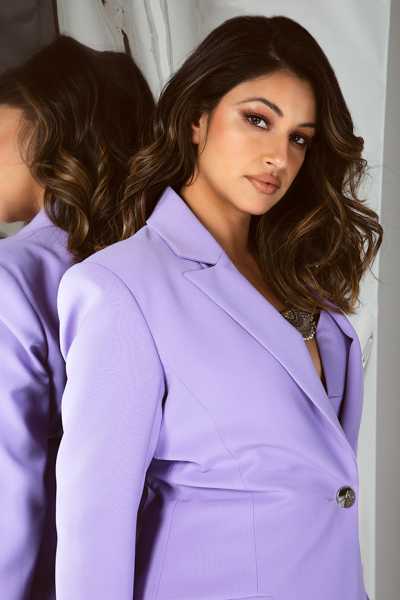 Richa Moorjani at HollywoodLife's portrait studio. (Photographer: Paige Kindlick)
"It was definitely hard. It still is hard to say goodbye," Richa Moorjani told HollywoodLife EXCLUSIVELY. "But at least for me, I will say that these characters will forever live inside of us. We've grown so much with our characters over the last 4 years. Both of our characters have grown. But we as actors have also grown with this show, and the impact that the characters and a show like this has never been done for our community. We're just so proud and honored. The hardest part about saying goodbye is knowing I may never have a show like this or a character like this again."
View Related Gallery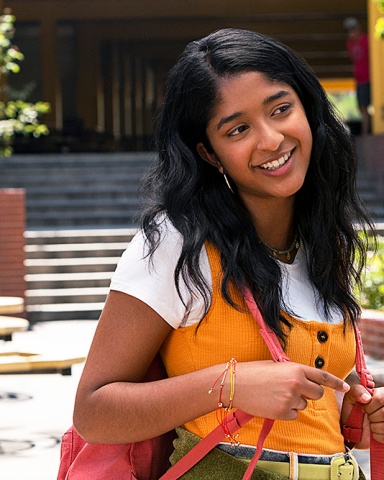 NEVER HAVE I EVER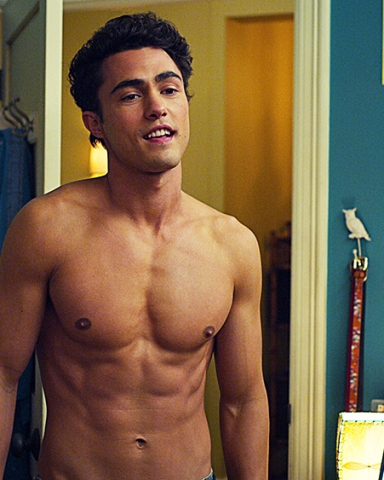 NEVER HAVE I EVER
The series finale featured a touching scene between mother and daughter as Nalini helped Devi pack for college. After 4 years of playing a family onscreen, that scene felt almost like real life. "The last season was special because the writers are writing for us at this point. But so much of the words spoken felt like they were being said in real-time to us versus the characters to each other," Poorna Jagannathan said.
Richa added, "It felt like our own words." Poorna continued, "Yes, own words, own world, own circumstances. It really transcended what was happening in the script just into it, and that's a very special feeling when it actually operates, I feel like, at a totally different frequency. The wonderful thing about scenes like either the packing scene or the dispersing of the ashes scene is that they're so beautifully written that the emotion is just so tightly wound in there. There's so much that's unsaid but so much said in those beautiful scenes. It was really hard. It was a goodbye scene for letting go of my daughter, but also letting go of my grief and letting go of the notions that don't help me anymore. It's a letting-go scene."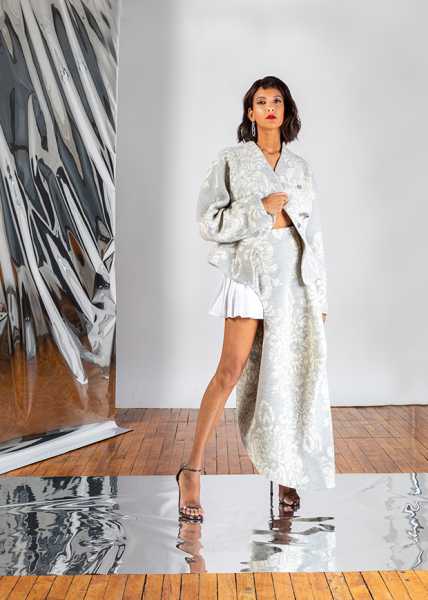 Poorna Jagannathan at HollywoodLife's portrait studio. (Phtoographer: Elissa Anderson)
As much as Never Have I Ever is a coming-of-age story that brings all the laughs, the show is a fascinating and honest portrayal of grief. Devi, Nalini, Kamala, and the entire family felt the impact of Mohan's death at the start of the series. Grief isn't linear, and the show explores the many shades of what it can look like.
"I actually feel it's what draws so many people to it of different ages. I think it's what makes parents watch it with their kids because it's not just a teenage show. For me, it's one of the best anatomies of grief," Poorna noted. "Even the last episode where Nalini realizes that we've changed and we've moved on and things are not affecting us the same way… You talk about the different stages of grief, and you talk about healing and letting go but, actually, one day you wake up and the grief has let go of you. It's not an active thing. It just happened. So that packing scene is such a beautiful combination of this love story between mother and daughter."
Richa pointed out the first season was released in April 2020, just as the COVID-19 pandemic hit. "The whole world for that matter was going through a grieving process, and this whole new life situation that we were all thrown into," the actress said. "I think that another reason it resonated with so many people was, first of all, it's hilarious and even brought joy into people's homes during such a dark time. But I think it was so cathartic for so many people because it was a way of reckoning with their own grief, whether it was COVID or not, because they've lost somebody or were sick. I hate to take this to a dark place, but I think that's another reason why the show was so important during that time."
While Devi prepared to graduate high school and head off to college, Kamala struggled with whether or not to take a job in Baltimore and leave her family. "I think Kamala is like the glue of the family," Richa said. "She's obviously the new addition, but she's the one who kind of like me in real life is always trying to bring people in my family together."
Richa Moorjani stars as Kamala in 'Never Have I Ever.' (Photographer: Paige Kindlick)
Kamala has always been the one who can relate to Nalini and Devi. Richa continued, "She's kind of the middle ground between them and the bridge. She develops a very close bond with them. They're the family away from her family that she already left behind. So when she gets this new opportunity, it means leaving everyone and everything she knows behind. It's scary for her. It's that combined with the fact that there's always pressure on young South Asian women to always put their family first. That's something she's been navigating since season 1, and we see how much she's evolved in season 4 and how, for the first time, she decides to put herself first."
At Nirmala's wedding, Devi and Kamala came together to dance to "Saami Saami." The dance was choreographed by the same woman who choreographed the dancing in the very first episode. "She's also in that dance, so it was kind of like a bookend moment," Richa told HollywoodLife. "In the first season, Devi sees that and thinks it's lame. And then you see her and Kamala, who she hated also at first, and how they've grown together and the bond between them and how they become more like sisters. Not only that but Devi's finally embracing and celebrating her culture. I'm actually a dancer in real life, so I was trying to manifest that for the longest time. I really wanted that to happen."
The final moments of the series feature narrator John McEnroe saying he's signing off "for now." According to Richa, that last bit "wasn't written in the script." Those two words definitely leave it open for Never Have I Ever to come back in some capacity in the future.
Poorna declared she'd been "down tomorrow" to reprise her role as Nalini. Richa followed with, "Immediately. I mean, this is a show, like we said, is so hard to say goodbye to. If there was another opportunity, I would drop everything."
Poorna Jagannathan stars as Nalini in the series. (Photographer: Elissa Anderson)
Poorna noted that creators Mindy Kaling and Lang Fisher are "really committed to great writing, but also an elegant ending." Even though the show is over — for now — the impact of Never Have I Ever will reverberate for years to come.
"This family unit is a very important and pivotal family unit to be represented on TV. First of all, there are so many people of color, like us, who grew up without a family unit like this being represented. We found ourselves in other families, which emotionally resonated with us, but when you see a family that looks like you, eats with their hands, and there are no shoes in the household, and the family is learning, loving, growing, healing together, you enter that family, and you grow and heal with them. As a person of color, it is so important to be able to see yourself like that," Poorna said. All seasons of Never Have I Ever are streaming now on Netflix.
Click to Subscribe to Get Our Free HollywoodLife Daily Newsletter to get the hottest celeb news.
Sourse: hollywoodlife.com