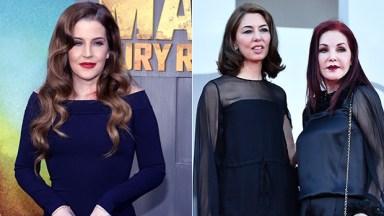 Image Credit: Matteo Rasero/LaPresse/Shutterstock / Shutterstock
Lisa Marie Presley, who died on January 12, reportedly was not a fan of Sofia Coppola's Priscilla movie script prior to her passing, a November 2 report from Variety claimed. In the emails obtained by the outlet, the late daughter of Elvis Presley was reportedly not pleased with how her father was portrayed. "My father only comes across as a predator and manipulative. As his daughter, I don't read this and see any of my father in this character," Lisa reportedly penned four months before her tragic death.
The film's screenplay is adapted from Priscilla Presley's book, Elvis and Me. As many know, the 78-year-old was married to the late musician from 1967 to 1973. "I don't read this and see my mother's perspective of my father," Lisa allegedly went on to write. "I read this and see your shockingly vengeful and contemptuous perspective and I don't understand why?" Lisa's mother is notably credited as an executive producer on the film, which is due out in theaters on November 3.
Additionally, the late "Dirty Laundry" songstress allegedly went on to say that she would speak out against the film if changes were not made. "I will be forced to be in a position where I will have to openly say how I feel about the film and go against you, my mother and this film publicly," Lisa added.
In response to Lisa's emails, Sofia attempted to provide reassurance via her rep. "I hope that when you see the final film you will feel differently, and understand I'm taking great care in honoring your mother, while also presenting your father with sensitivity and complexity," the 52-year-old allegedly wrote. Despite the attempt at putting Lisa at ease, the late mother-of-four was not pleased and continued to express her concerns to Sofia.
"I am worried that my mother isn't seeing the nuance here or realizing the way in which Elvis will be perceived when this movie comes out," Lisa reportedly added in the emails. "I feel protective over my mother who has spent her whole life elevating my father's legacy. I am worried she doesn't understand the intentions behind this film or the outcome it will have." More so, Lisa seemingly referenced Sofia's famous father, Francis Ford Coppola, as an example to drive her point.
"I would think of all people that you would understand how this would feel," she went on. "Why are you coming for my Dad and my family?" Finally, Lisa praised Baz Luhrmann's 2022 film, Elvis, and noted how it accurately depicted her father. In reference to the film, Lisa reportedly wrote: "a break from suffering and a ray of light that hit us last year … it made them [her kids] so proud and honored to be his granddaughters. It made them feel blessed for a moment and less cursed in life. It made us all so proud because it was a true depiction of who he really was."
Sourse: hollywoodlife.com