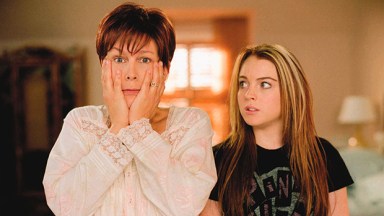 Image Credit: Ron Batzdorff/Walt Disney/Kobal/Shutterstock
Jamie Lee Curtis just gave Disney a nudge about the Freaky Friday sequel! The scream queen, 64, celebrated 20 years since the hit 2003 movie premiered with her co-star and friend Lindsay Lohan by penning a sweet Instagram caption on November 11.
"Too late. YOU GREW UP and SO BEAUTIFULLY!" Jamie captioned her post alongside a selfie of her and the Mean Girls star, 37. "Well, it's Friday, and the strike is over, so hopefully, we can switch places again in the near future!" At the end of her caption, Jamie tagged Lindsay and Disney. She was referring to the end of the 118-day SAG-AFTRA strike, which required working actors not to promote any work with struck companies, among them being Disney. Earlier this week, the AMPTP (Alliance of Motion Picture and Television Producers) and the union reached an agreement on residuals, fair wages and artificial intelligence.
(function() { var zergnet = document.createElement('script'); zergnet.type = 'text/javascript'; zergnet.async = true; zergnet.src = (document.location.protocol == "https:" ? "https:" : "http:") + '//www.zergnet.com/zerg.js?id=92014'; var znscr = document.getElementsByTagName('script')[0]; znscr.parentNode.insertBefore(zergnet, znscr); })(); View this post on Instagram
Jamie and Lindsay have expressed an interest in reuniting for Freaky Friday 2. Over the summer, the Halloween final girl told Entertainment Weekly that the sequel will "for sure" happen, adding there was "no question" about it." However, it was put on hold due to the previous WGA strike that ended shortly before SAG's strike came to an end.
"We're in the middle of a contract dispute," Jamie explained at the time. "And so, until those writers get paid correctly and protected by the producers that make billions off of them, we will not be able to tell you any more about the Freaky Friday sequel, except that it is happening."
During a separate interview with The New York Times, the Academy Award winner noted that she pushed for a new movie while promoting the final installment of David Gordon Green's Halloween trilogy in 2022.
"As I went around the world with Halloween Ends, people wanted to know if there was going to be another Freaky Friday," Jamie said. "Something really touched a chord. When I came back, I called my friends at Disney and said, 'It feels like there's a movie to be made.'"
As for Lindsay, the Confessions of a Teenage Drama Queen star told Entertainment Tonight in 2022 that she was game for a sequel. "I love Jamie. I would definitely love to work together again, and we have spoken, so we will see," Lindsay told the outlet.
The original Freaky Friday — based on Mary Rodgers' 1972 novel — starred Lindsay as Anna Coleman and Jamie as Anna's mother, Tess Coleman. The mother and daughter constantly bicker, but they soon step into each other's shoes after reading a magical fortune cookie that switches their bodies. The 2003 film went on to be a cult classic.
View Related Gallery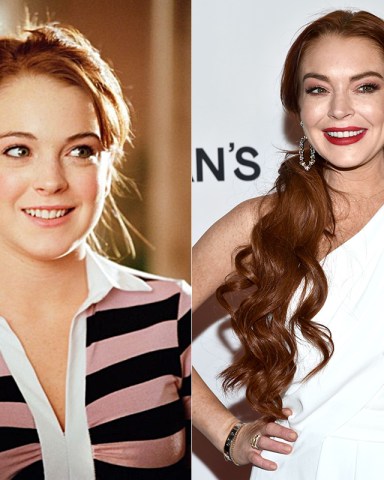 Here, you can see <a href="https://hollywoodlife.com/celeb/lindsay-lohan/"><strong>Lindsay Lohan</strong></a> side-by-side with her playing the main character, Cady. Take a look at her hair, makeup, and clothes… she's already a Plastic! Following <em>Mean Girls</em>, Lindsay was on top of the world, starring in <em>Herbie Fully Loaded</em>, <em>Just My Luck</em>, and more teen-geared films. She also launched her music career with songs like 'Rumors.' Following years of legal problems and struggles with addiction, Lindsay has taken a step back from acting. She <a href="https://hollywoodlife.com/2022/07/02/lindsay-lohan-married-wedding-bader-shammas/">married</a> <strong>Bader Shammas</strong> in July 2022.
Sourse: hollywoodlife.com