Kraven The Hunter is an upcoming Sony/Marvel movie
Aaron Taylor-Johnson plays the titular character.
The film will be released October 6, 2023.
Spider-Man's adversary Kraven the Hunter is getting his own movie thanks to Marvel and Sony Pictures. The upcoming superhero movie, Kraven the Hunter, is based on the Marvel Comics character who is one of Spider-Man's most notorious villains. The film is coming to theaters in October and fans are so excited to see Kraven played on the big screen by Aaron Taylor-Johnson, 33.
The first trailer for Kraven the Hunter dropped June 19, with epic footage of Aaron in action. Sony also released the official poster for the film. The upcoming movie is set in Sony's Spider-Man Universe which is home to Venom, Venom: Let There Be Carnage, and Morbius. The film does NOT take place in the Marvel Cinematic Universe. We've rounded up everything you need to know about Kraven the Hunter, including the cast, the expected release date, and much more.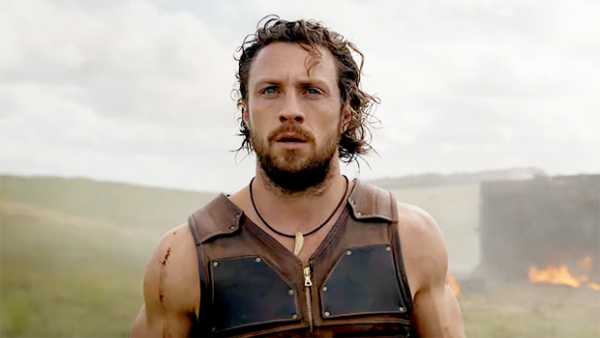 Aaron Taylor-Johnson in 'Kraven The Hunter' (Photo: Sony Pictures)
Kraven The Hunter
In the comics, Kraven is first introduced in a 1964 issue of The Amazing Spider-Man. His real name is Sergei Kravinoff. He's a big-game hunter with enhanced strength, speed, and agility. He is skillful at tracking and at hand-to-hand combat. Kraven is one of Spider-Man's rogues' gallery (all his villains) and he's one of the founders of the Sinister Six, with Doctor Octopus, Vulture, Sandman, Electro, and Mysterio.
Sony/Marvel has not revealed the official plot for Kraven the Hunter. But the first poster and trailer that both came out June 19 feature epic first looks of Aaron as the titular character. Sony's poster for Kraven the Hunter features Aaron wearing a fur-line vest, with his abs on display, sitting on a throne of human skulls. "Villains aren't born. They're made. Aaron Taylor-Johnson is #KravenTheHunter – exclusively in movie theaters October," Sony wrote alongside the image.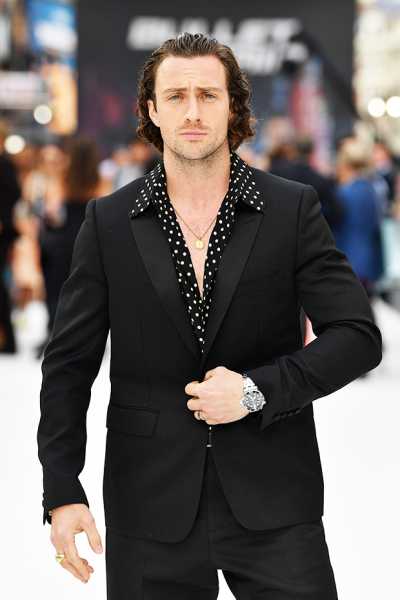 Aaron Taylor-Johnson plays the lead role in 'Kraven The Hunter' (Photo: James Veysey/Shutterstock for Sony Pictures Entertainment)
The trailer introduces Kraven as a normal young boy whose mother dies. His father trains him to become a killer in the wild, but he's bitten by a lion and becomes a superpowered killer. "They say he uses a connection with animals to track his prey," someone says in the trailer about Kraven. "And once you're on his list, there's only one way off." Kraven goes on a killing spree and comes into conflict with his father and brother. Another Spider-Man villain, Rhino, is also teased at the end of the trailer.
Once you're on his list, there's only one way off. Aaron Taylor-Johnson is #KravenTheHunter – watch the red band trailer now. The hunt is on exclusively in movie theaters October. pic.twitter.com/X9gJubLtsM

— Sony Pictures (@SonyPictures) June 19, 2023
Aaron-Taylor Johnson spoke about the film at the CineEurope conference in June 2022. He referred to Kraven as "one of Marvel's most iconic, notorious anti-heroes — Spider Man's number one rival," according to Variety. Aaron went on to say, "He's just a hunter, a human with conviction. An animal lover and a protector of the natural world. He's a very, very cool character."
In July, Aaron clarified more about his superhero character in an interview with ComicBook.com. "What I love about that character is that what is he humanizing is that he has flaws, right? Kraven is a beautiful character. Sergei Kravinov is a beautiful character because it's someone who's really understanding themselves and has flaws. This is a character that was built ages ago and it's in a new time and era, but yeah, is he going to be the hunter that we all want to see? Yeah, absolutely. Absolutely," the actor said.
Where and When To Watch
Kraven the Hunter will be released in theaters on October 6, 2023. The film will be distributed by Sony Pictures Releasing. The film was previously scheduled for release on January 13, 2023, but Sony pushed back the release date by nine months in Sept. 2022. Madame Web, which will star Dakota Johnson in the titular role with Sydney Sweeney, Emma Roberts, and Adam Scott, was also pushed back from October 6, 2023 to February 16, 2024.
Cast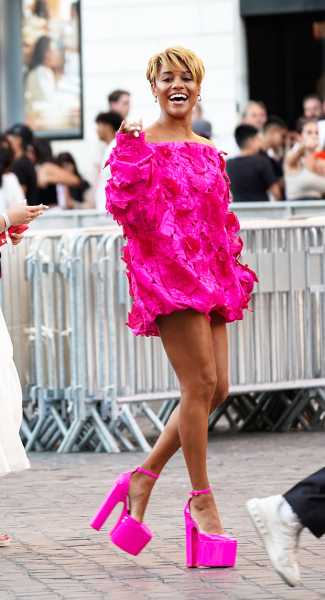 Ariana DeBose plays Calypso in 'Kraven The Hunter' (Photo: Action Press/Shutterstock)
Aaron Taylor-Johnson was cast in the lead role in Kraven the Hunter in May 2021. He starred in the MCU as Wanda Maximoff's brother Pietro Maximoff who was killed in Avengers: Age Of Ultron. Sony reportedly picked Aaron for the role after seeing his performance in their movie Bullet Train with Brad Pitt and Joey King. Of Spider-Man's other villains from the Sony films, Tom Hardy played Venom, Woody Harrelson played Carnage, and Jared Leto played Morbius.
Ariana DeBose, who won an Oscar for West Side Story, is playing Kraven's love interest, Calypso. Ariana, 32, was officially cast as Calypo, a voodoo priestess, in March 2022. Ariana played coy about the role during an interview with The Playlist. "Well, to be frank with you, I can't say much about it. But I am really excited to be joining the Sony Marvel family. When J.C. Chandor [the director] came to me and pitched this idea for the film. And he just, he's a filmmaker who has wanted to be a director for his whole life. And quite frankly, he's a damn good one. And I think he'll bring something really creative and new and fresh and also really gritty to this film and to Kraven the Hunter's story. And I'm really excited to dig in," she said.
The White Lotus season 1 star Fred Hechinger, 23, is playing Kraven's half-brother Dmitri Smerdyakov/Chameleon, who can impersonate anybody. Christopher Abbott and Alessandro Nivola were cast as villains in the film. Alessandro shared some details about his character in an interview with The Hollywood Reporter. "I only transform, physically, in the final moments of the movie, so it's just a classic villain role. It had a really interesting, complex psychology and personal history to draw on," he explained. "[The] character changes a lot from the way he is in the beginning of the film."
Levi Miller and Russell Crowe are also in the movie. Russell plays Kraven and Chameleon's father, Nikolaï Kravinoff. Russell just appeared in the MCU film Thor: Love & Thunder as Zeus.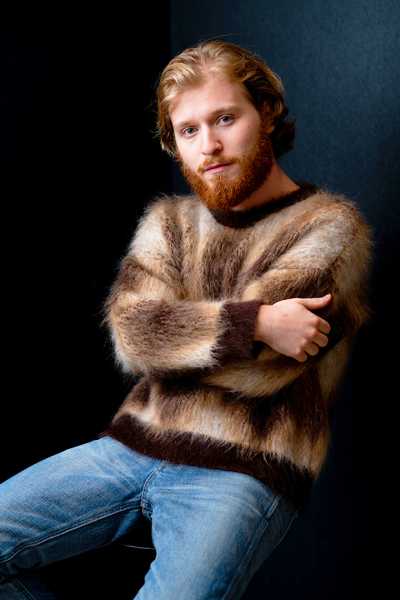 Fred Hechinger plays Chameleon in 'Kraven the Hunter' (Photo: JEFF VESPA/Shutterstock)
Who is the Creative Team?
J.C. Chandor is the director of Kraven the Hunter. He previously directed Triple Frontier, the 2019 Netflix action move with Ben Affleck and Charlie Hunnam. Art Marcum & Matt Holloway and Richard Wenk wrote the screenplay for Kraven the Hunter. The creative team also includes producers Avi Brad, Matt Tolmach and Amy Pascal and cinematographer Ben Davis. The production companies behind the film are Columbia Pictures, Marvel Entertainment, Arad Production, Matt Tolmach Productions, and Pascal Pictures. Sony Pictures Releasing is the distributor.
Filming Details
Filming on Kraven the Hunter began in Iceland in February 2022. Production moved to London and then Gaslgow, Scotland before officially wrapping in June. Aaron revealed at the CineEurope conference that unlike other Marvel movies, Kraven the Hunter was "shot entirely on location."
Click to Subscribe to Get Our Free HollywoodLife Daily Newsletter to get the hottest celeb news.
View Related Gallery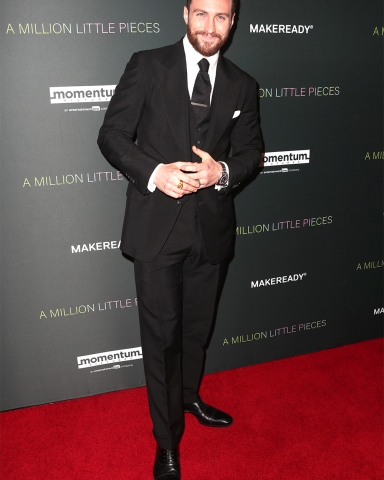 Aaron Taylor-Johnson has spent a life on the stage – and in the spotlight. This Hollywood heartthrob (and Buckinghamshire native) began acting at the age of six, appearing in London productions of 'MacBeth' and Arthur Miller's 'All my Sons.' He was destined for the big screen, and he landed his first prominent on-screen role as a young Charlie Chaplin in the 2003 film, 'Shanghai Knights.' Action would be in the cards for Aaron, as he would land the title character in 2010's 'Kick-Ass' (and its sequel, 'Kick-Ass 2,' in 2013.) The take on the unconventional superhero story seemingly resulted in him being cast as Quicksilver in the Marvel Cinematic Universe. He made his first appearance as the character in 'Captain America: The Winter Soldier,' and then again in 'Avengers: Age of Ultron.' Aaron has also appeared in 2014's 'Godzilla,' 2016's 'Nocturnal Animals,' and 2020's 'Tenet.' In 2008, Aaron worked on the John Lennon biopic, 'Nowhere Boy.' There, he met director Sam Taylor-Wood. Despite him being 18 and she 42, the two fell in love. In 2009, they became engaged and were wed in 2012. They welcomed two daughters together – Wylda in 2010, and Romy in 2012.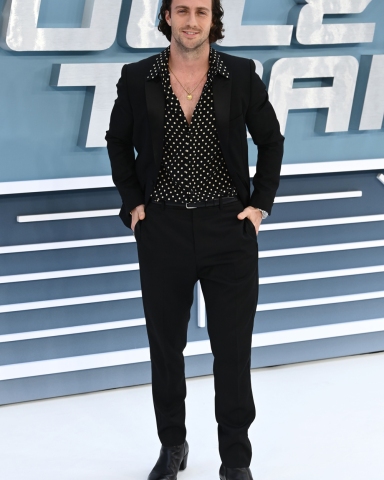 Aaron Taylor-Johnson 'Bullet Train' film premiere, London, UK – 20 Jul 2022
Sourse: hollywoodlife.com