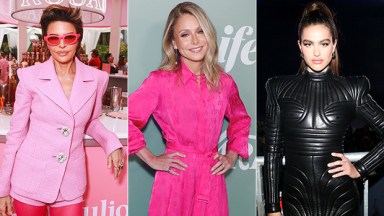 Image Credit: Marc Patrick/BFA.com/Shutterstock /Broadimage/Shutterstock / Marc Patrick/BFA.com/Shutterstock
Lisa Rinna, 60, sat down with Kelly Ripa, 53, and Mark Consuelos, 52, during a recent episode of LIVE with Kelly and Mark to chat about her life following her exit from The Real Housewives of Beverly Hills. During the episode, Kelly applauded Lisa's daughter, Amelia Gray Hamlin's modeling success. "For years I tried to set our kids up," the 53-year-old said, not admitting which of her two sons she meant.
Fun morning with Lisa Rinna! pic.twitter.com/3psshXukdV

— KellyMarkLive (@kellymarklive) October 12, 2023
Although she wanted the 22-year-old to date one of her sons, Kelly admitted that once Lisa's daughter broke out onto a runaway she decided it wouldn't work. "For many, many years I tried. And then one day, Amelia like, burst onto the runway — I think it was her first fashion show, and I was like, 'Never mind, he wouldn't know what to do with that,'" the mother-of-three joked. "I texted her like, 'Forget it, he wouldn't know.'"
The blonde beauty shares sons Michael Consuelos, 25, and Joaquin Consuelos, 20, along with daughter Lola Consuelos, 21, with Mark. Earlier in the interview with the Bravo alum, Kelly gushed over Amelia's resemblance to her famous momma. "Sometimes when I see your daughter, she is so reminiscent of you that I have to stop," she said, to which Lisa replied, "I know, I know. It's just truly been amazing. It's so much fun watching her. She's grown so much. She's just like, killing it."
In addition to talking about their kids, the trio got into Lisa's life post-reality TV. When Mark asked the 60-year-old how she felt after leaving RHOBH, Lisa was quick to gush over her current happiness. "Well, I feel heavenly," the Rinna Wines founder said. "I'm so happy I got to tell you I'm really pleased with my life right now." Kelly also made sure to note that the TV series exit "agrees with" Lisa. "I feel very blessed," Lisa concluded. As many know, Lisa appeared on the hit reality series for eight seasons and confirmed her exit this January.
At the time of The Real Housewives starlet's departure, Lisa shared the following statement with PEOPLE. "This is the longest job I have held in my 35 year career and I am grateful to everyone at Bravo and all those involved in the series. It has been a fun 8-year run and I am excited for what is to come!'" the statement read nearly one year ago. The note also claimed that Lisa and Bravo "mutually decided" that she would not return for the 13th season. Fans of the series can catch new episodes on Bravo and streaming on Peacock starting on October 25.
Sourse: hollywoodlife.com