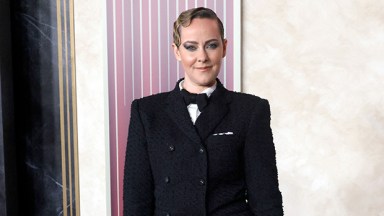 Image Credit: Fati Sadou/ABACAPRESS.COM/Shutterstock
The Hunger Games alum Jena Malone came out to support the next generation of the legendary franchise at the Los Angeles premiere of The Hunger Games: The Ballad of Songbirds & Snakes on November 13. The actress looked fierce in a blazer mini dress.
On the red carpet, Jena opened up about filming Johanna Mason's unforgettable elevator scene in The Hunger Games: Catching Fire where she strips down in front of Katniss, Peeta, and Haymitch. "The scenes that are fun are never fun to do, you know? Jen [Lawrence] was sick that day, and so I ended up doing it without Jen, so there wasn't a lot of people in the elevator," the 38-year-old told Variety.
She continued, "I think we were just winging it and trying to get as much as we can get because it was in a real hotel. But you know that's the magic of filmmaking. You only need a few seconds to create something that lasts."
Jena Malone recalls the day she filmed Johanna Mason's elevator scene in #HungerGames sequel "Catching Fire." https://t.co/Qfcf6hSWHV pic.twitter.com/VgUZH21Apl

— Variety (@Variety) November 14, 2023
Jena's revelation about the elevator scene means Jennifer Lawrence's reaction as Katniss to Johanna stripping down wasn't filmed in real-time. It certainly looked like it was!
Jena made her Hunger Games debut in the 2013 sequel Catching Fire. Johanna won the 71st Hunger Games and was reaped again for the 75th Quarter Quell. She also appeared as Johanna in two more sequels. At the end of Catching Fire, Johanna and Peeta were captured by the Capitol and tortured by President Snow.
During her interview at The Ballad of Songbirds & Snakes premiere, the Sucker Punch alum revealed that she hadn't read Suzanne Collins' prequel novel, which is the basis for the new film. She admitted she was "excited" to see this next chapter.
"The Hunger Games is obviously a very intense, wildly heavy thing," Jena said. "I mean, we use the genre of fantasy to explore the things that are very hard for us to explore in our own life. But really, I mean, if you look at our reality, right now, there's a lot of mirroring. I think it's important to see where this younger generation is gonna take this film and push it and run with it and hopefully change the world." The Hunger Games: The Ballad of Songbirds & Snakes will be released in theaters on November 17.
View Related Gallery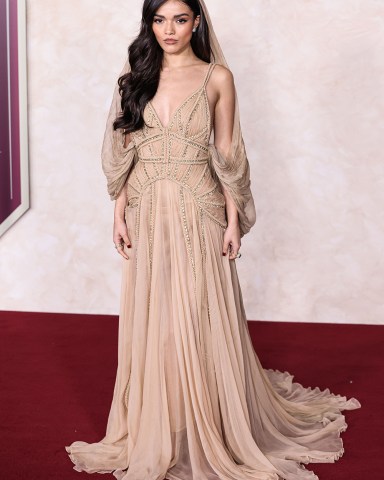 American actress and singer Rachel Zegler wearing an Elie Saab Couture dress and Tiffany and Co. jewelry arrives at the Los Angeles Premiere Of Lions Gate Films' 'The Hunger Games: The Ballad Of Songbirds And Snakes' held at the TCL Chinese Theatre IMAX on November 13, 2023 in Hollywood, Los Angeles, California, United States. Los Angeles Premiere Of Lions Gate Films' 'The Hunger Games: The Ballad Of Songbirds And Snakes', Tcl Chinese Theatre Imax, Hollywood, Los Angeles, California, United States – 13 Nov 2023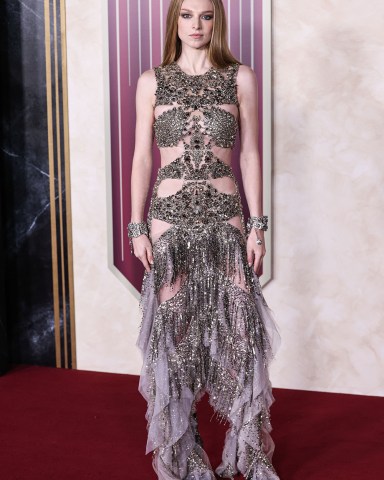 American model, actress and LGBTQ rights activist Hunter Schafer wearing an Alexander McQueen dress arrives at the Los Angeles Premiere Of Lions Gate Films' 'The Hunger Games: The Ballad Of Songbirds And Snakes' held at the TCL Chinese Theatre IMAX on November 13, 2023 in Hollywood, Los Angeles, California, United States. Los Angeles Premiere Of Lions Gate Films' 'The Hunger Games: The Ballad Of Songbirds And Snakes', Tcl Chinese Theatre Imax, Hollywood, Los Angeles, California, United States – 13 Nov 2023
Sourse: hollywoodlife.com