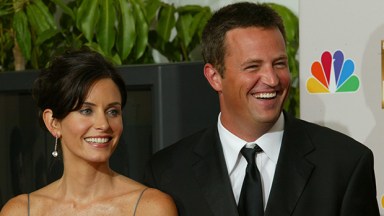 Image Credit: BEI/Shutterstock
Matthew Perry knew what was best for Friends fans. The late comedian and actor — who died last month at the age of 54 — stopped an original storyline that featured his character, Chandler Bing, cheating on Courteney Cox's character, Monica Geller, according to actress Lisa Cash.
"The scene was Chandler and Monica were arguing In Vegas about Monica having lunch with [ex-boyfriend] Richard," Lisa explained to TMZ on November 6. "And in our script, Chandler goes up to the hotel room and orders room service, and I bring it up as a hotel worker. And we end up talking and laughing and connecting, and Chandler ends up cheating on Monica with my character."
Lisa appeared in the season 5 episode, "The One in Vegas: Part 1," which aired in 1999. The final cut of the episode shows her character, a flight attendant, helping Ross (David Schwimmer) and Rachel (Jennifer Aniston) instead of the part she was cast for.
"We had rehearsed it," Lisa continued, referring to the initial cheating scene. "And the day before we were supposed to shoot it in front of a live audience, I was told that [Matthew] went to the writers and said the fans will never forgive [Chandler] for cheating on Monica. … He was probably right. That would have possibly changed the course of the show."
Matthew and Courteney's characters became the show's most stable couple, since Ross and Rachel were known for their on-and-off romance. Their initial hookup at the end of season 4 shocked viewers, but their relationship became a fan-favorite plot point. Their emotional engagement takes place in season 6, and the characters get married the following season.
In his 2022 memoir, Friends, Lovers and the Big Terrible Thing, Matthew revealed he was still battling his addiction while filming Chandler and Monica's wedding episode.
"I married Monica and got driven back to the treatment center — at the height of my highest point in Friends, the highest point in my career, the iconic moment on the iconic show — in a pickup truck helmed by a sober technician," he wrote in one chapter.
Matthew's untimely death broke fans' hearts around the world. He was discovered deceased in his jacuzzi on October 28, but no fentanyl nor meth was found in his system at the time of his death. Countless supporters of the late 17 Again actor set up a memorial for him in New York City at the building that was used as the exterior of Monica's apartment. Others in Los Angeles left flowers and handwritten notes outside of Matthew's home.
On November 3, Matthew's Friends co-stars and close family members held a private funeral for him.
If you or someone you know is struggling with substance abuse, contact the Substance Abuse and Mental Health Services Administration (SAMHSA) National Helpline at 1-800-662-HELP (4357).
View Related Gallery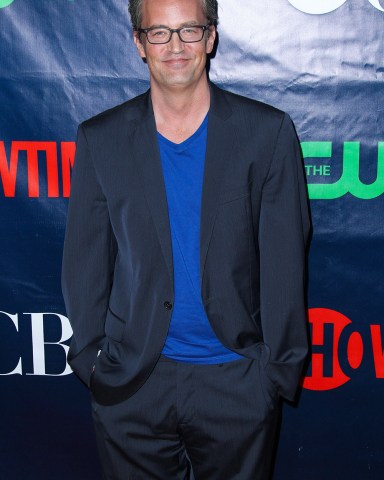 (FILE) Matthew Perry Dead At 54. Matthew Perry has died. He was 54. The actor, who was best known for playing Chandler Bing on 'Friends', was found dead at a Los Angeles-area home on Saturday, October 28, 2023. WEST HOLLYWOOD, LOS ANGELES, CALIFORNIA, USA – JULY 17: American-Canadian actor, comedian and producer Matthew Perry (Matthew Langford Perry) arrives at the CBS, CW And Showtime 2014 Summer TCA Party held at the Pacific Design Center on July 14, 2014 in West Hollywood, Los Angeles, California, United States. (FILE) Matthew Perry Dead At 54, Pacific Design Center, West Hollywood, Los Angeles, California, United States – 28 Oct 2023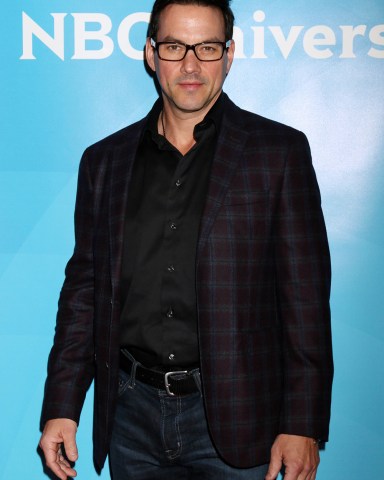 Sourse: hollywoodlife.com