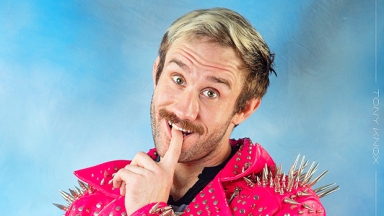 View gallery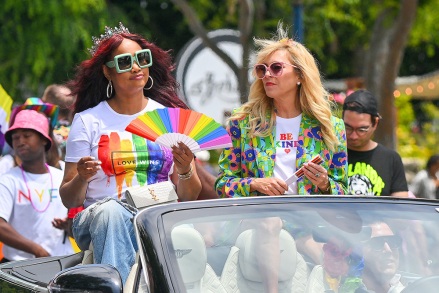 It's Pride Month! Throughout June, HollywoodLife is celebrating with The Sound Of Pride, where celebs and stars of the LBGTQ+ community pick songs for the ultimate 2023 Pride Month playlist. It's the perfect soundtrack to planning your Pride party, researching how to protect LGBTQ+ rights, or reading about the history of Pride Month. Today, it's Effy, the groundbreaking independent pro-wrestler.
"I'm angry," Effy tells HollywoodLife. The independent wrestler – who is celebrating a birthday today (June 7), so be sure to buy him a present – has a right to be mad. With nearly five hundred anti-LGBTQ+ bills in state legislatures across the United States — many of which target the rights of trans people — Effy can't be idle this month. "They are attacking the trans members of our community with the same dumb arguments they tried with black people and gay people in our nation. And they expect us not to see the same dumb reasoning for their bigotry as they try to erase parts of our community."
This was the battle cry that Effy delivered at the closing of Effy's Big Gay Brunch 6 in April. While covered in blood and standing atop a ladder, Effy addressed the crowd at the Ukrainian Culture Center (and those watching on Fite.tv.) "Remember, as much of a celebration as this room was, as much fun as we had here, there are still motherfuckers attacking our trans friends, our trans family, our trans brothers, and sisters," he said, per Post Wrestling. "Take the joy this brings you and make sure you outwardly project that energy and put it into protecting trans lives."
View this post on Instagram
Putting it mildly, wrestling has a problematic history with its depictions of LGBTQIA+ characters. Queer-coded wrestlers were grotesque caricatures of Oscar Wilde-esque dandies afraid to get hit or lustful, leather-clad prowlers. More often than not, these stereotypical characters were objects of the audience's hate and ridicule, to be vanquished by a promotion's straight male hero.
Effy, himself, defies that history. He walks to the ring to Elton John's "Goodbye Yellow Brick Road" while wearing a brightly colored leather jacket covered in spikes. He wrestles in fishnets. He utilizes the tricks of the exoticos – the queer wrestlers of Mexico's lucha libre – with suggestive moves and kisses. But, as his death match history shows, he isn't afraid of bleeding. And while gay wrestlers might have been reviled in the past, Effy has become one of the most beloved independent wrestlers today. His Big Gay Brunch shows have become incredibly popular, showing that LGBTQIA+ wrestlers are not just as talented as their cishet counterparts, there's an audience for these stars.
As Effy proves below, he will be the first to use his spotlight to put the shine on other stars (check Out Sports' Queer 2022 Wrestling Index 200 for a list of stars you can support this Pride month and beyond.) See what he picked for The Sound of Pride and more.
Cher, "Gimmie! Gimmie! Gimmie!"

"Cher covering Abba. The album was released in conjunction with Mamma Mia 2, and it stayed in my constant rotation for like 2 years. It's camp. It's the most Cher that Cher has ever been. It's Abba. And this song has the most zip-up riffing instrumentally to get the party going you can find. This is a go-to for pepping up a party for any age group. I love Abba, but I love Cher even more. Does that make me a stereotypical gay man? Probably, but it's a stereotype because it's so good for getting anyone's gaudy bawdy catwalk energy to the highest levels."
Scissor Sisters, "Let's Have A Kiki"
"When I first heard this song, I thought it was the gayest song of all time. I may be correct, but I'm not afraid of blasting the gayest song of all time anymore, and it's a song that, over time, I have found myself relistening to and identifying the growth and comfort of my own queer identity opening up. Plus, the little dance from the music video is a good warm up to the silly TikTok dances so popular in these apocalyptic times."
Against Me!, "The Ocean"
"Hearing Laura Jane Grace open up about her gender dysphoria and transition had many of us in the punk scene looking back on her music in a new light, and this powerhouse song feels so much more complete and honest now. I've had the chance to see Against Me! a few times now, and while they have always had a punk aggression, there seems to be so much more power and truth behind it coming from the stage that makes me want to fight transphobes and encourage everyone to live in the light they deserve. This song is beautiful and also makes me want to throw fists and mosh with the sweatiest punks, and if you can't be your true self at a punk show, then where can you be?"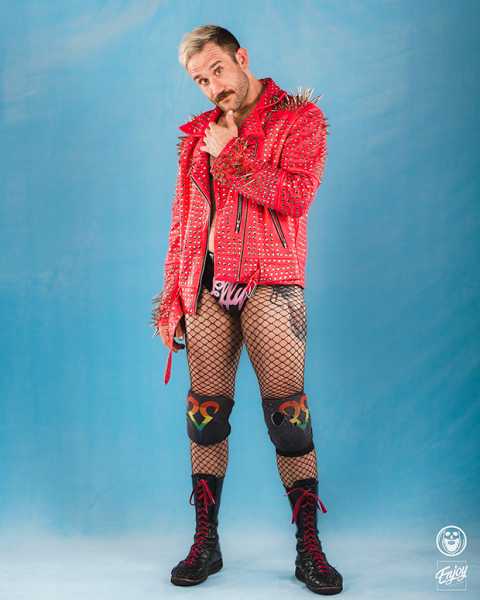 HL: Going into Pride 2023, how does this year's celebration feel when compared to last year's?
Effy: I'm angry. They are attacking the trans members of our community with the same dumb arguments they tried with black people and gay people in our nation and expect us not to see the same dumb reasoning for their bigotry as they try to erase parts of our community.
The lack of care from many of the cis gay members living safely now depresses me further. But we must turn that into something productive and not ever stand by in silence while they try to eradicate the safe existence of anyone within a gender or sexual minority in pursuit of their so-called moral agenda. I hope to continue seeing people stand up for those within our community from their place of safety.
Pride cannot be a celebration while parts of our group are suffering. They don't want you to be visible. They won't stop until they take every safety net from under us, and those that think it doesn't include them because currently, they feel safe are in for a rude awakening.
I would love to just be able to go dance in the parade and take my rainbow beverage for the month of June, but it would be blind of me to act like there is a celebration in the air when truly we must return to rioting against the bigotry that now threatens people that we have somehow decided in large groups as gay men 'aren't us and that's their own battle.'
We must continue to inform and be enraged when we are targeted and understand that they will take all of the joys eventually if they have their way.
Pride is a time to celebrate unsung heroes. Is there anyone you'd like to see get some more of the spotlight this year?
Dark Sheik, the mother of HOODSLAM, is one of my best friends in the world and also one of the most talented wrestlers and bookers in the business. Her world has seen more eyes on it recently, and she brings such a creative spirit to wrestling that gets lost in the macho bullshit the tv and advertisers thinks draws better than the artful storytelling.
She is also a member of Thrussy with my Bussy tag partner Allie Katch and has performed with us in Missouri and Florida in circumstances where her existence would be illegal. Sheik is brave and also has a mean left kick that has taken out many a weak transphobe.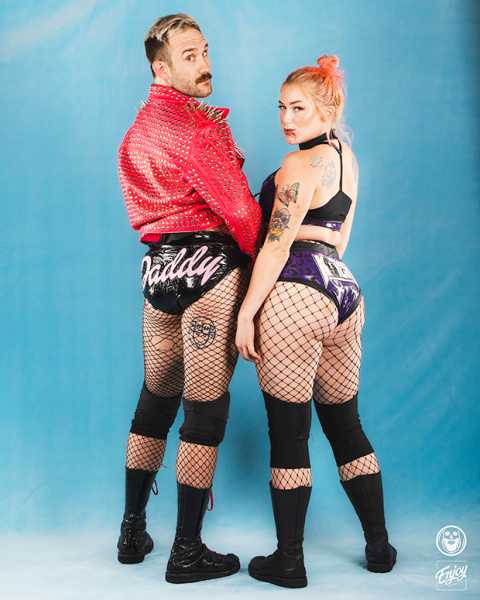 Effy and Allie Katch — aka Bussy
Do you have a memory of Pride Months past that you'd like to share?
I got to be a grand marshal of the Tampa Bay Pride Parade in 2021. It felt like a new world of acceptance was opening, and it was such a cool honor, but seeing how Florida has repressed so wholly at a political level has made those moments into a new type of motivation to be aggressive against the spewing hatred of the political landscape that has overtaken Florida under [Gov. Ron] DeSantis in the past year or so.
It's not indicative of the real views of normal people down in the state, and it is going to require so much more work to overtake the loud people who have snuck their way into power for the sole purpose of religious indoctrination through the law, rather than just simple coercion of hatefulness.
What do you have planned for June (and the rest of 2023?)
June is obviously a hectic month as a gay wrestler, and I can't deny I enjoy greatly the additional bookings centered on LGBTQ+ excellence. But, I have also been yelling to the sky for years within my industry that many of these talented wrestlers I work alongside in Pride month are not always as busy the rest of the year.
We must keep finding ways to show that the capitalist needle they so desire within wrestling moves for us in a way that the traditional structure of the wrestling business hasn't achieved before. Lgbtq+ wrestlers are here all year, and so are the fans that join us for Pride.
View this post on Instagram
Giving us a little spotlight isn't enough anymore, and I want to keep that energy all the time. I've been fortunate enough to have my own Effy's Big Gay Brunch across the United States and now, the United Kingdom, during many different times of the year. But it's going to take leg work from a lot of us to create our own lane and force the rest of the industry to follow rather than just waiting for our turn in June.
Do you have a Pride 2023 message to share with the HollywoodLife audience?
To the mass of people trying to hold us back from normalized equality and equity in our life and work: fix the hate in your heart or die without anyone caring. We have always been here, and within our community, we must also remember that the opinions and actions of those who are unaccepting must be met with firm resistance, especially from those of us with more privilege than some members of our community. We can not stand by and let right-wingers create laws that push us into not being allowed to exist at all, even if we think these laws don't affect us personally.
Keep checking HollywoodLife throughout June for more entries in The Sound of Pride and additional Pride Month coverage. And remember — fix your hearts or die!
Click to Subscribe to Get Our Free HollywoodLife Daily Newsletter to get the hottest celeb news.
View Related Gallery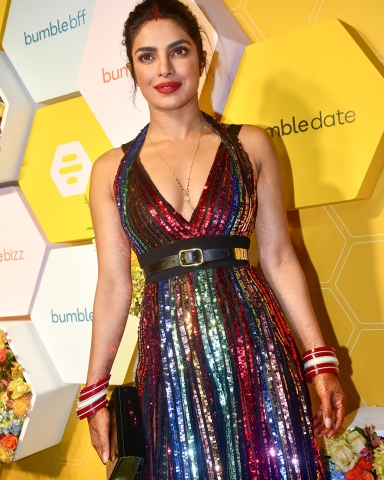 Whether you're going to a Pride parade or just want to turn heads at a party, there are plenty of solid excuses to wear a rainbow ensemble… and plenty of ways to do it! Whether you're into multicolored sequins or tie-dye fringe, there's something for everyone when it comes to rocking a rainbow. TBH, you could even just take the approach of wearing a rainbow flag as a cape over an LBD like Snooki once did for a major event. Hey, it works! One celeb who got the rainbow trend right is Priyanka Chopra. The actress stunned in a plunging rainbow sequin gown while attending the Bumble launch in Mumbai with husband Nick Jonas on Dec. 7, 2018. She paired the belted dress with red and white bangles, a gold necklace and a black clutch. There are even more chic rainbow looks worn by celebs in the slides ahead!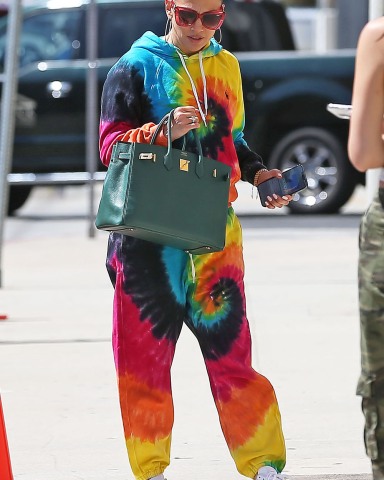 Jennifer Lopez spotted at a dance studio wearing a Gucci Tie Dye outfit in Los Angeles, CA, USA. Pictured: Jennifer Lopez Ref: SPL5331420 080822 NON-EXCLUSIVE Picture by: MESSIGOAL / SplashNews.com Splash News and Pictures USA: 310-525-5808 UK: 020 8126 1009 [email protected] World Rights
Sourse: hollywoodlife.com